Royal Sex Diary Heats Up 'Reign'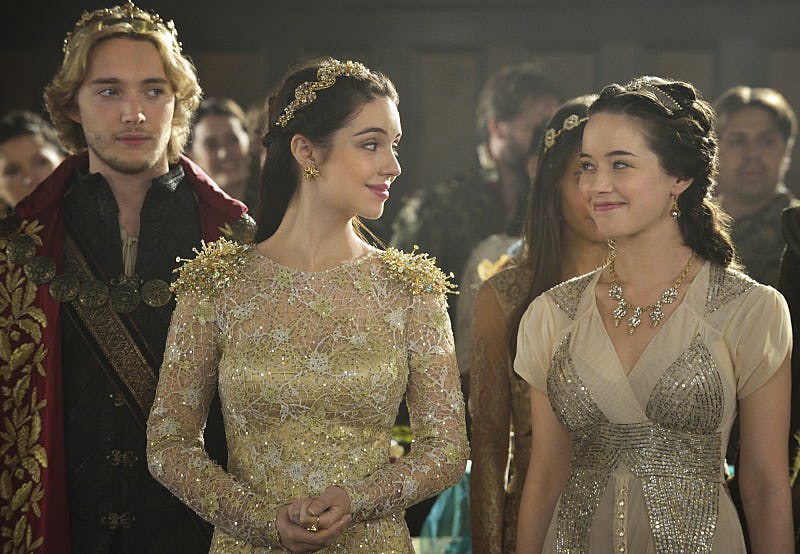 Are the writers of Reign reading my reacts? If they are, I owe someone a thank you. I've always said that Reign is at its best when its essentially a high school drama in amazing clothes (let's face it, Reign fashion is amazing). In this week's episode, "Blood for Blood," Reign gets its sexy version of the Mean Girls Burn Book: A racy sex diary full of gossip about every lover worth knowing biblically in the French court. And we are firmly back in the Reign-as-a-high-school-drama sweet spot.
When Kenna hears some orgasmic sounds while strolling around the castle, she pulls back the curtain (because, yeah, people are just having sex behind random curtains in public areas of the castle) to find two ladies having a very good time. She's not upset about the girl-on-girl action, but she tells them to get a room, literally. When one of them tries to hide a book she's hold, Kenna demands that she hand it over and thus: The Reign sex diary plot begins.
Kenna and Lola become obsessed with the book, as you do, because it describes (and essentially ranks) the love-making skills of most of the men (some of the women) in the kingdom. Since Mary is busy being queen and running the kingdom pretty much alone (since Francis is being played by the whole "Henry is possessing people" thing – yeah, that one turned to be a fake-out, courtesy of one of his noblemen) and Greer is hours away from her wedding, Kenna and Lola have to team up with Catherine to figure out who the greatest lover in the book is. Catherine has already read the book because she's ahead of everyone, all the time. She's also already slept with the man she thinks is the Great Lover of the book (there are no names, just vivid descriptions). Kenna is determined to find this guy so Lola can hook up with him and she can get vicarious jollies.
The Reign sex diary probably reads more like 50 Shades of Grey than the actual Mean Girls Burn Book, so here's what I imagine the actual Reign Burn Book might say about our favorite royals and royal adjacents.
Mary
Mary Queen of Scots uses super jumbo tampons because she can't stay pregnant.
Lola
Lady Lola is lying about being a virgin because she had the king's lovechild.
Greer
Lady Greer is a grotsky little byotch.
Kenna
Lady Kenna made out with King Henry.
Duchess of Bohemia
So did the Duchess of Bohemia.
Bash
Pagan.
Francis
Too dramatic to function.
Henry
King Henry is a pusher.
Catherine
This girl is the nastiest skank bitch I've ever met. Do not trust her. She is a fugly slut!
Because we all know who would pen the Reign Burn Book and then use it to frame someone else, right?