'SNL' Should Hire the 'TODAY Show' Hosts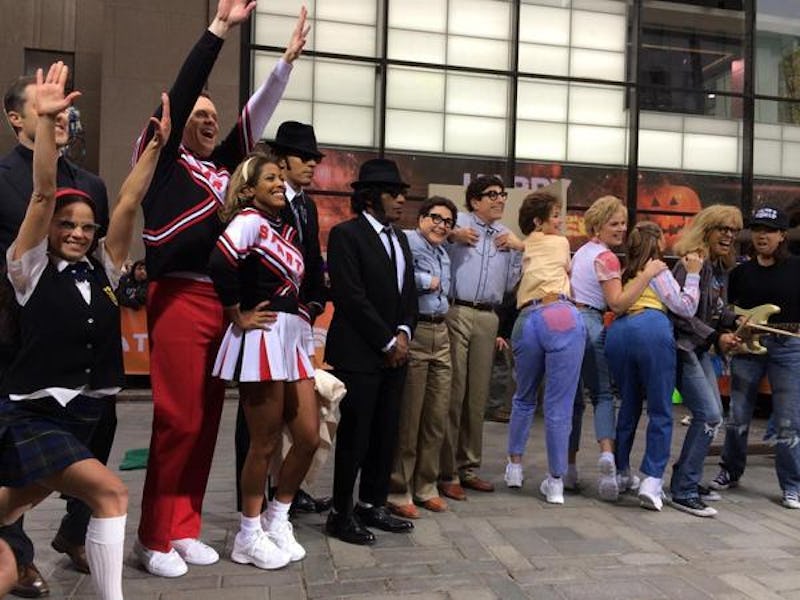 Raise your hand if you've had "This Is Halloween" from The Nightmare Before Christmas stuck in your head since you woke up this morning. It can't just be me. And, since I woke up this morning, I've been excited to see what costumes people would be showing off in honor of the holiday. Some celebrities have already displayed their Halloween pride, such as Liv Tyler's bun in the oven costume that she used to confirm her pregnancy, but others were leaving us in suspense until Friday morning. When Halloween TODAY finally showed off the costumes of the hosts, however, I confess I was a little disappointed to see that the hosts of the TODAY Show dressed up like Saturday Night Live characters for Halloween. It was adorable, of course, but it just further helped to highlight my issues with SNL.
The main four costumes that we spent most of the show with were the Spartan Cheerleaders, Mr. Blues (of "The Blues Brothers"), and Mary Katherine Gallagher. All these characters originated from Saturday Night Live sketches and they were hardly the only SNL characters that the hosts dressed up as. "Mom Jeans", Pat, and "Wayne's World" were all seen among their efforts as well. It was a truly hilarious and well-thought out group costume that was full of unfiltered cuteness, especially when they showed the behind-the-scenes journey to emulate the popular sketches and even went as far as to put on rehearsed routines for the fans. Halloween TODAY went off without a hitch in that regard.
However, because the TODAY Show and Saturday Night Live are on the same station, NBC, the costumes did strike me as serving a dual purpose. Yes, they're great Halloween costume inspirations, but they're also free promotion for another network show that has been getting a lot of well-deserved criticism and has been suffering from dwindling ratings. The viewership for the season 40 premiere dropped from that of season 39 and SNL's ratings hit a season low with their October 11 episode starring host Bill Hader. In addition, this season has seen them create an all-male team for the Weekend Update cast and the replacement anchor, Michael Che, has been getting intense criticism recently for his anti-feminist comments under the guise of humor.
What does all of that have to do with TODAY? Absolutely nothing. However, as amazing as their costumes were, they opened themselves up to comparison with Saturday Night Live and, thus, association with all of the criticism that Saturday Night Live has been under. Quite honestly, their costumes were so good that they just further highlighted my issues with SNL. In the above picture alone, with seven women present for the group shot, they have more females represented than the actual Saturday Night Live cast does at present. It feels like the goal here is that either people who watch TODAY will tune in to watch Saturday's episode of SNL or that people who love the TODAY hosts' costumes (as I do) will soften their hard criticism toward the show itself. Neither should happen. Saturday Night Live is still problematic and shows no signs of changing anytime soon. Awesome costumes on the TODAY Show won't change that. It just makes me want to watch TODAY instead.
However, a lot of thought and effort went into these costumes and they were done really, really well — so well that I honestly can't even pick a favorite one. (I'm just kidding. It was "Mom Jeans".) I just think it would have been better for TODAY to stay away from emulating SNL, especially this particular week.
Image: TODAYshow/Twitter