'Mom' Proved They're Perfect to Host the PCAs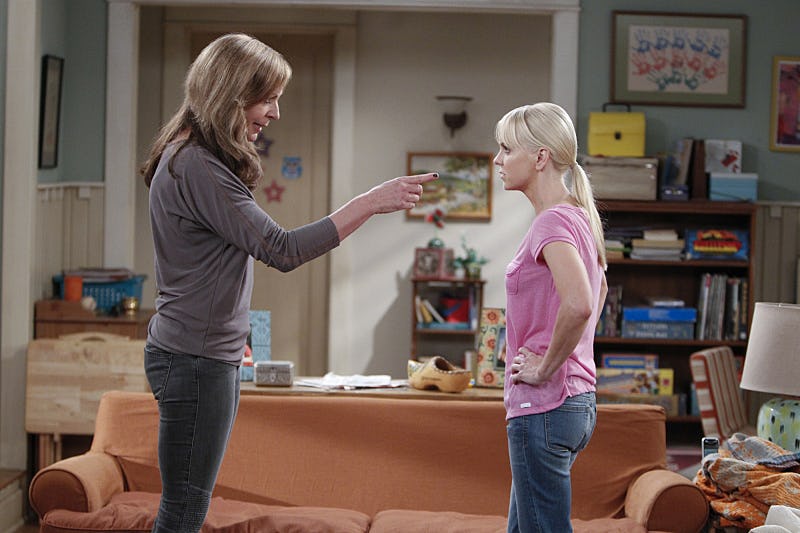 The stars of Mom are far from one-trick ponies — particularly Allison Janney, who won two Emmys for her roles on Mom and Masters of Sex. But they are branching out even more now that it's been announced that Anna Faris and Janney will host the People's Choice Awards. The fan-friendly awards show will air on Wednesday, January 7 on CBS (the same network as Mom). It's not surprising that these two women were selected to host. After the success of Amy Poehler and Tina Fey hosting the Golden Globes, the award show world is officially ready for two more awesome women teams to co-host for them. The people have spoken!
The People's Choice Awards allows those TV shows that we commoners may enjoy but that may get snubbed by awards shows like, say, the Emmys to get some awards-season love. (Despite that, even People's Choice avoided giving any love to Orphan Black.) Mom got nominated for its own People's Choice Award for Favorite Network TV Comedy this year and Faris's husband, Chris Pratt, is getting recognized with The Guardians of the Galaxy.
Of course, we know that Janney and Faris are dynamic, hilarious women in real life, but their onscreen moments on Mom also prove that they'll be great hosts. So, let's check out how their fictional characters on Mom reflect why these two will be so fun to watch at the PCAs.
They Are Brutally Honest
There's nothing more hilarious to me than some brutal, awkward honesty. Plus, while you don't need to go to Ricky Gervais-levels of insult while hosting an awards show, it's always fun to have some good-natured bantering (particularly about other celebrities) and blunt jokes. As shown on Mom, Christy (Faris) and her mother Bonnie (Janney) do not hide what they're really thinking. I'm crossing my fingers for some vagina jokes. But just because they frequently give too much information doesn't mean they are are always being truthful because...
They Are Great Liars
The women of Mom are experts at trying to keep their vices and addictions secret from one another — and at covering their asses in general. In the Season 2 premiere, Christy revealed that she's been gambling away the rent money (like mother, like daughter to lie about money). Although I like to imagine that every show host is being 100% genuine, I know they can't be super excited by every award they're announcing. The ability to fib a bit and schmooze can go a long way.
They Support Each Other
Although their relationship on Mom is super dysfunctional at times, they really do care about each other. When times get hard, they stick by each other (albeit with a lot of humor), like when Christy's daughter Violet gave birth in the Season 1 finale. In real life, these two actresses also support each other. They went on The Ellen Show and did the American Ninja Warrior Parking Lot Challenge. Janney kicked some serious ass — and she made sure that she helped Faris along the way.
They Are Hilariously Wacky
Let's be real here. The reason they are going to be fantastic hosts for the People's Choice Awards is that both Janney and Faris are willing to go completely bonkers onscreen to get a laugh. They better bring their amazing comedic timing and chemistry on January 7. Until then, you can catch them on Season 2 of Mom on Thursday nights on CBS.
Images: Sonja Flemming/CBS; britcroft (2), danakatherinescullys, turangaxleela (2), michaelaconlin, parangarico/Tumblr