Massimo Is the Best Part of 'Euros of Hollywood'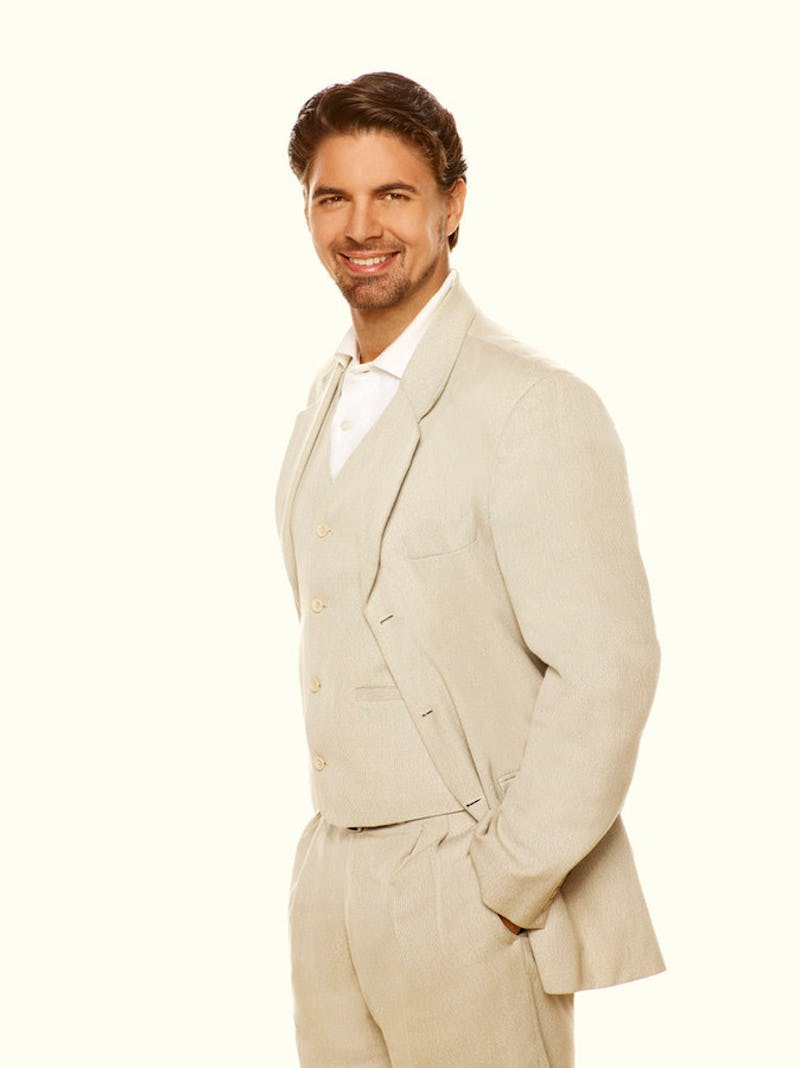 Our favorite Italian-Americans on The Real Housewives of New Jersey will be off our TV screens for a while now that Season 6 has almost come to a close. Luckily, Bravo understands our insatiable need to see the culture that gave us Leonardo da Vinci, Prada, and spaghetti. Euros of Hollywood star Massimo Dobrovic, who is actually from Rome, Italy, is all we need to bring a little bit of Italy into our homes every week.
I am absolutely obsessed with Massimo, and I hope you are, too. He was the first cast member we met during the premiere of Euros of Hollywood, and the show could not have possibly started any better. Massimo charmed us with his vibrant Italian accent, dazzled our eyes with his fashion sense, and amused us with his acting training. Massimo just basically needs to be on screen, and he will undoubtedly be entertaining. He really doesn't even to try.
During the series premiere of Euros of Hollywood, Massimo's castmate and good friend Fawni said, "Massimo definitely has a little secret." Watching him does make you wonder, can someone who seems as kind, versatile, and all-around lovely as Massimo not have something darker brewing beneath the surface? We'll have to watch the rest of this season of Euros of Hollywood to see if there's more to Massimo than meets the Gucci sunglasses, but for now, here's what we know about this breakout star.
He's not originally from Italy
Though Massimo is now the resident Italian stallion on Euros of Hollywood, he was originally born in what is now known as Croatia. He and his family fled during the war to Italy when he was young. Now, Massimo is a proud Italian because he thinks the country has the best fashion in the world (more on that later). Being the international man of mystery that he is, Massimo also speaks five languages fluently, and he acts in all of them as well. As we all saw during the Euros of Hollywood premiere, he could use some work on that American accent though.
He dreams of winning an Oscar
Massimo started his acting career in Italy, but everyone knows you haven't really made it unless you've made it in the City of Angels. He came to America and studied at the American Academy of Dramatic Arts, which has spawned such famous alumni as Robert Redford, Paul Rudd, and Jessica Chastain. He also studied with Donna Pescow, whose most famous role of her career was probably as Annette in Saturday Night Fever, but who is best known to Millennials as Ren and Louis' mom on the Disney Channel series Even Stevens. So now you know.
You probably haven't heard of anything Massimo has starred in so far, but he does have a large body of work, starring in both Italian and English-language projects in drama, horror, and a critically-acclaimed Italian movie about what goes on in the mind of a new Pope. He's also done some theater work with roles in Macbeth, Oedipus Rex, and A Midsummer Night's Dream. He's also got at least five movies in the can right now, so he's doing a lot better than most actors you probably know.
But honestly, I think a reality show is where Massimo belongs, and that's not a dig at all. He really has such a great personality himself that he just needs to turn that on to be captivating on screen. You are enough, Massimo. You are enough.
He's a snappy dresser
One look at Massimo, and you won't be able to get the image out of your head. This man knows life is a runway, and uses it as an opportunity to show off the fashion that Italy is famous for. However, he doesn't seem to bring the same flare to his outfits featured in his Instagram photos, so I'm hoping that his flamboyant appearance is not just something he's putting on for Euros of Hollywood. That would just break my heart.
He's a Renaissance man
As Massimo says in the premiere, he truly is a Renaissance man. In addition to acting, Massimo models, dances, choreographs, cooks, knows martial arts, and does horseback riding. The only thing it seems like he doesn't do is sing, but we've already got that covered on the show anyway. Where does the guy find the time to be on a reality show?
Thank you, Bravo, for bringing Massimo into our lives. May he continue to provide much fodder for me throughout the season.
Image: Tommy Garcia/Bravo