Bleona & Fawni Fight At The First 'Euros' Dinner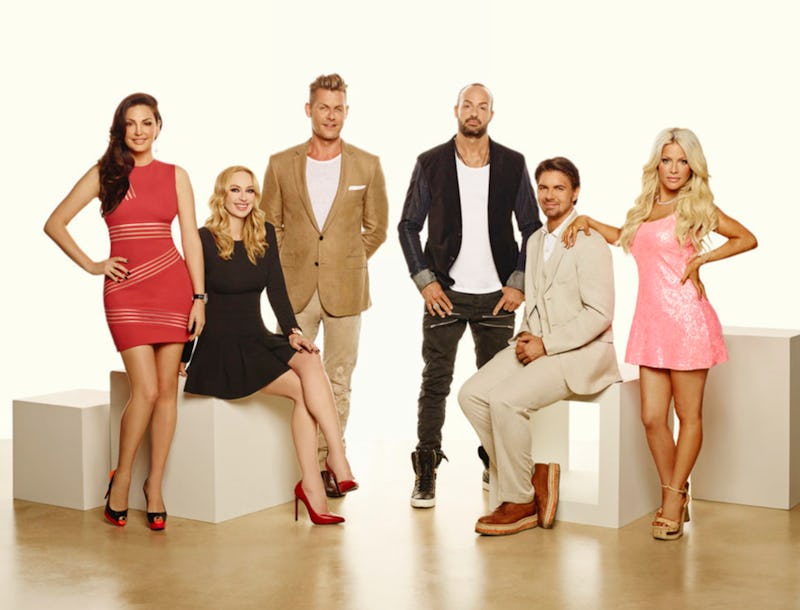 Oh, Euros of Hollywood . I knew we were going to get along. So no, I wasn't entirely surprised when Monday night's season premiere of Bravo's new reality show about six wealthy, successful, and glamorous Europeans who live in Los Angeles was about as fun as a giggle-filled trip to Target with a buddy. That is to say it was the best kind of time. Once the premiere finished doing its "get to know the cast" thing, it went full steam ahead toward what will probably be one of the main sources of conflict this season: Pop singer Bleona and pop/rock singer Fawni do not like each other. At all. As the cast enjoyed an incredible meal prepared by Massmio*, it became abundantly clear that the two singers are not about putting on a phony face when in each others' company. They would much rather be up front about it. Which, hey, I can't knock anyone for being honest.
*Massimo is already my favorite person in the cast. Between his Target shopping trip commentary, the gorgeous meal he cooked for his friend's dinner party, and his positive attitude, he's the frontrunner. No question. Big fan.
After Fawni said in a talking head that she and Bleona don't like each other, I couldn't wait to watch whatever mayhem would undoubtedly unfold at the dinner party. And within the last ten minutes of episode, mayhem most certainly unfolded. Bleona calls herself a hero for making Fawni's dinner party because she's incredibly busy recording her English-language album. (Question: Wasn't Bleona not invited? Fawni seemed surprised when Bleona showed up with Sascha. Like, was Bleona bragging that she made time to crash a dinner party she wasn't technically invited to? Ugh, I love Bleona.) Bleona and Fawni make passive-aggressive and aggressive-aggressive comments about what it takes to be a singer. And moments before Fawni asks Bleona "how the brain cells function within you?", Isabel's talking head serves as the Greek chorus: "Maybe they feel threatened by each other?" Isabel wonders why Bleona and Fawni are competitive with one another even though they're "so different."
Alas, that doesn't seem to matter. The "This season on..." trailer leads me to believe the Bleona/Fawni feud will only grow. Well, if they're going to be at odds, I hope we viewers are let in on why they're at odds. I have a hankerin' for some backstory! A "they just don't like each other because the music industry is hella cutthroat, K?" will not do. I WANT DEETS.
A thought: Might Euros of Hollywood give us a pop music war? Can I look forward to a Bleona/Fawni sing-off? Will said sing-off unintentionally morph into a beautiful duet that changes the lives of all who hear it for the better? And will Bleona and Fawni realize that they should've been a musical duo all along? And will the season end with the premiere of Bleona and Fawni's original new song?
Sorry. Getting ahead of myself. Anyway, Team Massimo. Can't wait for next week.
Image: Tommy Garcia/Bravo