This Starbucks Proposal Is Even Sweeter Than A PSL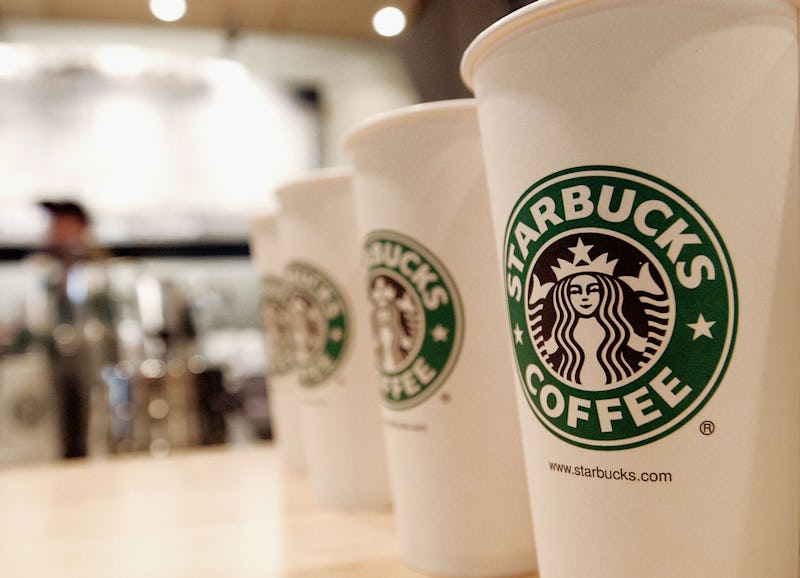 Stephen Chernin/Getty Images News/Getty Images
It seems like every romantic comedy has a scene set in a coffee shop, where two people lock eyes over their cappuccinos and boom, a relationship is born. Real-life couple Ethan Knapp and Kenna Rusk actually experienced a similar moment at a Starbucks five years ago, and the java chain has remained such an important symbol of their relationship that when it came time for Ethan to pop the question, he decided to stage his proposal at Starbucks. You know what they say — caffeinated love is true love.
Per Buzzfeed, Ethan first met Kenna when he applied for a job at the Starbucks where she was working. The two fell in love, and half a decade later Ethan was ready to take their relationship to the next level by asking Kenna to marry him. In order to pay homage to the place where they first met and bring their love story full circle, he flew them to Seattle and proposed to Kenna in front of the original Starbucks location. She accepted, and earlier this week, the coffee conglomerate itself shared the photos of their adorable proposal on their Instagram account, where it immediately accrued more than 135,000 likes. Doesn't it look like a scene straight out of a movie?
As a fellow coffee addict and a frequent Starbucks patron, I can't help but love the couple's story and Ethan's thoughtful proposal. Plus, the fact that they're both holding coffee cups mid-engagement in these photos only makes it that much better.
This isn't the only time Starbucks has inspired an elaborate, coffee-themed proposal. In 2011, Shane Bradley's recreation of his first date with girlfriend Mikaela went viral after he built his own mini-Starbucks in the woods — down to an almost exact replica of the cups, menus, and logo — as part of his proposal. Mikaela said yes too. Looks like Starbucks can brew more than just coffee!
Image: Stephen Chernin/Getty Images; starbucks on Instagram, krusk1/Instagram