What Happened Between Fawni & Bleona?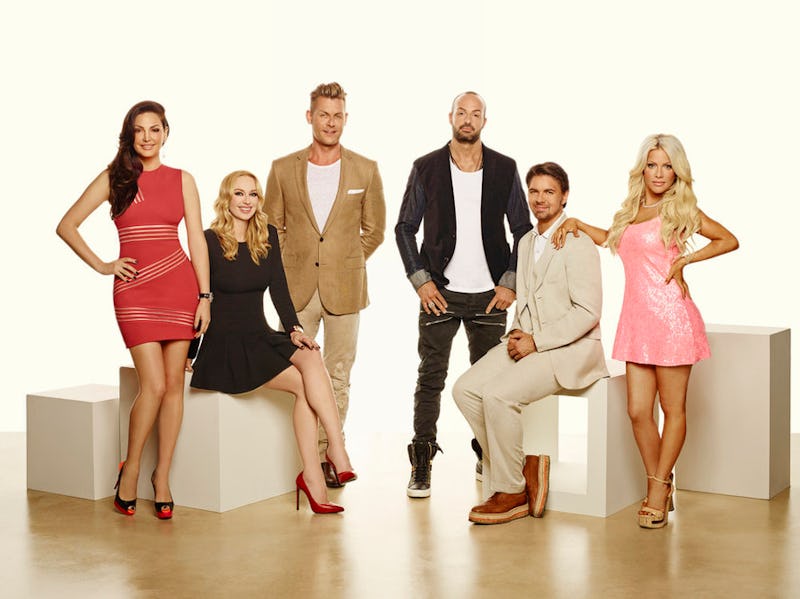 Bravo's latest show, Euros of Hollywood, is a fascinating look into the psychology of recent European expats as they attempt to make their fortune in Los Angeles. For once, the outsized egos of the reality stars makes sense, since most of the cast already found some pretty sizable success in their home countries. And already things are getting tense between pop stars Fawni and Bleona as they both attempt to break into a mainstream American music career. But why don't Fawni and Bleona get along?
Fawni's dinner party was the kickoff to the two pop stars' onscreen feud. Maybe they just started filming talking heads after this opening dinner party had already happened, and the two haven't gotten along since. It makes sense — their personalities are at complete odds. But in the episode, Fawni said that she's known (or known of) Bleona for a year before the show started, which makes you wonder exactly how long these two singers have known one another and exactly how well they knew each other before. However, for now Bravo is keeping that news under wraps, probably so it can be dramatically revealed after a pole dancing class or a late night in a club.
The best part of this feud is how much of an odd couple these two are. When Bleona just starts putting cheese into her mouth and Fawni shakes her head disapprovingly, it might as well be a clip from a European adaptation of The Odd Couple.
Austrian Fawni had a number one hit in Japan (and she won't let anyone forget it), and loves to paint. She cheated on her husband so much that the marriage ended. Bleona has also had her fair share of success: she has earned herself a reputation as the Madonna of Albania and has her parents working as her personal assistants. She's the blingy, outspoken, spoiled Oscar, while Fawni is the overdressed, dinner party throwing, politely networking Felix. Their names even sound kinda like Felix and Oscar. Fawni & Bleona.
Somehow, this jockeying for Isabel's attentions caused enough conflict to last beyond the season. Fawni and Bleona have taken their fighting and insults to social media. And they do not play nice.
Ouch. Though I have to say, watching two pop stars battle it out with petty insults is incredibly fun. If Katy Perry and Taylor Swift broadcasted their arguments over the basic cable airwaves and took to Twitter afterwards to share their opinions, I'd be way more invested in their broken friendship.
Image: Tommy Garcia/Bravo