10 Reasons Why Thanksgiving Is the Best. Period.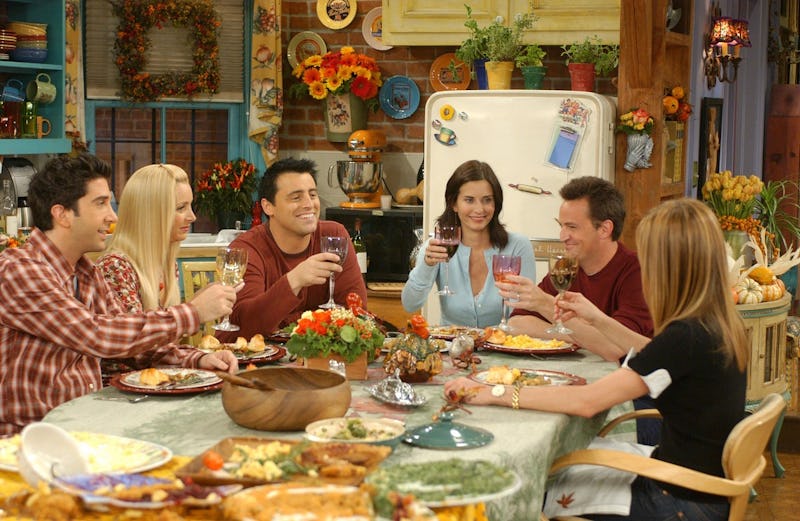 Mashed potatoes, homemade gravy, green bean casserole, crescent rolls, moist stuffing, buttered corn, cranberry sauce... and those are just the sides! Of course I'm talking about that most glorious of days, where gigantic helium floats fill the skies of New York, football games take over televisions nationwide, and a slice of pumpkin pie can be found on just about every dessert tray. T-Day, Turkey Day, call it whatever you want, just be sure to call Thanksgiving the best holiday of the year. Because it is.
With Halloween preceding it and Christmas following up soon after, it's easy for Thanksgiving to get cheated of the excitement and anticipation that it deserves. This needs to stop ASAP. A holiday dedicated to eating, being thankful, and staying at home is kind of perfect in theory. Oh, and also in practice (pumpkin pie, guys). So let's stop underrating this holiday and start giving it all the praise that it's due.
Here are the top 10 reasons why Thanksgiving kicks every other holiday's ass. Halloween might have costumes, and Christmas might have presents, but Thanksgiving has a giant bird stuffed with breadcrumbs, a never ending flow of adult beverages, and a designated nap time... and well, that's just heaven on Earth.
1. The Food
I'm not going to beat around the bush on this one. There's really no way I can. Food, obviously, takes a front and center seat on the fourth Thursday of every November. Would you get up at six in the morning to stuff a turkey and put it in the oven any other day of the year? Exactly.
2. Friends and Family
Life gets busy. People get flaky. I get it. Thanksgiving offers one day a year when there's no reason to be anywhere else doing anything else. It is literally time set aside for eating large quantities of turkey, drinking perhaps a little too much, and just hanging out. I call that quality time.
3. Pumpkin Pie
You may think I'm going a little overboard in giving pumpkin pie its own spot on this list, but you're wrong. I have never been to a Thanksgiving dinner that didn't have pumpkin pie being served for dessert. You may not like eating pumpkins, carving pumpkins, or visiting pumpkin patches (in which case, what kind of person are you!?), but you probably like eating pumpkin pie. That's just a fact, bro.
4. Macy's Thanksgiving Day Parade
What's not to love about giant-sized Spiderman, Snoopy, and SpongeBob inflatables making their way down the streets of New York City? It may look exactly the same every year, but that doesn't stop you from tuning in time and time again. It's just one of those Thanksgiving traditions that hits the spot once the turkey's cooking and you've got time to kill as you sip on a hot cup of coffee.
5. Four Day Weekend
Because Thanksgiving always falls on a Thursday, and assuming your boss isn't a total monster, you're likely going to find yourself blessed with a four day weekend. Oh hell yes.
6. The Leftovers
Your Thanksgiving feast doesn't end on Thanksgiving. I might even venture to say that a leftover Thanksgiving Day sandwich is tastier than the dinner that preceded it.
7. Day Drinking
While not everyone partakes in drinking alcohol, those of us who do have an excuse to start the festivities early simply because... it's Thanksgiving.
8. Everybody Celebrates It
Thanksgiving is non-religious and ultra-American, and that means everyone celebrates it without hesitation. It's an all-around crowd pleaser.
9. Nap Time
Large amounts of turkey and day drinking lead to one glorious thing: napping. It's cool — unbuckle your belt, lay back in your easy chair, maybe turn on the game, and sleep with no judgement.
10. Giving Thanks & Being Thankful
Remember when your parents used to make you say what you were grateful for before they'd let anyone dig into the Thanksgiving day feast? Turns out, that's a pretty wonderful tradition, and something we don't do often enough.
Images: NBC, Giphy (10)