Is Chris Jamison Team Adam's Secret Weapon?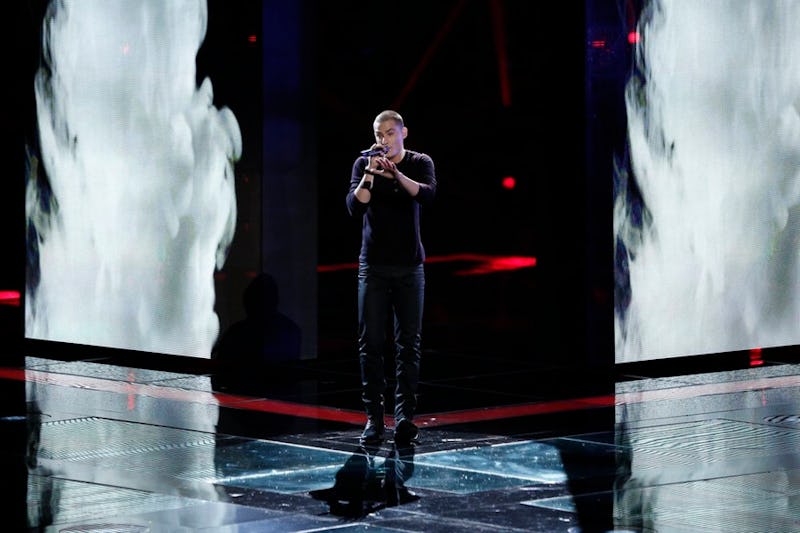 The girls are definitely "#iminlove"-ing now. Chris Jamison tackled the extremely difficult "Don't" by Ed Sheeran in The Voice Live Playoffs, and handled it fabulously. Coach Adam Levine challenged Jamison with the wordy song, but used it as a perfect learning opportunity for the college acapella star. Though he may have struggled to catch his breath at points, Jamison's stage presence and overall charm on stage will get him into the Top 12.
The fact that Levine chose such a tough song for Jamison shows that he is really investing in teaching him everything he knows. In the early rounds it seemed as if Jamison almost snuck through. I was convinced he was going home after his knockout round against Blessing Offor, but Coach Adam shocked us all by choosing Jamison because he must have sensed something in him that the rest of us didn't, which he proved tonight.
Don't get me wrong, Jamison's performance wasn't flawless. He may fall in the shadow of young powerhouses like Jessie Pitts and Taylor Brashears, but we shouldn't let him go home just yet. Jamison grew so much between his knockout round and live playoff. But Jamison has a few things that prove he's ready to continue in this game:
1. He can take direction - Jamison isn't too proud to listen to Coach Adam. Sometimes The Voice contestants are already professional singers and don't have a lot they need to learn — or want to learn — from their superstar coaches. But seeing the young artist ask his coach for advice during his rehearsal proves he wants to learn, and that will get him much further than the more stubborn contestants.
2. He's got the moves - Jamison tore it up on that stage. He can work a crowd without letting it affect his vocals, which is the mark of a true performer.
3. He's versatile - Many of this season's contestants fall into a distinct genre of music, but Jamison has already shown his versatility in just a few weeks. He went from singing the classic "Sitting On the Dock of the Bay" in the Knockouts to scatting/rapping/belting out a current pop hit. He can do a little bit of everything, which shows how talented he really is.
If Jamison gets through to the Top 12 (which he should), there is no doubt that he will grow week after week and be a major player for Team Adam.
Image: Tyler Golden/NBC