Bleona Gets Cheesy On 'Euros of Hollywood'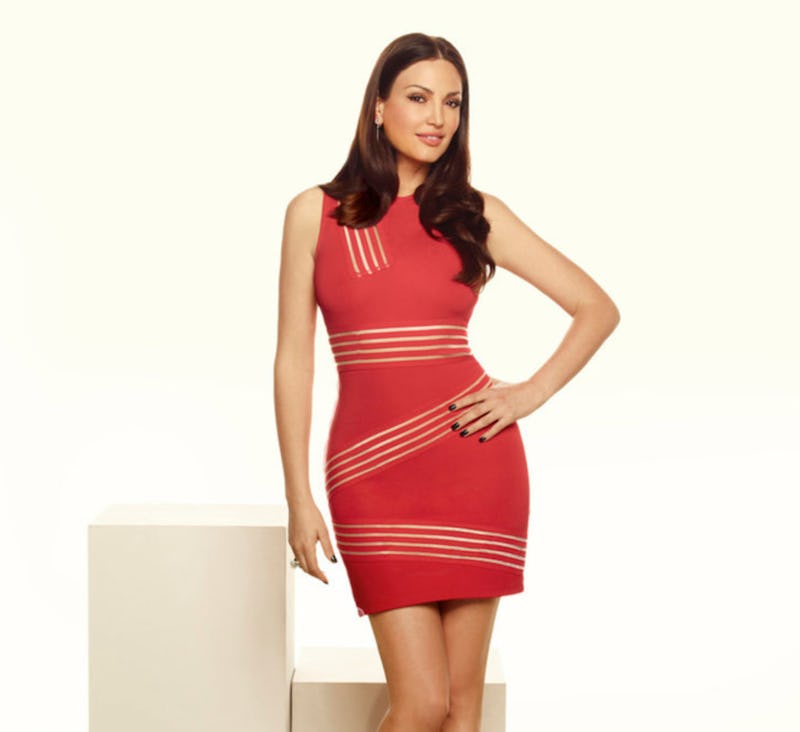 If I were to sum up Monday night's Euros of Hollywood in one sentence, that sentence would be: Bleona offended everyone at Fawni's dinner party by chowing down on a giant wedge of parmesan. Is that a detailed play-by-play of what went down over the course of the episode? Not even close. But that moment at the top of the ep set the tone for the rest of the hour: Bleona does what she wants, and everyone can either laugh along with her or choke on the exhaust of the Bleonairemobile. So no, the Bleona and Fawni dinner party fight that began at the end of last Monday's premiere did not end with hugs and apologies. They did not put their differences aside and forge an unexpected friendship over slices of tiramisu. Instead, they continued to be at each others' throats. Bleona and Fawni do. Not. Like. Each. Other.
The Bleona vs. Fawni EoH Pop Feud rages on, and the other cast members are slowly but surely establishing their allegiances. Here are the current standings:
TEAM FAWNI
Massimo. He was not happy about the cheese incident, the tiramisu incident, or Bleona's saltiness toward his BFF Fawni.
TEAM BLEONA
Isabel. After Fawni unintentionally offended Isabel in the middle of the fairly disastrous meeting with DJ Audrey by kinda-sorta suggesting Isabel is fake about Bleona, Isabel started to rethink working with Fawni. Isabel vented to Bleona about it. And after Bleona urged Isabel to revoke Fawni's party performance duties, Isabel did just that.
TEAM ???
Jannik. He told Bleona she was rude at Fawni's party and suggested she tone down the Bleona-ness. He said someone needs to tell Bleona how to behave. HOWEVER, he and Bleona laughed about the cheese and hugged goodbye after their conversation.
Sascha. He was down to talk mad scheisse about Bleona's dinner party antics with Fawni. HOWEVER, he really, really wants to cut a song with Bleona. (Next week's preview implies Sascha finally loses his patience with Bleona, but that could totally be a misdirect.)
Cheese. Not sure whose side it's on. Hope to hear more from the cheese wedge on the Bleona/Fawni feud.
Image: Tommy Garcia/Bravo