Did Naya Rivera Slut Shame Kim Kardashian?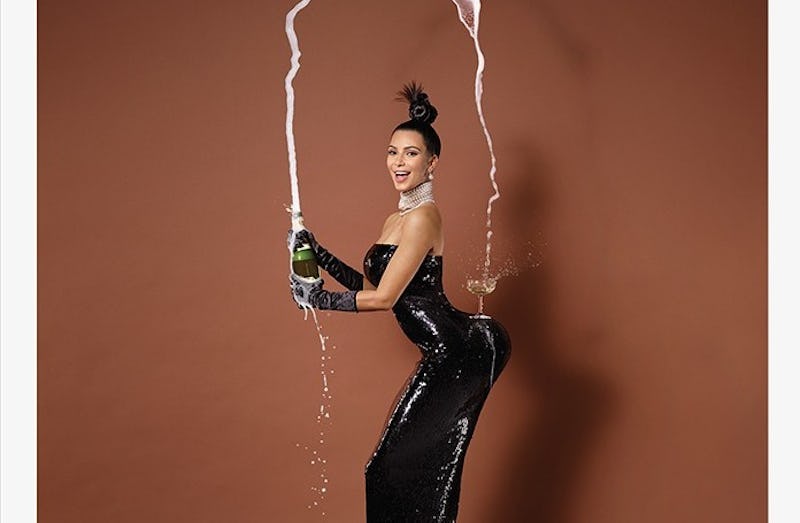 Let's file this under things that I absolutely pray is either a rumor or a straight up hoax, because I'm tired of seeing things like this happen. Not just the general tearing down of women by other women, but also the slut shaming — particularly of mothers. However, I'm getting a little ahead of myself here. Allegedly, Naya Rivera dissed Kim Kardashian's Paper magazine cover, leaving a comment on Kardashian's Instagram that said, "I normally don't. But...you're someone's mother..." Kardashian's magazine covered feature her bare butt and another shot of her opening a bottle of champagne that shoots the beverage into a glass resting on her (fully clothed) butt; both pictures were designed to "break the Internet" and it is dubious as to whether or not they have succeeded just yet. However, Rivera's comment was uncalled for if, in fact, it ever existed.
The proof of the Instagram comment comes from a screenshot of it posted to a Twitter for Rivera updates called @NayaRiversNews. The tweet, embedded below, shows the message which was posted, presumably, on Wednesday. Since this is the only real record of the comment and the image that has been replicated on numerous sites, I want to believe that this is just a hoax.
After all, it goes without saying that there is absolutely no reason for Rivera to be slut shaming Kardashian, especially not on the grounds that she is someone's mother. It's a plain fact that posing on a magazine cover with her behind bare and greased up has absolutely nothing to do with Kardashian's ability to care for her child. Being a mother and being a brand are two different things and her talent with one does not necessary affect her talent with the others. The decision to pose nude or almost-nude is a choice and it is the right of every woman to make that choice for themselves, without the input or judgment of others.
Of course, this wouldn't be the first time that the reality TV show star has faced this exact kind of backlash. In May 2014, Kardashian stepped out in a plunging torpedo without wearing a bra and received a wealth of criticism from people who thought she was dressing too sexy for a woman with a child. Because, apparently, if you have a child then you're only allowed to wear full-body suits and maybe some kind of ski mask to make sure you've got absolutely nothing showing. Because, apparently, when you become a mother then you are no longer allowed to be "hot" or "sexy" or dress in ways that make you feel like either of those things.
It's not (allegedly) just Rivera that is throwing shade Kardashian's way for her cover shoot. In fact, many of the criticism for the shoot echo the criticism for the plunging tuxedo from May.
Let's be real for a moment. Kardashian doesn't need to bare anything for attention. The woman made headlines for bleaching her eyebrows. Attention-grabbing stunts are attention-grabbing stunts, but Kardashian does them because she enjoys them or because they speak to her sense of humor and not because she feels that she has to do them in order to stay relevant. Whether you like them or not, the Kardashians are a hot topic of discussion and they literally can't leave their house or toss out a tweet without making the headlines for it.
For Rivera — and for fans — to say that Kardashian can't act a certain way or do a certain thing just because she's a mother is just an excuse for the body policing and slut shaming that's inherent in that argument. After all, Beyoncé gets nowhere near as much flack for things like, say, the entire "Partition" video even though she too is a wife and a mother. So, hopefully, Rivera's comment isn't real because to hear a star like her slut shaming others would be very sad, very disappointing, and a little hypocritical given her own photoshoots. The "but she's not a mother" argument doesn't hold water in this instance because, as I said, Kardashian's ultra-sexy cover shoot has nothing to do with her ability to parent North. It's just an excuse to shame her.
Image: @PaperMagazine/Twitter