We Tried the New Chestnut Praline Latte For You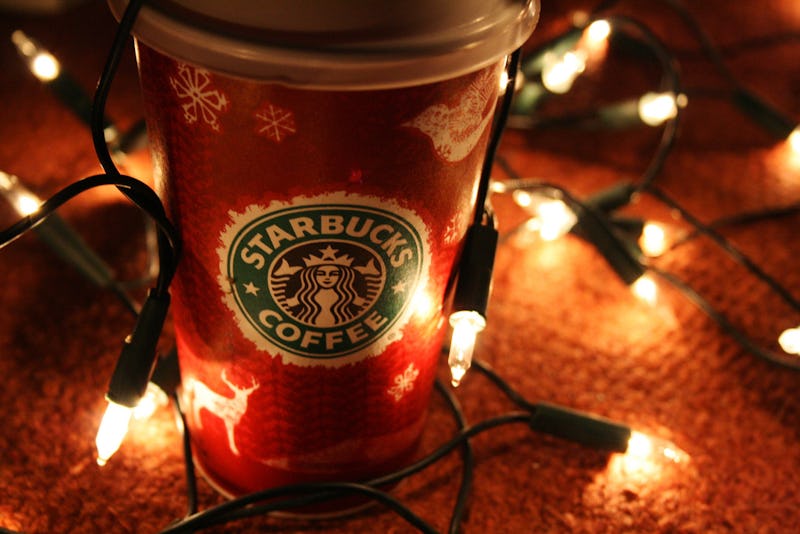 It's finally here, you guys: That long-awaited day on which the Chestnut Praline Latte arrives at Starbucks locations nationwide. And that's not all — Starbucks' "Share Joy" BOGO deal is kicking up to help celebrate. Yes, early holiday marketing may be getting a bit out of hand these days… but if there's free stuff involved, maybe we can give it a pass. Nothing delights a coffee-, tea-, or hot chocolate-loving soul like a warm, delicious, free beverage.
According to Sun Sentinel, the Starbucks BOGO deal is going on today (that's Wednesday, November 12) through Sunday, November 16. Between the hours of 2 and 5 p.m. on those days, buy any beverage on the menu and get a free one along with your purchase. Oh, and if you're a My Starbucks Rewards member? Congratulations — you get a bonus hour. You'll have until 6 p.m. to get your BOGO on. Makes sense, given the huge push we've seen recently to beef up interest in the chain's rewards program.
Starbucks Melody points out that notably, you don't have to buy a Grande sized drink to take advantage of this deal. Writes the 'Bux news site, "If you want to get two Venti drinks, by all means, you can! You can get any two sizes you like, however the lesser value beverage is the one that is complimentary." The whole "lesser value" thing is commonly how BOGOs work, so that bit shouldn't come as a surprise — but hey, it also means that if you get, say, two Chestnut Praline Lattes of equal size, one of 'em will be free. Given how pricey fancy espresso drinks tend to be in comparison to your average cup of joe, that's not too shabby.
Because I live in the wilds of southern New Jersey, my nearest Starbucks isn't walkable from my apartment; additionally, the car is with my SO at his place of employment, so alas, I won't be able to go BOGO myself or to test out the Chestnut Praline Latte today. However, since there's a Starbucks right down the block from Bustle HQ (I have a theory that from any single Starbucks location in New York City, a second Starbucks location is always clearly visible), our Senior Lifestyle Editor, the incomparable Julie Alvin, took a field trip to retrieve said Chestnut Praline Latte. Here's what it looks like:
For the record, it did come with whipped cream and "praline crumbles" (whatever those are) on top as advertised — but by the time Julie walked it back to the office and snapped the photos, both of those toppers had dissolved. So, y'know… do with that what you will.
And as for what the drink actually tastes like? Does it live up to its "warm roasted chestnuts" inspiration? Well... the jury's still out on that one. First off, since I've never actually eaten any chestnuts roasted over an open fire, Julie, who has consumed such things, told me they're "gross and bitter." Not a promising start for a coffee drink, but maybe that's the justification behind the "praline" thing. The praline element did seem to sweeten it up quite a bit; Julie described it as smelling "like a Pumpkin Spice Latte" and tasting sweet and without "much subtlety." She also also ran it by Hayley Saltzman, Bustle's Social Media Editor, who said "I would like it as a candle" and "it tastes like melted ice cream, but not in a good way." Hmmm. Fascinating, no?
Anyhoo, there you have it. Whether or not you're sold by the idea of the Chestnut Praline Latte, you can still indulge in all your other favorite holiday (and non-holiday) drinks, so go forth and caffeinate. Drink up, my friends!
Images: Chris_J/Flickr; Photobucket; Julie Alvin/Bustle (2)