What You Need to Know Before You See 'Mockingjay'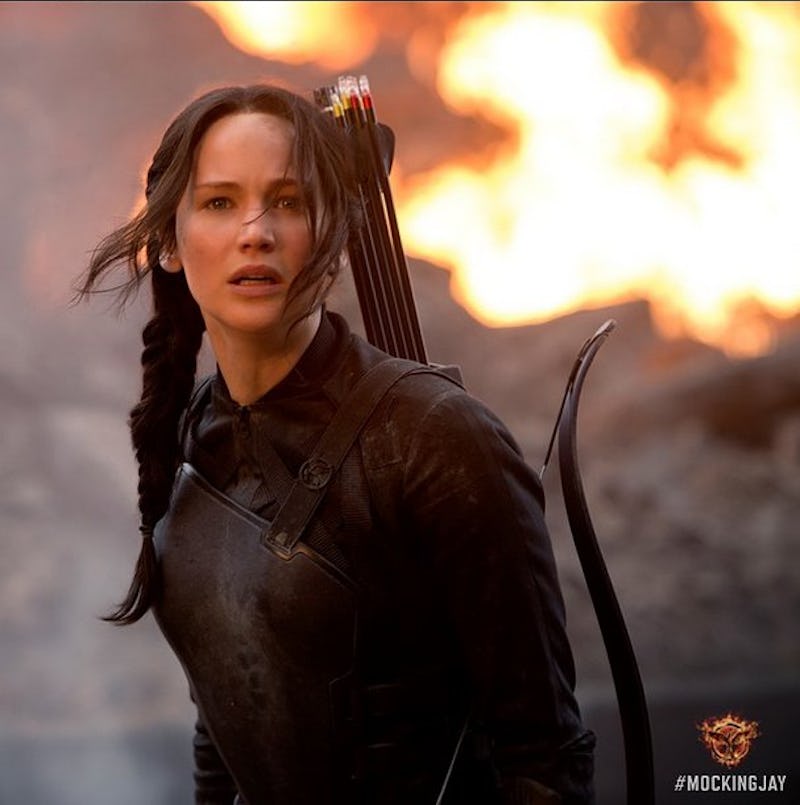 The Novermber 21 premiere date for Mockingjay Part 1 is hurling towards us and I'm so excited. My theater is even holding a series marathon where you can sit there for nine hours and watch all three films in a row. But who has the time (or the attention span) for that? If you want a recap of The Hunger Games and Catching Fire before Mockingjay comes out, there's an easier way to catch up. You don't have to watch all the movies or read all the books again to understand the events from the first two installments of the series.
A lot of big things happen in The Hunger Games and Catching Fire in particular. Katniss and Peeta go into the arena twice, she starts to actually have feelings for him, Gale gets progressively madder at the Capitol, the Capitol gets progressively madder at Katniss, etc. Two novels worth of content can easily get lost in the year since the Catching Fire film came out, but you certainly don't want to walk into a Mockingjay screening unprepared.
So in lieu of re-reading the series or bingeing on the films, here's everything you need to know before the third movie comes out.
KATNISS HAS A HEAD INJURY
Johanna hit Katniss in the end of Catching Fire to keep her safe and out of the way of the murderous tributes. The aftermath of that major head injury are a big part of the third book and could explain some of her erratic actions.
KATNISS DESTROYED THE ARENA
Beetee was supposed to do it but got knocked out, leaving Katniss to figure out that shooting an electrified wire through the arena forcefield would bring an end to the Games.
DISTRICT 13 IS REAL
Contrary to what the Capitol had been preaching for 75 years, District 13 is alive and well with their own underground world and an army to boot.
PEETA'S BEEN TAKEN BY THE CAPITOL AND KATNISS IS PISSED ABOUT IT
Mostly she's mad at Haymitch because he lied to her and said he would protect Peeta. But when the arena was crumbling around the tributes, Haymitch helped make the call to save Katniss and left Peeta stranded. That left him to be captured by the Capitol. Peeta's lack of safety is a big reason why Katniss doesn't want anything to do with the role of leader in the third book.
KATNISS STILL HASN'T FIGURED OUT HER FEELINGS
And she doesn't have much of a chance to with Peeta being in the Capitol, and all. She's definitely friends with Peeta, but Catching Fire proved that maybe she has feelings for him too. This is a big deal heading into book three.
SOME OF THE VICTORS ESCAPED AND OTHERS DIDN'T
Peeta isn't alone as a Capitol prisoner. Johanna Mason was also captured as was District Two's Enobaria. Katniss managed to escape the crumbling arena with two other tributes: District Four's Finnick and District Three's Beetee.
THE CAPITOL HAS LOST THEIR MINDS OVER A 17 YEAR OLD
Katniss was right when she said Panem's government was a fragile system. After years of subjugation, a teenager gave the districts the inspiration to rebel and there's nothing the Capitol can do about it except lash out in violent ways. Which, by the way, is still not deterring the rebel forces.
DISTRICT 12 IS GONE BUT SOME PEOPLE SURVIVED
The Capitol firebombed the district after Katniss destroyed the arena. Fortunately some citizens survived thanks to Gale's rescue efforts.
KATNISS AND GALE ARE TOGETHER AGAIN
With Peeta in the Capitol there's nothing standing in the way of Katniss and Gale being close friends, and Gale is basically reveling in getting her back while she's still pretty distraught over Peeta. (Reason #600 why I'll never be Team Gale.) The end of Catching Fire shows Gale on the hovercraft with Katniss and it's painfully obvious that the rebels are giving him to her in hopes that having her friend by her side will distract from the fact that Peeta has been captured—and he's seemingly OK with this.
WAR TERRIBLE WAR
No more threats of rebellion or Capitol attack; it's on and Panem is in a full-fledged war.
PRIM IS COMING INTO HER OWN
In the Catching Fire she really stepped up helping heal people while her mother shrank back a bit more. That bravery only continues into the third book.
GALE IS ANGRY AS F*CK
Multiply his books one and two anger by like a thousand and that's how Gale feels about the Capitol now. But who could blame him when they wiped out his home?
There's your recap, now you can enjoy Mockingjay in all its glory on Nov. 21!
Images: clotureclub; panempropaganda, mseverdeenes, mockingjayupdates (2), no-one-tells-me-who-i-love, seaofshadows, funastrology, summcohen (3)/Tumblr; buzzfeed; giphy (2); reddit