Can Joel Win Julia Back Before 'Parenthood' Ends?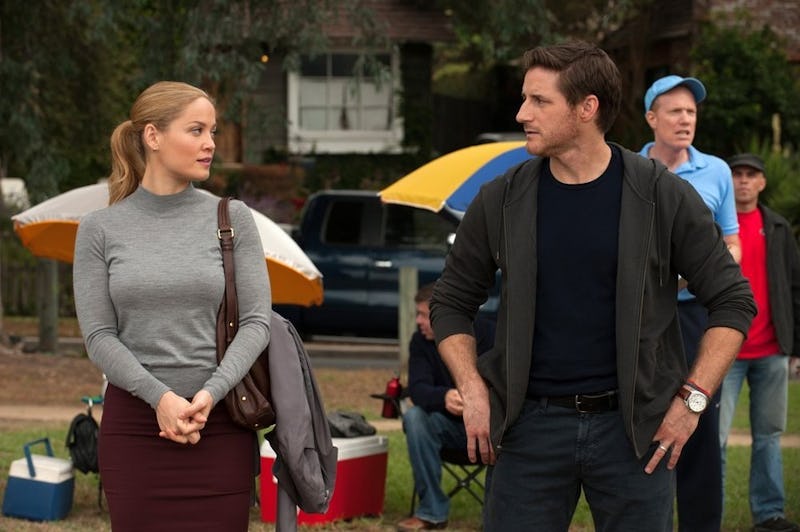 Is it just me, or is it impossible to watch Parenthood without dissolving into a puddle of tears? Not only can I not comprehend the fact that one of my favorite shows is about to come to a permanent end, but this whole Joel and Julia debacle is breaking my heart, and to be honest, I can't believe it's lasted this long. I thought for sure they'd be back together by now, but they've been separated for way longer than I expected. The good news? The end of last week's episode took a hopeful turn, and I think it's pretty likely that Joel and Julia will get back together by the time the credits roll on the series finale.
Not that I haven't totally loved seeing independent Julia back in action. Now that she's back in lawyer mode, she seems more like herself, and her college boyfriend who's now back in her life is kind of adorable... which is why I'll be a little bummed to see him get the ax when she finally decides to reconcile with her husband. And where Joel is concerned, I love that he's decided to fight to put his family back together. It seems like he's realized he's made a big mistake by giving up something so wonderful. After all, it's pretty rare to end up with in-laws like the Bravermans.
And if you didn't shed a tear when Joel and Julia held hands in the elevator after that divorce meeting, you have no soul. Something else that's interesting to consider is showrunner Jason Katims' recent comments to TV Guide on where he thinks Joel and Julia are headed, and he seems to agree with me.
While what Joel said was great, there are still issues. What I've said from the beginning was that I didn't want to come back at the beginning of this year and they were back together. I feel like wherever they get to by the end of it, I want it to feel earned so we really get the sense by the end that we know what their path is going to be.
This statement, to me, sounds like it's possible that after Joel's declaration of love, Julia will be willing to try one more time — but Joel will have to work to prove that he's serious about repairing their relationship. I wouldn't blame her for that, either. What they've been through is a big deal, and she put her heart on the line, only to end up getting destroyed for it. If they're going to make this work, they better both be all in.
"Our show's about people recovering from failure," Sam Jaeger, who plays Joel, said in the same interview. "It's about forgiveness, and I think we've really earned what we saw last. Nothing's easy, and no relationship is black or white. There's a lot of gray area and I'm thankful we've been able to explore that."
Exploring that gray area is a big part of what I'm going to miss about Parenthood, but I'll save my tears for Thursday night. I have a feeling, happy or sad, that I'm going to need them.
Image: Colleen Hayes/NBC