5 Essential Facts About Starbucks' Holiday Drinks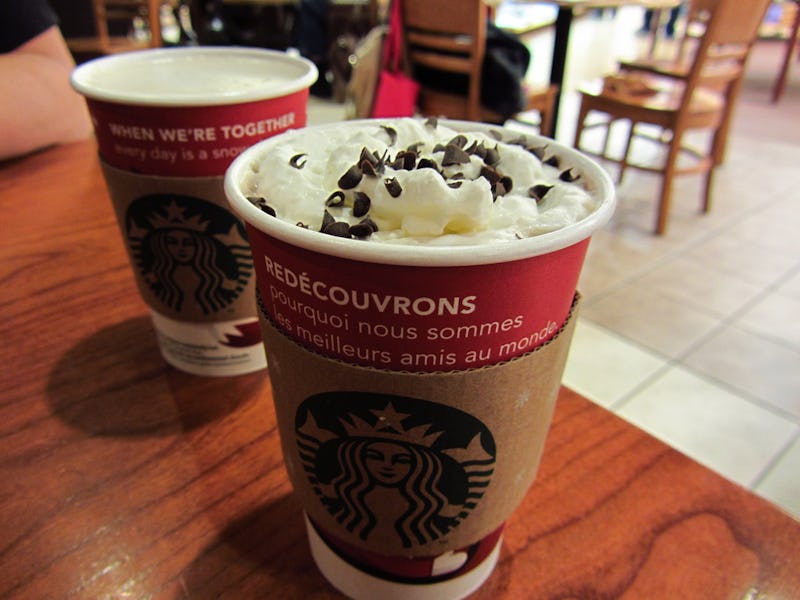 OK, yes, it's kind of ridiculous to call trivia about Starbucks' holiday drinks "essential." But if you like both coffee and random knowledge, you're probably still going to want to give this one a moment of your time. Because it's a dreary Thursday, and dreary Thursdays are definitely days you'll need a second cup of joe (or a third one, or a fourth one, or…).
In honor of yesterday's Chestnut Praline Latte debut — and perhaps in anticipation of its impending war against the Pumpkin Spice Latte — Eater put together a fun video full of facts about the 'Bux's seasonal offerings. It covers all the must-know bases, from exactly what happened during the Great Pumpkin Spice Latte Shortage of 2012 to which drinks have been chosen to grace this year's seasonal menu. You might already know some of these tidbits; others might be new news; but either way, they're a surefire way to get your holiday coffee kick, even if you can't actually get to a Starbucks right now (that would be me. Stupid suburbs. Sigh).
Check out five highlights below, and scroll down to watch the whole video. Don't forget to get your Starbucks BOGO on from now through Sunday!
1. The Chestnut Praline Latte Is the First New Starbucks Holiday Drink to Be Released in Five Years.
We've heard this one spoken in the same breath as the name of the new drink pretty much nonstop since its initial announcement… but I think it's worth repeating anyway. Five years, people. Five years ago I was still in grad school, and a lot has happened since then. Where were you five years ago?
2. The First Holiday Drink Dropped in 1986.
It was the Eggnog Latte. Get your history lesson here.
3. Guess What the Most Popular Sbux Seasonal Drink Is?
It's the Pumpkin Spice Latte. Surprise!... or not. Since the beverage's debut, Starbucks has sold more than 200 million of them. Wowzers.
4. The Great Pumpkin Spice Latte Shortage of 2012 Ruined Fall for a Lot of People.
In 2012, Starbucks released the Pumpkin Spice Latte on September 4… but someone somewhere miscalculated how much pumpkin sauce they'd need to see them through the season, resulting in the Great Pumpkin Spice Latte Shortage of 2012. Presumably they learned from their mistake, as this year marked one of the earliest releases of the drink ever — and several months later, they're stilling going strong.
5. Here's the Full Starbucks Holiday Drink Menu for 2014:
Thank goodness they put the Eggnog and Gingerbread Lattes back on there. Otherwise there might have been a riot.
Watch the full Eater video here:
Images: Calgary Reviews/Flickr; Eater/YouTube (5)