There's a 'Dawson's Reunion In the Works!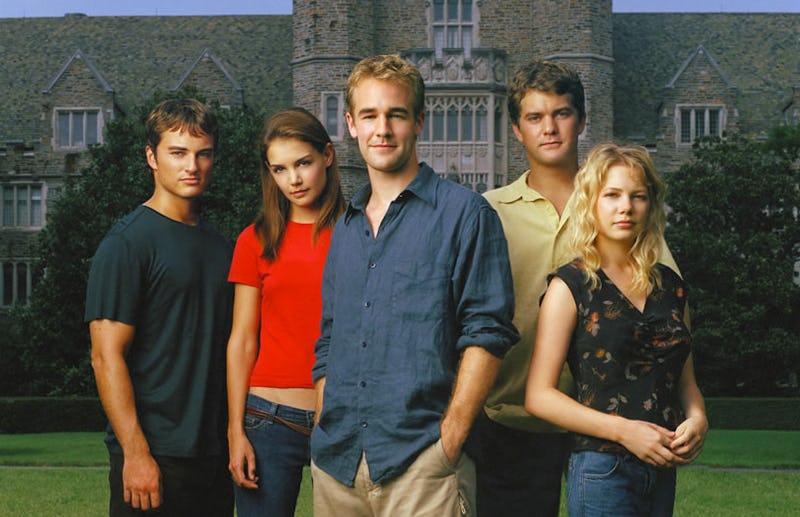 The ATX Festival this summer in Austin will not only hold the untapped wonders of a Gilmore Girls reunion; the writer's room of Dawson's Creek will be reuniting, as well. I'd bet good money those folks have a lot of stories to tell. So what can we expect from the Dawson's panel — and what are we hoping for?
According to TVLine, the panel will include Dawson's Creator Kevin Williamson — who left the show after Season 2 so that'll be interesting when it comes to discussion of everything that came after — showrunner Greg Berlanti, and producers/writers like Julie Plec (who co-created Vampire Diaries with Williamson), Liz Tigelaar (Life Unexpected, Nashville, Once Upon A Time), Rob Thomas (Veronica Mars), and a whole lot more.
Dawson's Creek is one of those shows that's big in the pop culture memory even today — it's possible we're all just still silently pining for Pacey — so it'll be interesting to see what kind of lore crops up when you get all the creative decision-makers into one room and plop them in front of a bunch of eager culture writers. Of course, I've already got a couple of preliminary questions:
At what point did they decide Dawson was no longer the main character of Dawson's Creek?
One interesting thing to note while watching Dawson's Creek is how much the show's priorities shift over time — from the Joey/Dawson dynamic to the Joey/Pacey one, for example, or from Dawson being the center of everything to other characters gleefully taking the spotlight. Dawson simply becomes much less of the focus over time, so what was the behind-the-scenes thought process on that?
What was it like to write one of the most iconic teen shows of all time?
It's a pretty general question, but the Pacey/Dawson/Joey love triangle is name-checked in at least 20 recaps a month — that must be a pretty weird experience as the writers move on to other projects. Do they ever sense the Dawson's Creek presence in modern coming of age shows?
Did any of the actors' personal drama ever bleed into writing decisions?
I doubt they'll reveal anything like this, because that could be potentially very rude to their former leads. But that aforementioned shifting in Dawson's couldn't have left everybody happy all the time. I feel like this panel's gonna talk more about the arguable validity of soul mates vs. true love, but I'd be lying if I said I wasn't also hoping for some juicy gossip.
Why the heck didn't they invite Busy Philipps to be in the finale?
Audrey wasn't the most memorable character on this show, but she was part of the main ensemble for two seasons and played by the always awesome Philipps. The actress has spoken before about not being asked to be in the finale, even though there was clearly room for her amongst all that sadness and death. So why not?
Image: Warner Bros.; Getty Images