The World Is Gross To People Raised By Neat Freaks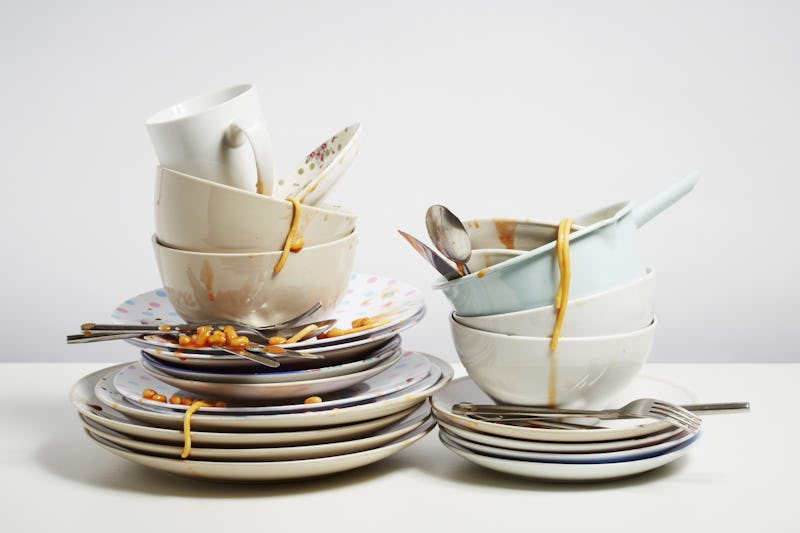 I look up to my mother for many reasons: She is smart, generous, hard-working, and very, very clean. I strive to be more like her each and every day (and I'm not just saying this because Christmas is coming up and I know she will read this and I'd really like a new winter coat). She is my genuinely my rock. Growing up, I assumed that being clean and organized were things that all adults grew into, because adulthood = having your life together, right? Well, you know what they say about people who assume...they're usually wrong and they look stupid. (That's what I say, anyway.) I had to learn the hard way that not all people are clean—in fact, some of them are really quite disgusting.
Yes, I went over to friends' houses in high school who had slightly less-than-orderly houses- but since they had young siblings, I understood. And yes, I noticed that my aunt's house always smelled of cats and cigarette smoke, but I just figured she was busy with work and didn't have time to tidy up. *Sigh* Poor, naive, little me. It took until I was in college—and had roommates for the first time—for that lightbulb in my head to finally go off: My neat freak of a mother gave me a skewed view of the world. She lead me to believe that everyone was clean when everyone is most definitely not clean, and oh my god, what is growing on this plate?!
To say that I was "shocked" by the dirty underbelly of the real world is an understatement. Here are just a few of the things I learned waaay too late in life:
"HOARDERS" IS REAL
I thought this show was just like, I dunno, clever advertising for a maid service? How on earth do people live comfortably amongst piles and piles of '80's magazines and headless Barbie dolls?! Where do you sit?! How do you even find your bed at night?!
DIRTY DISHES CAN TURN INTO A GAME OF UNSANITARY JENGA
I was taught: Nom food, rinse plate, place plate in dishwasher. TA-FREAKING-DA! It's not that hard, people! So why does it seem that so many of my ex-roommates were taught: Nom food, put plate wherever is most convenient (counter, bed, floor, etc.), promptly forget about plate, allow old food crusties to form, stack new dishes on top of old ones, ignore them if they fall, repeat 3x a day, drive clean roommate to insanity.
NOT EVERYONE OWNS A VACUUM
How do you live without a vacuum!? Apart from the obvious ick factor of living in a crumb-filled world, you're missing out on sooo much more. Vacuums are cat toys! Vacuums are couch cushion change-finders! Vacuums are on-the-go DJs! Buy a damn vacuum already.
THROWING YOUR TOOTHBRUSH IN THE HAIRBRUSH DRAWER IS A THING
You know how your gag reflex immediately kicks into full gear when you find a hair in your food? That's because hair isn't supposed to be in the mouth, dummies. So why, why, would anyone throw a toothbrush and a hairbrush in the same cramped space?! You're just asking for trouble.
SOME PEOPLE USE THEIR SHOWER TO GET DIRTIER
Clogging the drain with thick fistfuls of hair makes the water drain much slower and pool around your feet, meaning that you are essentially showering in your own filth. Um, no thanks.
PET HAIR IS EMBEDDED INTO EVERY PIECE OF FURNITURE YOU OWN
I love cats and dogs as much as the next person who loves cat and dogs, but that doesn't mean I want their hair sticking to me as soon as I walk in the door. Just get a lint roller. Not complicated.
LOSING ITEMS CAN BE A DAILY OCCURRENCE
My mom will be so proud of me for this next sentence: If you put something in its place when you're done using it, then that's exactly where it'll be the next time you want to use it! Common sense, but unfortunately hard to put into practice for a lot of people (my younger self included).
REFRIGERATORS SMELL
This one sounds silly—of course food should smell, right? Wrong. Throw out anything that looks like it's ready to crawl away of its own volition. Check yo expiration dates before you wreck yo ex...piration...dates...you know what I mean.
"EMPLOYEES MUST WASH HANDS" SIGNS ARE UNFORTUNATELY NECESSARY
This was, by far, the most shocking to discover: people need to actually be reminded to clean their dirty poop hands before reentering the world?! I'm gonna go ahead and be a stereotypical girl for a sec and say that I cannot even with this. How is this not just naturally embedded into your brain from birth?! How can you walk around and live your life knowing that your grubby little hands are, well, grubby?!
MY MOM IS RIDICULOUSLY AMAZING
Seriously, thanks, Mom, for teaching me cleanliness and organizational skills. They have given me an incredible superiority complex over everyone around me, and what could be wrong with that?
Images: Fotolia; Giphy (11)