'Getting On' Star Niecy Nash Almost Wasn't Didi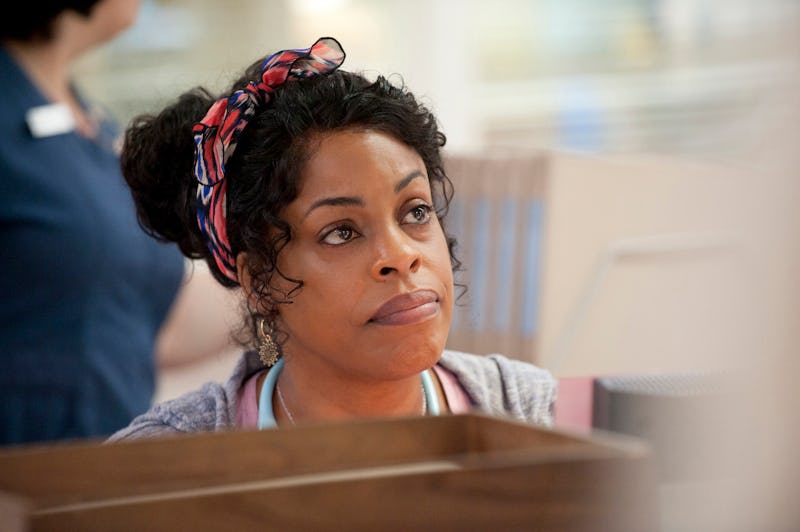 If you're a fan of both workplace comedies and shows centered around a cast of diverse female characters, then there's absolutely no reason you shouldn't be watching HBO's painfully hilarious Getting On . Now in its second season, the show revolves around a group of nurses and doctors working with elderly patients in an extended care unit. The stellar cast is led by Niecy Nash (Reno 911!), Laurie Metcalf (Roseanne), Alex Borstein (Family Guy), and Mel Rodriguez (Enlisted). In an interview with Bustle, Ms. Nash, who plays Nurse Denise "Didi" Ortley, reveals she chose Getting On because of how it subverted expectations of a typical hospital comedy. "The material was very interesting because the comedy was very dark," she says. "The first thing you do when you pick it up is, 'Okay honey, this is Scrubs!' You know what I mean? But as you get into it, you're like, 'Oh my god, this is not what I thought!'"
Although Nash is certainly most well-known for her role as Deputy Raineesha Williams in all six seasons of Comedy Central's Reno 911!, you'd be surprised to hear how little of Getting On is improvised, given her other show's heavily ad-libbed nature. "Maybe on 5 percent. We stick to the script, but if Alex Borstein and myself are in a scene, we may improv a little," she admits. "After we've already gotten the official words down because, you know, people love to hear the words that they write."
So what's an example of a scene that was improvised? In the show's very first episode, "when Nurse Dawn and Nurse Didi are preparing the first woman who passes away, a scripted line that Alex says to me is, 'She had pretty good teeth for someone her age.' And then, unscripted, I say, 'You know who had some good teeth? All them damn Jacksons. Rebbie, La Toya, Janet, Michael...' That was a total make-me-up. But they kept it!"
Apart from its incredibly talented four series regulars, Getting On is also known for a deep roster of acclaimed guest stars, including the likes of Molly Shannon, Jayma Mays, Irma P. Hall, and Lynn Cohen. So which guest star did Nash most enjoy working with? "June Squibb, she's brave and brilliant." She lists her scenes with the Oscar-nominated actress as her favorite memories of Season 1. Squibb, nominated last year for Best Supporting Actress for her work in Alexander Payne's Nebraska, appeared on the show in one episode as foul-mouthed patient Varla Pounder. "I told her, 'You're the nicest mean lady I've ever met,'" remembers Nash. "Because she is so kind off-set and when she steps into that character, honey, she lets you have it."
(Still need to catch up on Season 1 but don't have HBO? You're in luck — the Complete First Season was just made available on Blu-Ray, DVD, and Digital HD — so get crackin'!)
What Getting On viewers might not know is how completely different the show might have looked if the casting directors had had their way. It turns out that Nash didn't initially audition for the role of Didi — in fact, Didi didn't even exist, originally. So who did Nash read for? "Nurse Dawn Forchette, that's what my audition was for. And I got a callback!" But Nash's eyes were drawn to another character, named Marta. "No matter how much I worked on the material at home, I just kept looking at this other character. I love how she tells her story most of the time with just a look on her face. And so when I went to the callback, I asked if I could read for this other character and they said, "Absolutely not."
Things might have ended there if Nash hadn't been persistent. "I started to tell them why I loved her, what I love about this other character. And finally they were like, 'If you're that excited about it, we'll let you read it. Do you want to come back on Friday?' I said, 'No I do not. Can I just read it now?' And they said, 'We don't have it prepared.' And I said, 'I'll wait!'" And so she did. While in the waiting room, she met her future costar Laurie Metcalf for the first time and was "in love instantly."
Of course, Nash ended up winning the role, but she had one suggestion for the writers. "I said, 'I've been black all my life, and I've never met a black woman named Marta. Are you open to a name change?'" Ultimately, they used Nash's own middle name: Denise — although the character mostly goes by Didi — and the rest is history.
Images: Lacey Terrell/HBO (5)