How to 'AHHHH!' This Season with 'Home Alone'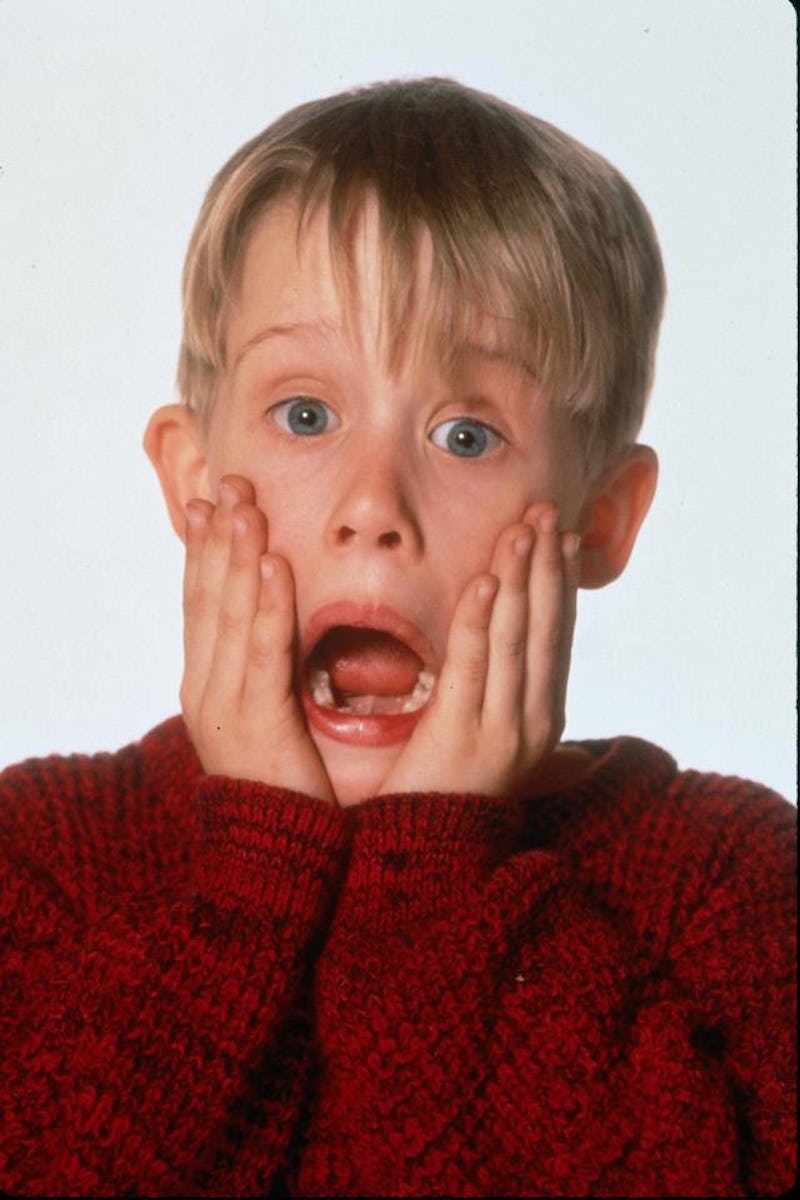 It's the most wonderful time of the year aka the time we hunt for our favorite holiday movies on TV, even if we do own them on DVD, because watching them on the small screen makes the festive season that much better. From Elf to The Grinch to A Charlie Brown's Christmas to The Santa Clause to Rudolph to Frosty the Snowman, there are so many Christmas movies we have to watch. These holiday classics never get old, including a '90s favorite — Home Alone. Nothing says, "Merry Christmas, ya filthy animal," quite like Kevin McCallister, the Wet Bandits, Buzz's girlfriend (woof!), and two of the worst parents in the entire world who struggle keeping track of their young son.
I feel it is important to note that Home Alone was first released on this date 24 years ago. Even though it's over 20 years old, the movie starring Macaulay Culkin, never (and will never) get old. I'm sure you're excited to watch this favorite Christmas family comedy, because who isn't? Obviously, it's the perfect way to get into the holiday spirit, especially when you can enjoy it with some cheese pizza and junk food. With that said, one important question remains: where can we watch it this year, so we don't get robbed and turn into a little jerk?
First and foremost, ABC Family will show the movie several times as part of its annual 25 Days of Christmas. Who else is thankful for this holiday movie schedule? It's a great way to get your fix! Here are all the dates for Home Alone on ABC Family: Tuesday, Dec. 6 at 8:30 p.m. (ET), Wednesday, Dec. 17 at 6:30 p.m. (ET), Friday, Dec. 19 at 6 p.m. (ET), Saturday, Dec. 20 at 2 p.m. (ET) and 10:30 p.m. (ET), Sunday Dec. 21 at 7:30 p.m. (ET), Tuesday, Dec. 23 at 7 p.m., Wednesday, Dec. 24 at 5 p.m. (ET), and Thursday, Dec. 25 at 9 p.m. (ET). Yeah, I probably won't be changing the channel once ABC Family starts its Christmas movie goodness.
Like ABC Family, AMC usually is no stranger to Old Man Marley's shoveling duties and wisdom. The network has yet to list any times or dates for Home Alone, but, if I recall, it did show the crazy family and jerk/cheapskate Uncle Frank several times. So, be sure to keep an eye out for that.
Sadly, you can't stream the McCallister family fun on Hulu or Netflix, but you can get it on DVD through Netflix. Also, if you're an Amazon Prime subscriber, you can't watch Marv and Harry terrorize Kevin. Of course, if you're that desperate to watch the young genius take down two robbers and rock around the Christmas tree, then you can always watch your own personal copy or purchase it for your very own DVD collection.
However, if you can't wait until Christmas, you can watch it before and during Thanksgiving, thanks to TBS! It first airs with a double feature on Sunday, Nov. 16 at 8 p.m. (ET), and another showing at 10 p.m. (ET). Then, TBS will also broadcast it on Sunday, Nov. 23 at 5:30 p.m. (ET) and Friday, Nov. 28 at 1 p.m. (ET). Happy Thanksgiving, indeed!
AHHHH! Who else is pumped for Home Alone and other Christmas movies? I can't wait. Now, excuse me while I go watch my own copy and jam to the amazing soundtrack.
Images: ABC Family's 25 Days of Christmas/Facebook; Giphy