Where to See This Festive Yarn Bombing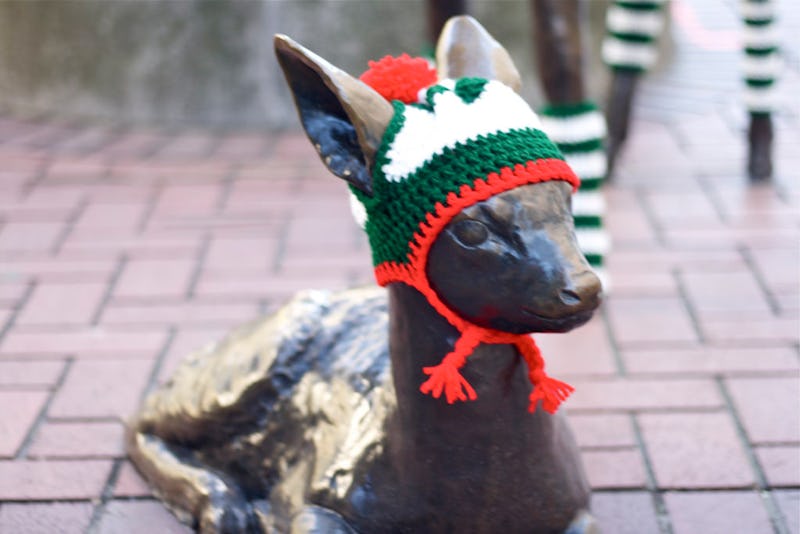 Do you like the winter holidays, yarn bombing, and ugly holiday sweaters? If so, you're in luck: Some of Portland, OR's most iconic statues have been yarn bombed with ugly holiday sweaters. And for the curious, yes, the results are just as spectacular as you probably think they are. Who doesn't love a good ugly holiday sweater?
According to Laughing Squid, the festive yarn bombs can be seen around Pioneer Courthouse Square. The name means nothing to me, as I have unfortunately never been to Portland; however, Wikipedia has kindly informed me that it's a public space that occupies a full city block in downtown Portland. It's sometimes referred to as "Portland's living room," which is probably my favorite part about the whole thing. Anyhoo, a number of statues and sculptures adorn the area (because of course Portland's living room would come equipped with its own unique décor) — and from now through December 25, three of them will be adorned with a rotating wardrobe of ugly holiday sweaters supplied by local fiber artists. So, if you live in the Portland area and you've ever wanted to see Animals in Pools, Allow Me (AKA "The Umbrella Man"), or Kvinneakt all decked out in the most joyfully hideous pieces of knitting and crochet on which you've ever laid eyes… now's your chance.
Mayor Charlie Hales unveiled the sweater-bedecked statues on November 13:
I love that he wore one, too. It's worth noting that once a week, the old sweaters will be swapped out for new ones; here's what they're all clad in at the moment:
Not going to lie: The otters are my favorite. Because otters.
This isn't the first year that the city of Portland has gotten into the holiday spirit by yarn bombing their statues; however, the once-a-week wardrobe change is new this year in reaction to a snag last year's project ran into: Someone (possibly the Grinch) stole the Umbrella Man's poinsettia-patterned jumper just a few days after it first appeared. Hopefully this year, no one will spoil the fun by swiping the sweaters — but even if they do, at least a whole bunch of new ones are already on hand, eagerly anticipating their own moments in the sun. Join in the fun on social media by tagging your selfies with #UglySweaterPDX.
The ugly holiday sweaters serve a dual purpose as well: They're a reminder for willing and able Portlanders to donate to Transition Projects' warm clothing drive. The drive aims to supply those in need with new or gently used winter clothing, so if you've got a few sweaters or coats hanging in your closet that you don't wear anymore, consider donating them to the cause. Travel Portland has a list of donation locations, so head on over there to check it out.
Wear your holiday sweaters well, ugly or otherwise!
Images: Frank Escamilla/Flickr (5)