How To Get Your 'ELF' Fix This Year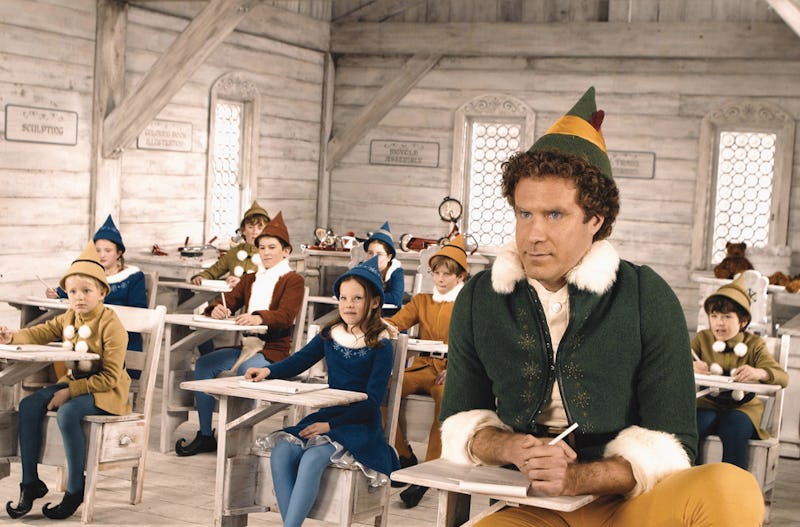 It's that time of year again, my friends and fellow elves. OK, fine, it's ALWAYS that time of year because Will Ferrell's Elf is a holiday film that can and should be enjoyed all year round. At least, that's what Buddy the Elf would want. Back in October, NBC announced its animated special Elf: Buddy's Musical Christmas , the stop-motion, hour-long event will, of course, be based on Ferrell's 2003 hit. But, while I'm excited for more Buddy, sometimes you just can't beat the original. So, where and when can you watch Elf on TV this holiday season?
The best way to spread Christmas cheer, after all, is with plenty of hours spent watching Will Ferrell run around New York City in an elf costume while you eat Buddy's famous spaghetti. (If you haven't tried it, you should.) And, thankfully, even though Netflix doesn't offer Elf for streaming, everyone's favorite holiday fail-safe, ABC Family has got you covered. Otherwise, with nothing else to do, we'd all be forced to stuff cookies into our VCRs for the next month and that's something that'd surely land us all on the Naughty List.
On ABC Family Because There's Never Too Much Of A Good Thing
I applaud ABC Family for it's unparalleled holiday programming. Especially when it comes to giving the people what they way — which it does, all of the time. (Well, except when Pretty Little Liars is on — I'm still waiting to know who 'A' is.) During its 25 Days of Christmas , ABC Family will air Elf eight times on Dec. 1, 2, 7, 8, 19, 20, 24, and 25. Which is great news for all of you Elf fanatics out there and for any average film viewer who wants to watch the film once during the holiday season.
On Amazon, Even If You Sit On A Throne of Lies
Unfortunately, Elf isn't available for free streaming on Amazon Instant Video. (I don't understand, don't these sites realize how much people love this movie?) But you can rent the film for $2.99 or purchase it for $9.99 (if you want HD, it'll cost you an extra dollar, respectively). If you really can't wait for one of the aforementioned showings. You could also order the DVD for $7.99 and get free two-day shipping if you're a Prime member. I mean, if you plan on watching it over and over and over and like the idea of having a hard copy of the film, this is probably a great choice.
On iTunes Because You Know Santa
If you're really not an Amazon person, you can also find Elf on iTunes. There, you can rent the film in HD for $3.99 and purchase it for $14.99.
Now, go out there and immerse yourself in the holiday cheer.
Images: New Line Cinema; ohmyfreakinggif, joellewisdom, kayladrumming11, itsalessia/Tumblr