Everyone Still Hates Brandi on 'RHOBH'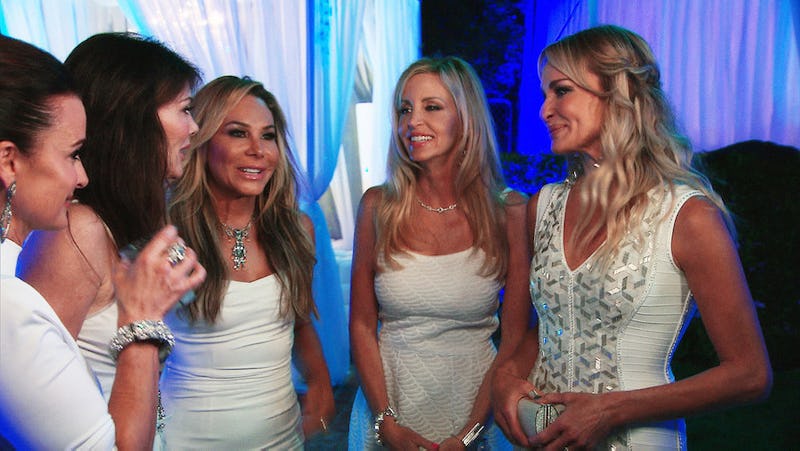 I know what you're thinking. This headline could totally apply to almost any season of The Real Housewives of Beverly Hills. Yes, Brandi Glanville is just one of those RHOBH cast members that always seems to be pissing everyone else off.
Now at the beginning of the fifth season of this Bravo reality series, it doesn't look like much has changed. Brandi herself comments how much Kyle Richards' White Party this year feels like her first encounter with the RHOBH bunch when the ladies gave her an icy welcome and criticized her choice of footwear while hobbling around on crutches. Well, that positivity that Brandi was so desperately trying to hold onto this season sure didn't last long.
After Season 4 where Brandi lost her friend and ally Lisa, bullied newbie Joyce Giraud, and continued her feud with Kyle, the RHOBH didn't welcome Brandi back into their lives for another season with arms wide open. Though early on in the episode we saw Brandi and Yolanda acting chummy as they took a stroll on the beach, it was a different story at Kyle's White Party.
As Brandi went in for a kiss and a hug to greet Lisa and later former cast member Adrienne Maloof, both of whom Brandi has had major conflicts with on the show, the greetings gave me chills. Is that "Let It Go" I'm hearing, or are those just frozen stares from these scorned women?
And in case you were wondering, the Season 5 premiere gave us a bit of a RHOBH reunion with OG Housewives Adrienne, Camille Grammer, and Taylor Armstrong returning to the show to party it up once again with the ladies. But as nice as it was to see everyone together again, there was actually some Brandi-related business to attend to.
You see, Adrienne and Brandi had a huge falling out during Adrienne's last appearance on the show, Season 3. Remember that one disastrous party where Brandi drunkenly confronted Adrienne and her then-husband Paul Nassif, saying she knew about all of these deep, dark secrets about their family? Let's just say the two have never been on good terms since.
But Brandi was brave and pulled Adrienne aside to talk about their long-standing issues with each other, because in front of millions of people watching at home is obviously the best venue for this. Unfortunately for us, there was no drama to be had. Neither of them thought Kyle's White Party was an "appropriate" venue to hash things out. That has never stopped them before, but whatever. We'll have to wait until next episode when they meet over coffee to discuss their problems with one another. Let's just hope no one throws a cup of joe at anyone, because that stuff burns.
Image: Bravo; brandiglanville/Tumblr