Keegan Allen Knows the Identity of "A" on 'PLL'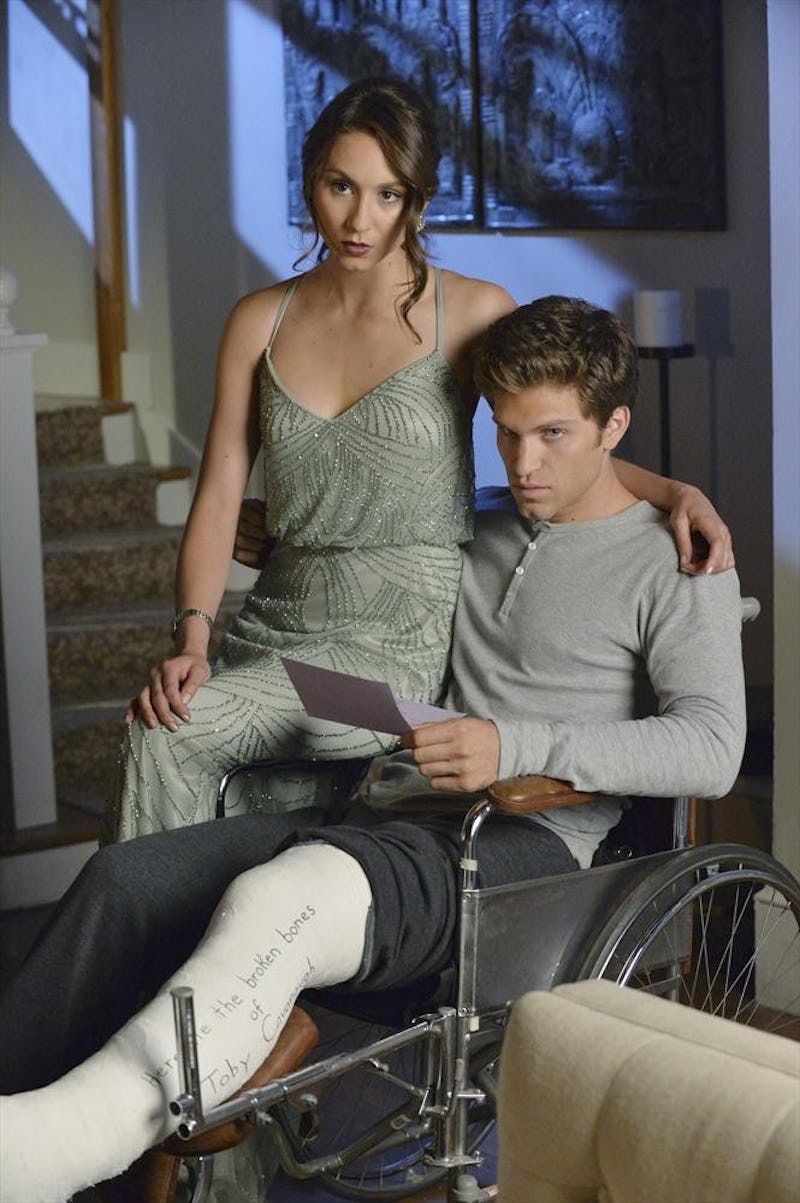 'Tis the season... for "A" to wreak havoc on our favorite ladies and gents living in Rosewood. On Tuesday, Dec. 9 ABC Family's dark and mysterious series Pretty Little Liars returns for a special holiday episode. Appropriately titled, "How the 'A' Stole Christmas," the episode will feature all kinds of seasonal goodness and cheer, like a holiday dance with gorgeous decorations and gowns, of course. Oh, Spencer, Hanna, Aria, and Emily will also be dealing with the aftermath of Mona's death, and Spencer's murder charge (remember, she is now suspect No. 1 for the death of Bethany Young). Talk about a happy Christmas.
As exciting as this holiday episode sounds, and will most likely be, there's something much more important we need to discuss: Keegan Allen knows who A is. As we learned during the Halloween special, a few other cast members dished that they know the identity of Big "A," but, of course, fans will have to wait until Season 6 to learn A's identity, as promised by creator I. Marlene King.
Allen, aka Toby, divulged the exciting scoop directly to Bustle during a Thursday conference call, and in his own words, "Yeah, I [know who A is]. I found out. It's pretty mind-blowing." OK, Keegan, but what can you tell us about this A reveal? Let's just let him ramble a bit:
I think it's genius. It's a hundred percent just incredible. And even speaking about it now I can feel the tension of the publicity of the ABC Family team, they're standing there probably clenching their knuckles and they're like, 'Keegan, stop.' It's mind-blowing. In the way that it comes to form, the whole storyline of this, it explains everything in such a classy way and also in a way that...it's history in the making. I can just promise that everyone that loves the show for what it is will not only appreciate what Marlene King, Oliver Goldstick, and Joseph Dougherty, have come up with, from the very beginning essentially, but what they plan to do and how they plan to execute it is just phenomenal.
Who else just got chills? From the very first episode, PLL fans have been waiting for this very moment, and it sure sounds like it will be everything we've wanted — and so much more.
Speaking of thrilling moments, one Liars should keep an eye out for is the Season 5B finale, which the cast is filming as we speak. Allen promised Bustle that compared to the other crazy finales, that this one does indeed go out with a bang:
I can't say anything, except we all read it together in the room and every single one of us...you have to understand we've been doing this, creating this world for so long now it's hard to surprise us with anything. This surprised us all, and it's something that — it's just incredible. I mean it is so tremendous. So, I can just promise it will go down in history as crazy. Totally mind-blowing.
Now those answers make for the perfect ChrismAs gift.
Images: Eric McCandless/ABC Family