Meryl Streep Proves Once Again That She Is a BAMF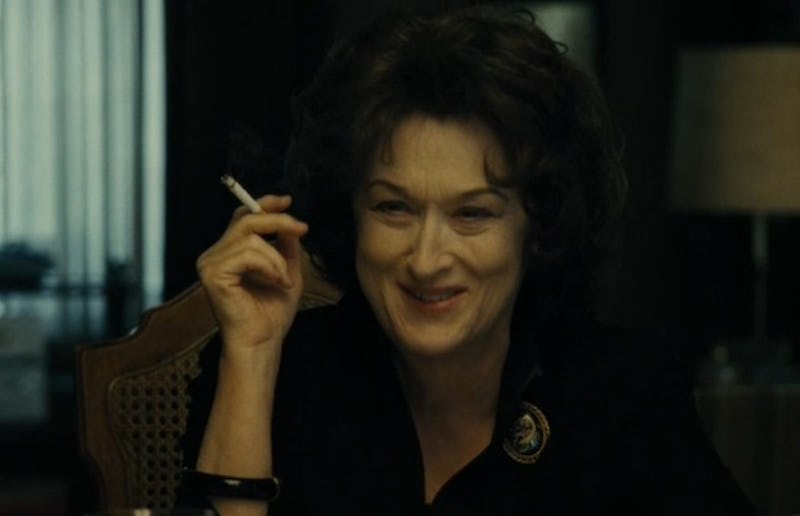 Despite mixed early reviews, the more promotional material that rolls out for August: Osage County, the more excited I get for this movie. The most recent release: A new theatrical trailer for August: Osage County which gives us all a very good look at the genius of the queen herself, Meryl Streep.
Seriously — the film's cast may be star-studded, what with Julia Roberts, Ewan McGregor, Abigail Breslin, Benedict Cumberbatch, Dermot Mulroney, and Juliette Lewis all starring as well, but Meryl Streep, as always, steals the show with her portrayal of the troubled widow Violet Weston.
The trailer, of course, features the entire cast, but it's Meryl who shines as the bitter, newly drug-addicted widow — just proving once again that she is the absolute BAMF in any film she's included in.
The story, if you're not familiar, is based on Tracy Letts' Pulitzer Prize-winning play by the same name. The film was directed by John Wells, and follows Meryl Streep as a woman dealing with the sudden suicide of her husband, along with her daughters, portrayed by Roberts, Lewis, and Julianne Nicholson.
August: Osage County has already screened at the Toronto International Film Festival — hence early reviews — but, unfortunately, we're all going to have to wait a while before seeing it: It won't hit theaters in the until Christmas day.
Until then, you can check out the new theatrical trailer below.