'Frozen' Celebrates Its One-Year Anniversary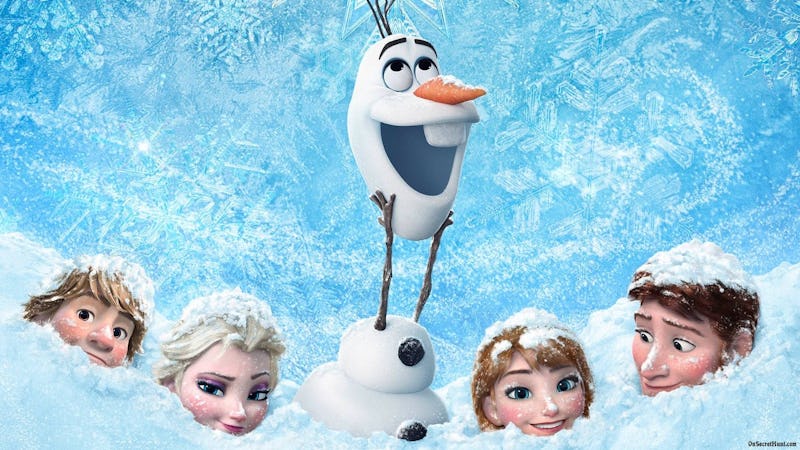 I know it's hard to believe, because it seems like just yesterday that it premiered in theaters nationwide, but on Nov. 27 Disney's beloved Frozen is celebrating its one-year anniversary. It's crazy how time flies! The film, which recognized that no obstacle in life — whether an evil fiancé or uncontrollable snow powers — would ever break the bond of sisterhood, became the number one animated movie in the world, even topping Toy Story.
Within the past year, the film has continued to make an impact with both children and adults everywhere. In fact, the film has made a major impact on so many people that we've seen memes, YouTube videos, and even costumes influenced by it. So in honor of the film's one-year anniversary, I've compiled a list of some of the best Frozen-inspired things we've seen this year.
The Elsa Look Alike
Anna Faith Carlson became an Internet sensation after people discovered how oddly similar looking she was to Elsa. Now she gets paid to play the famous queen at various events and is pretty much Insta-famous.
'Once Upon a Time' Went 'Frozen'
When people heard that Anna and Elsa were making their way to OUAT, they freaked out, as expected. I was skeptical at first, but I've actually grown to love both characters and the storyline that the writers created.
Halloween Made Easy
Pretty much everyone decided to dress up as either Anna or Elsa for Halloween this year. The costumes were everywhere (even "sexy" ones)! But who could blame them?
This Real Life Version of Anna
Step aside, Kristen Bell! This adorable girl took the Internet by storm with her cover of Do You Want to Build a Snowman? on YouTube.
John Travolta's Hilarious Error
Let's be real. Everyone (even Idina Menzel) thought Travolta's Adele Dazeem mistake at the Oscars was hilarious. Now there's even a Twitter account for Adele Dazeem.
Marines Singing 'Frozen'
By far one of the best Frozen videos I've ever seen, this one of a bunch of marines singing Let It Go really made me smile. Proof that even men loved this movie.
Image: Onceabcofficial; annafaithxoxo/Instagram, Yandy, Disney