We Planned Idina Menzel A Birthday Party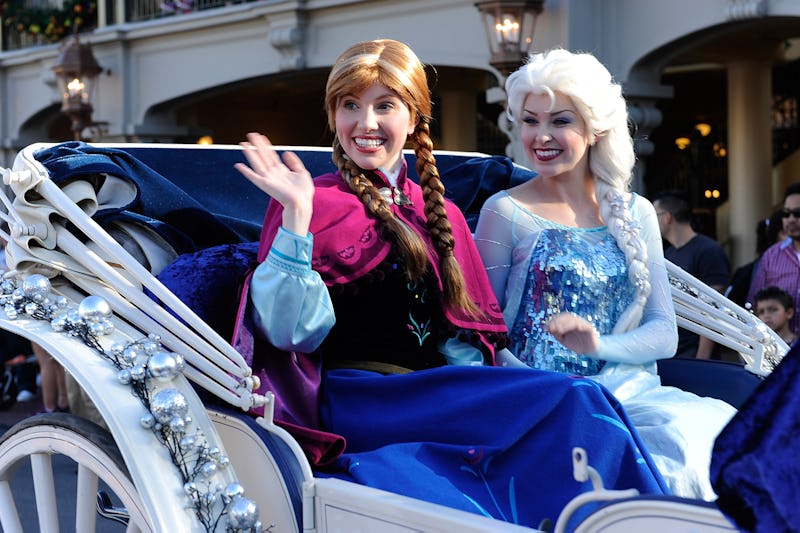 Handout/Getty Images Entertainment/Getty Images
It's been a good year for Idina Menzel. As the voice of Elsa in Disney's Frozen, the talented singer and actress has reached a whole new level of success. Frozen is the fifth-highest grossing movie in history, the soundtrack, lead by Menzel's powerful "Let It Go," spent 13 consecutive weeks at the top of the Billboard 200, and kids everywhere can't get enough of the movie — especially the ice queen at its center. So what better way to celebrate Menzel's 43rd birthday than with a Frozen party? May 30 marks the occasion and throwing a Frozen party is the perfect way to end a year that, for Menzel, was really all about Frozen.
Sure, she starred in the new Broadway musical If/Then, but the monstrous success of Frozen really defined Menzel's year, making way for her performance at the Oscars, an awesome appearance on The Tonight Show , and more. Besides, the Internet is just full of Frozen party ideas and if your own birthday isn't anytime soon, Menzel's is a great excuse to try some out.
Here's some inspiration for everything you'll need to throw the ultimate Elsa-centric Frozen party.
Decorations
The officially licensed Frozen partyware is pretty disappointing. There's a lot of pink and flowers, even though everyone knows Frozen is all about blue and snow.
You can buy the official plates, cups, and other items from Party City or Oriental Trading, but you're probably better off just getting plain light blue and white place settings and using other Frozen decorations.
This banner is available from GracenLDesigns on Etsy and would liven up the room much better than fancy place settings.
And this more subdued Frozen banner, from TheGlitterShoppe on Etsy, is about as classy as you can get for a party based on an animated kids' movie. And of course, we can't forget everyone's favorite snowman when picking out decorations.
You can get this adorable Olaf-inspired garland from PaperAndPlanes on Etsy, or probably DIY your own version.
Food
The most important part of any party is the food, and luckily there's a ton of different kinds of food that can easily become Frozen-themed.
The Home Is Where the Mouse Is blog has a ton of creative Frozen party ideas, like turning blue Jell-O into Kristoff's beloved ice cubes and baby carrots into Olaf's noses.
Gigglebean has a recipe for a Snow Cap Punch that is almost the exact same color as Elsa's dress and shows how to decorate the cups to make them even more perfect for a Frozen party.
And even bottles of water can be part of the theme, if you start calling them bottles of melted snow the way Kara's Party Ideas did.
Cake
Okay, there is one certain type of food that is more important than the rest at parties, and that's the cake. Regular food can get away with not being themed if it tastes great, but the cake has to both be delicious and perfectly reflect the party. For Frozen, there are a lot of options.
You can get super fancy with a cake in the shape of Elsa's ice castle.
catchmyparty has a cake that's as impressive but much easier to make by turning a round jar into a snow globe and putting it on top of a regular homemade cake
Or you can go the really, really easy route and arrange some cupcakes into the shape of a snowflake.
These are just some of the many ways to throw a Frozen party, but you don't really need any of them. As long as you have Frozen on in the background and a group sing-along to "Let It Go" at least once, it's a perfect Frozen party that pays tribute to the woman behind Elsa. Happy Birthday Idina Menzel!