Maybe Don't Do Thanksgiving Hungover...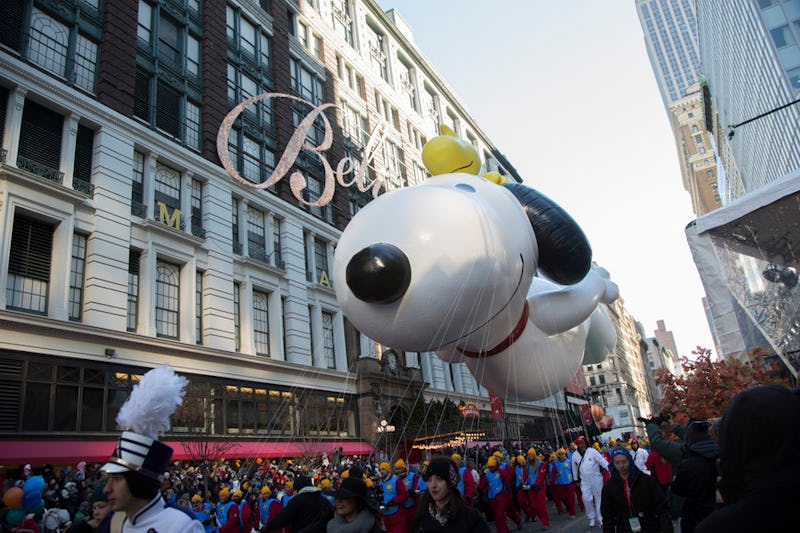 It's a delicate balance: With everyone home for Thanksgiving, obviously you're going to go out on Wednesday night for catch-up drinks. But you don't want to be too hungover when you have to face your family (and their barrage of questions about what's going on in your life) on Thanksgiving. You need to last long enough for you to blame passing out on the tryptophan in the turkey. Plus, there's the parade which, yeah, is cheesy, but you don't really want to sleep through it. So, what time is the Macy's Thanksgiving Day Parade on?
Set your alarm now: The parade will be on from 9 a.m. until noon in all time zones. Now, 9 a.m. is pretty early to get up on a vacation day. Is it worth it just to catch the parade? I mean, I know it's a tradition and all, but is it enough to drag a hungover body out of bed? That depends on how you feel about the performances that Macy's has lined up this year. (After all, the balloons and the marching bands will all be there again next year. It wouldn't be too tragic if you slept through them this time around.)
On NBC, as usual, the parade has an almost over-stuffed lineup of performers, everyone from opera star Renée Fleming to the cast of Sesame Street. The biggest names on the schedule this year (in my opinion) are Hilary Duff, Nick Jonas, Meghan Trainor, and Idina Menzel. (Yes, even after a year, Frozen fever is still going strong.)
Theater fans, though, are the ones who really should make the effort to rise and shine. A bunch of Broadway shows are set to give performances during the telecast. This includes this year's Tony winner, A Gentleman's Guide to Love and Murder, along with Sting's musical, The Last Ship, Finding Neverland, On the Town, and Side Show.
But, I've saved the best NBC performance for last (and I'm not talking about Santa riding in on his sleigh at the end). Since the parade is airing on NBC, of course there's going to be a number from Peter Pan Live! My only experience with Allison Williams' singing has been her two cringe-inducing (on purpose) performances on Girls — her Kanye cover, and her "What I Am" video — so I really don't know what to think about Peter Pan Live! Hopefully, the Macy's Thanksgiving Day Parade will provide a clue as to what it's actually going to be like.
Though it's not the official broadcast, CBS also has its own coverage of the parade, with a different set of performances. I have to say, I think CBS has beat NBC at its own game: Taylor Swift is headlining the CBS coverage. (They've got some Broadway shows lined up, too, including Matilda and Pippin.) With 1989 fever at an all-time high, Swift might be enough to get people out of bed on a sleepy Thanksgiving morning.
Images: Eric Leibowitz/NBC (3); Getty Images