Get Ready For Thanksgiving With Al Roker... Again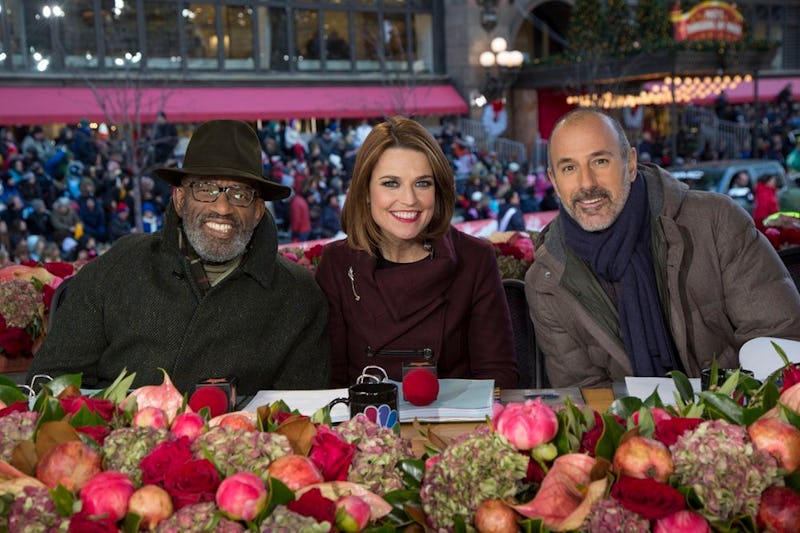 Ah, the Macy's Thanksgiving Day Parade. Watching those balloons soaring over New York City is an annual tradition as entrenched as eating dry turkey while deflecting prying questions from aunts and uncles. More than 50 million people gather to watch the parade on TV each year. That is, it's a hallowed tradition for those who know where to watch it. So, what channel is the Macy's Thanksgiving Day Parade on?
The same channel it was on last year, and the year before that, and every year since 1952: NBC. And, like usual, it'll be hosted by the stars of NBC's Today: Savannah Guthrie, Matt Lauer, and Al Roker. And, as you would expect, there will be performances and appearances from other NBC stars and shows, including Peter Pan Live! The NBC broadcast will also feature performances from stars not affiliated with NBC, including Nick Jonas, Lucy Hale, Hilary Duff, KISS, and Meghan Trainor. There will even be some Broadway numbers thrown in, from shows like the Tony-winning A Gentleman's Guide to Love and Murder.
Tuning in to NBC is the official way to watch the parade, but it's not the only way to see pieces of it. Here's where else you can catch it.
The Other Network Broadcast
Strangely enough, CBS has its own broadcast of the Thanksgiving Day Parade, too. It's not the official broadcast, so it has its own lineup of performances and appearances, including one major one that might tip the scales towards CBS: Taylor Swift. (Wanna bet that she'll play "Welcome to New York?") And, while NBC has appearances by the casts of Peter Pan Live! and On the Town, CBS has performances from Matilda and Pippin. Kevin Frazier of Entertainment Tonight and Thea Andrews of The Insider anchor the CBS broadcast.
The Silent Stream
Is there anyway to watch the parade online? Yes and no. Unfortunately, there is no official online stream. If you're only interested in the balloons, though, you're in luck. You can check out EarthCam's Times Square camera and watch the floats go by. Unfortunately — or maybe fortunately — you won't be able to hear any of the performances or any of the pithy comments from the cast of the Today show or Entertainment Tonight.
The Apps
Macy's does have an official parade app for both iPhones and Android. It seems like it's really designed for people who are at the parade in person, but you can use it to follow along with the floats and balloons that are passing by and get a little behind-the-scenes info about them. Although, if you're really that desperate, you might as well get to Grandma's house a little early and watch the Macy's Thanksgiving Day Parade live on her television.
Images: Eric Liebowitz/NBC (3); Getty Images