7 Healthy Substitutions for White Pasta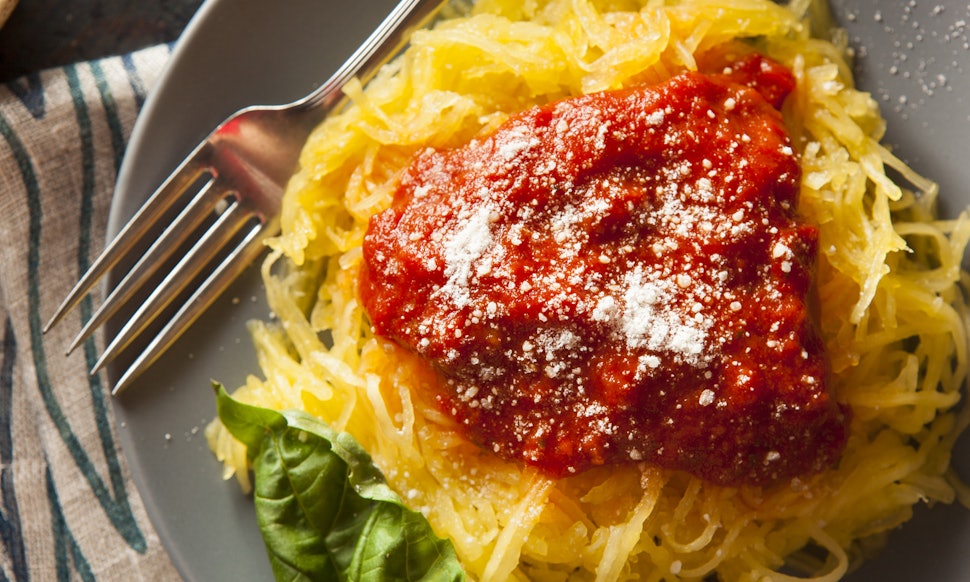 Pasta is one delicious comfort food. There's nothing like a big bowl of macaroni and cheese or a hearty plate of spaghetti and meatballs, but for those who are trying to eat healthy, pasta can be a major downfall. White pasta is filled with refined carbohydrates, which means you're essentially eating empty calories that convert into sugar.
While there's no need to cut out carbohydrates completely — as they are an essential part of a balanced diet — it's best to eat whole grains or carbs that come from vegetables or legumes. White carbs are stripped of their natural fibers, causing you to feel hungry more quickly and creating a spike in blood sugar.
You may have already switched to whole wheat pasta, but there are plenty of other options when it comes to white pasta substitutes. Whether you are gluten-free or just looking for a healthier way to enjoy your noodles, we've rounded up the tastiest and healthiest replacements for white pasta.
Image: Fotolia
Spiralized Vegetables
Turning vegetables into noodles is all the rage right now — and for good reason. Using a spiralizer, you can turn zucchini, squash, potatoes, beets, and more into a filling and healthy pasta dish. By using vegetables, you not only cut down on calories (one cup of white pasta is 220 calories while one cup of zucchini is about 35 calories), but you also get much more fiber along with the many vitamins and minerals these foods contain.
Image: Fotolia
Black Bean Spaghetti
Black bean noodles are a great way to replace your empty carbohydrates with heart-healthy protein. With a firm texture and mild flavor, these noodles are super filling, and since they are made entirely from beans, they contain a good source of fiber, folic acid, magnesium, potassium, and iron. Try eating this spaghetti in a traditional marinara sauce, or get a little creative and make a Mexican-style noodle dish.
Image: Fotolia
Spaghetti Squash
Although you may not be able to tell just by looking at it, spaghetti squash yields a large amount of stringy, fibrous flesh that makes for a light and fresh substitute for pasta. The spaghetti squash is one of the lower-calorie types of squash, and it has a mild taste with an al dente consistency. This winter vegetable is full of fiber to keep you full and contains an abundance of vitamin A, vitamin C, potassium, and folate.
Image: Fotolia
Brown Rice Pasta
For those who want the closest taste to white pasta without the empty carbohydrates or gluten, brown rice pasta is the choice for you. With a consistency and flavor close to wheat pasta, brown rice pasta is full of fiber, selenium, manganese, and the B vitamins. Brown rice pasta is a great way to incorporate healthy whole grains into your diet, and it
Kelp Noodles
Kelp noodles are made from a type of seaweed called kombu and are a great source of calcium, iron, and vitamin K. They are glassy and neutral in taste, with a bit of a crunch. Kelp noodles are best used for cold or chilled pasta dishes, and no cooking is required. Look for them in health food stores such as Whole Foods or Asian specialty grocery stores.
Image: Fotolia
Shirataki Noodles
These calorie-free noodles (yes, calorie free) are made from a fiber called glucomannan which comes from the konjac root. These noodles help lower cholesterol and can even help with weight loss, not only from their lack of calories, but by creating a feeling of fullness in your body. Shirataki noodles can be eaten cold or cooked warm.
Image: Fotolia
Soba Noodles
Soba noodles are made with buckwheat flour, which is high in both fiber and protein. They have a nutty flavor and taste best served cold or in a stir fry. Look for noodles that contain 100 percent buckwheat to get the most of the grain's health benefits. If you are gluten-free, don't fear — despite its name, buckwheat contains no actual wheat, as it is actually a seed.