Rebekah's Finally Back in on 'The Originals'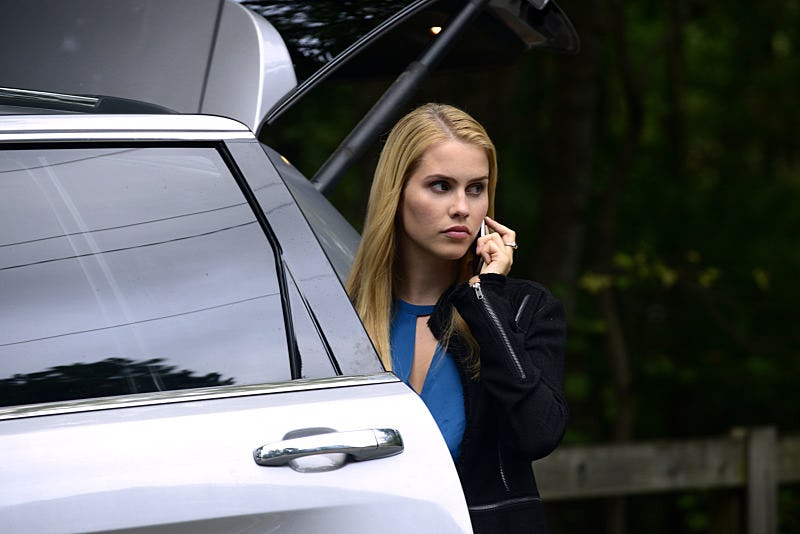 Move over, Cami. The Original blonde is coming back to New Orleans. On Nov. 24, Claire Holt will return to The Originals in "The Brothers That Care Forgot" and it's officially family reunion time, Originals fans. So far, The Originals Season 2 has brought back the entire Originals family, including Klaus' real father (who's now dead, RIP) and Esther's allegedly evil sister Dalia, but no Rebekah — until now. Last week, Klaus' father revealed that he knew the whereabouts of Hope and Rebekah, forcing his son to kill him to protect his child, but Esther might've gotten to his information first. Because on Monday night, Rebekah's fleeing her quiet, "normal" life and returning to the Big Easy, looking for help from her brothers.
The Originals is, by no means, devoid of awesome and empowered female characters right now but, when Claire Holt exited the series as a regular during Season 1, she left a gaping hole. I'd grown so accustomed to Rebekah Mikaelson's cutting remarks and her general awesomeness. And even though Hayley took over in her absence, I still missed Rebekah. Let's face it: no one can call out Klaus and Elijah quite like the Original sister can, so The Originals needs her. Especially now that we've got almost a complete set of Original siblings with Kol and Finn joining the series this season.
So, with Rebekah's upcoming return, there are obviously things any Originals fan is looking forward to. Like these nine things I hope come from Rebekah Mikaelson's triumphant return — even if she is on the run.
Rebekah's First Telling-Off of Esther
No one does it like Rebekah can.
Her Signature Sass
How have we been living without it? Honestly?
Her ***Flawless Style
#work.
For Her To Put Her Brothers In Line
Someone has to do it — especially since Kol has gotten even more arrogant in his new body.
An Inevitable Reunion with Marcel
Those two are just on fire. F-i-r-e.
An Emotional Reunion with Klaus
These two buried the hatchet at the end of Season 1 when Klaus sent Hope to live with Rebekah. If they're reunion on Monday night it's as heartwarming as this one, The Originals is missing out on a great opportunity.
For Her to Slam Someone Into The Ground
Rebekah kicks serious butt. And it's been a long time since we've seen her do just that.
For Her to Knock Some Serious Haylijah Sense Into Her Brother
Someone has to call Elijah out on single-handling destroying his relationship with Hayley and Rebekah's had no trouble weighing in on his personal life before.
Rebekah's Perfect Vulnerability
She could rip your heart out without batting an eye, but there's a human somewhere in there. And Rebekah's perfect combination of ruthlessness and vulnerability is something The Originals has been missing since Claire Holt's exit last season.
Images: Guy D'Alema/The CW; life-isnt-in-the-past, thistvd, elvndork (2), scallydia (2), birrento, ageofultron, rockladyxx/Tumblr