Rebekah & Hope Might Be In Trouble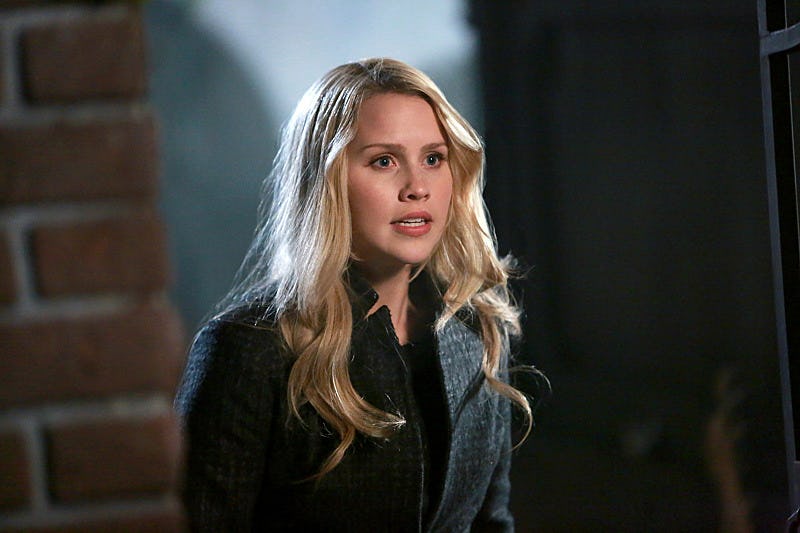 Say it with me, vampire fans, Claire Holt is returning to The Originals — FINALLY. But, before you start getting excited about Rebekah Mikaelson's return to New Orleans and to the Original vampire fray, I have some bad news. The synopsis for the Nov. 24 episode of The Original s , "The Brothers That Care Forgot," reveals that Rebekah might be in trouble. Which can only be partially evened out by the fact that Claire Holt will be on The Originals on Nov. 24 (WOOOO). Here's the deal, Originals fans, Esther has finally figured out where her long-lost daughter is and now Rebekah is on the run. But the real question is why?
Of course, it was only a matter of time before someone or something discovered Rebekah and Hope's whereabouts and threatened their safety and now, she'll be forced to return to the last place she should be — New Orleans. The recently released synopsis for "The Brothers That Care Forgot" reveals that Rebekah will be on the run and appear in said episode, but there's some more to this story. And, perhaps, a silver lining for everyone involved. Well, except Esther, because there are no silver linings when you devote your life to trying to kill your children. (Sorry, not sorry.)
In an interview with TV Line on Monday, Joseph Morgan opened up about Rebekah's return to The Originals and, SURPRISE, people, Claire Holt will be returning for TWO episodes in Season 2. The upcoming "The Brothers That Care Forgot" and the following episode will both feature Rebekah Mikaelson — it's almost as if Christmas just came early. But anyway, aside from that wonderful reveal, Morgan also spilled the beans about a "heartwarming" family reunion and the fact that Rebekah is coming back to New Orleans to be with her brothers now that her safety and Hope's safety are in question.
Now, there are two possible ways Esther learning Rebekah's whereabouts could go. There's the possibility that Esther, since her interventions with Klaus and Elijah were unsuccessful, has decided to move on to her remaining child, Rebekah. And, because she didn't really have time to bother looking for her while she was trying to convince Klaus and Elijah that they should join her, Esther's just starting to focus her energy on her daughter. Esther may discover Rebekah's location before the Nov. 24 episode and decide then that it's time try to convince her daughter to give up her immortality. That'd probably be the favorable goal behind this discovery, but somehow, I doubt that that's the case.
The other way this could go would be that Esther has realized that Hope didn't die last season when she was supposed to and now she's going to try to finish the job. During last Monday's episode, Esther revealed that she actually believes that baby Hope is dead and she's relieved that she succeeded. Because it means that her sister Dalia won't try to claim the baby. Unfortunately, she's seriously mistaken because Hope is very much alive and hiding out with Rebekah since Klaus handed her over to his sister to raise her away from the war-zone that New Orleans has become in the Season 1 finale. If Esther gets supernatural wind that Dalia's back from beyond the grave looking for another child to fulfill the bargain she made with Esther so that she could bear children, I wouldn't put it past Esther to hunt down Hope yet again. And, unfortunately, I have a feeling that that's how this is going to go.
Rebekeh is obviously going to make it to New Orleans to reunite Hope with her parents and Elijah and there will be a mini-family reunion. But, after all of that's said and done, everyone will be forced to face the music that Esther or Dalia brings upon them. If Esther was able to find Rebekah wherever she was hiding, she'll absolutely be able to find her when she's in the Quarter. And, if she didn't already know that Hope Mikaelson survived, she will once the pair reenter New Orleans in the upcoming weeks on The Originals. Esther, for all of her evil, is a still a smart woman — it'll be hard to pull this one over on her twice. As of right now, however, it's a total toss-up as to whether or not Esther is actually aware that Hope lives. But, it'd make significantly more sense for the direction The Originals is going in in Season 2 for Esther to know or be suspecting that Rebekah is hiding something and that's why she's pursuing her.
Either way, Rebekah's storybook ending is about to come to a jarring halt, but at least we get more Claire Holt.
Image: Quantrell Colbert/The CW; vampire-originals/Tumblr