The 'PLL' Christmas Special Has a Shocking Break-In, a Ghost & Plenty of Romance — PHOTOS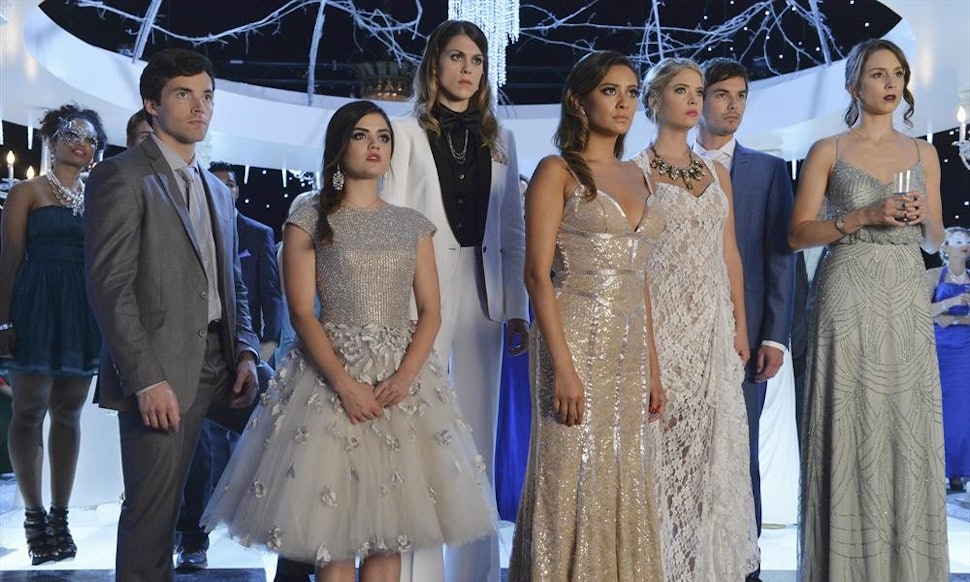 'Tis the season, but not everyone will be feeling jolly on Pretty Little Liars ' first-ever Christmas episode. Instead of creepy things happening on Halloween, the Liars will be feeling chilly with an Ice Ball as they battle "A" and deal with the aftermath of Mona's death and Spencer almost being charged with Bethany Young's murder. However, there will be some fun underneath the mistletoe for the couples, and from the looks of these sneak peek photos, Ezra and Aria, Hanna and Caleb, Spencer and Toby, and Emily and Paige are all happy. And as for Alison? She has a new team behind her now that the Liars have ditched her, and she'll get a visit from the ghost of Mona — a.k.a. the Ghost of Christmas Past.
Check out all of the action when you click through, and tune in for the holiday extravaganza on Dec. 9 at 8 p.m. ET on ABC Family.
Things Start Out Happy For All the Liars
Look how smiley Hanna, Spencer, Emily, and Aria are!
They Even Have a Huge Date For All the Couples
Smiles, cooking… what could go wrong?
Emily and Paige Are Back Together
Hanna and Caleb Are Going Strong, For the Most Part
Mona is on Hanna's screen. She is probably mourning her the hardest.
Toby's Leg Isn't All Better Yet
Forgot he broke his leg. At least it gives Spencer a new chair.
Alison Has New Liars
And in masks, no less, at the Ice Ball.
Everyone Is Shocked by Ali's New Team
Except Toby, who is MIA here.
Spencer Stands Alone
Ali Gets a Visit From Mona
That silver hair is working for the Ghost of Christmas Past.
Here's Another Look at Ghost Mona
Spencer and Hanna Team Up
Why are they looking in Ali's house?
And They Break and Enter, Too
Spencer Looks Afraid
Is she going to get them caught?
Hanna Makes a Discovery in Ali's Room
Is that a passport hiding underneath Tippi's cage?