Reagan's Rap Skills Are Pretty 'Fancy'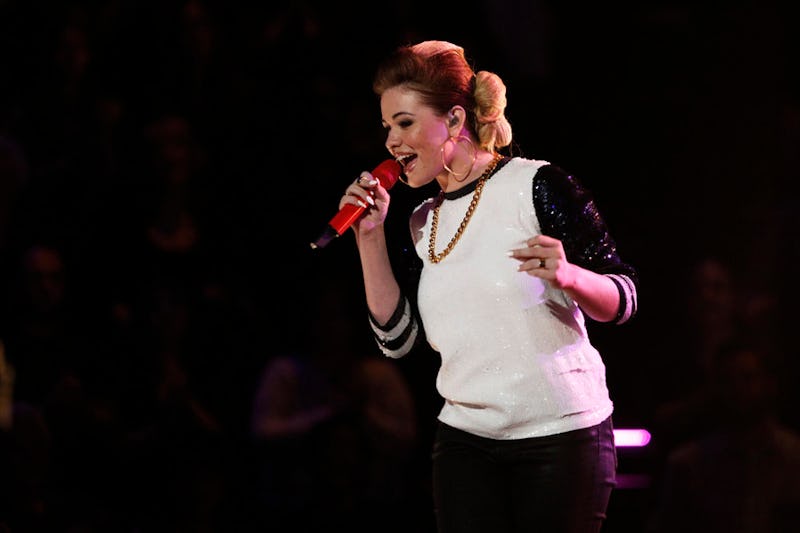 Props to Reagan James for taking such a huge risk this far into the competition. Not only did she rap her way through Iggy Azalea's "Fancy" in the fanciest of outfits, she made the major hit entirely her own. Seriously, how is this girl only 16?! Though the song was tough and she got breathy at points, James was able to perform, handle the tricky lyrics, and still hit some pretty great notes (oh, and breathe!) during her The Voice Top 10 performance, proving that she shouldn't be counted out just yet.
If you haven't noticed, The Voice is having a bit of gender issue this season. I guess it could just be coincidence or that they the men were just more talented, but there is a serious lack of women contestants in this year's competition. James is the youngest and one of only three female artists left in this game, which is pretty big testament to her talent. She is one of the most versatile performers of this competition, able to sing through any challenge thrown her way, whether it be a power ballad, punchy pop song, or wordy rap. She takes Shelton's advice, but adds her own flare to every song she sings, which makes her truly unique. Tonight's performance of "Fancy" brought all of her talents together, proving that she is truly an artist who deserves a shot at the title.
Shelton has proven that he has a talent in coaching young female performers, which explains why James is so successful in this competition. He gives songs that his team members will be challenged by, but still excel at. And he brings in some of the best mentors (how awesome was James' performance with Colbie Caillat?!). If James won over the audience as much as she did the judges, there's no doubt she'll move on in this competition and continue to fight for the title.
Image: Trae Patton/NBC