Danica Did Whitney Justice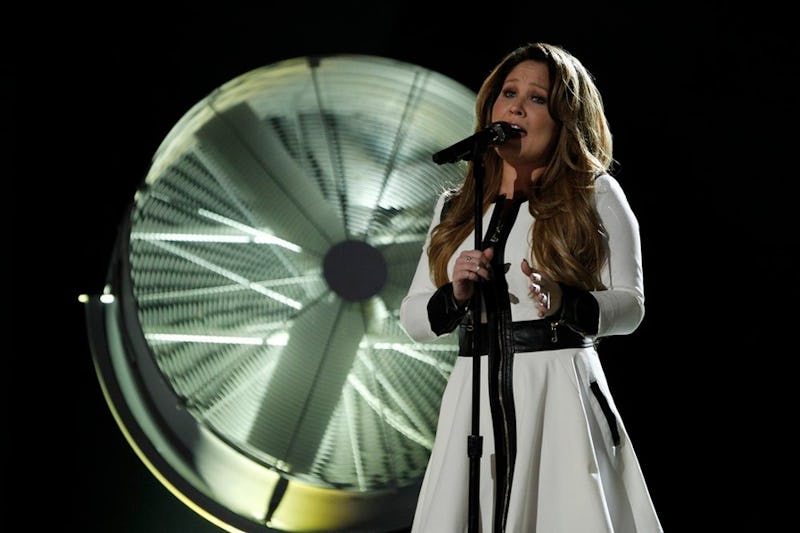 This girl has got IT. Danica Shirey has impressed week after week on The Voice, but tonight's performance solidified how much talent this woman has. Not only did Shirey flawlessly execute a song by THE Whitney Houston, she did so under the direction of Diana Ross and in front of the man who discovered Whitney herself, Clive Davis. If I were her, that star-studded lineup would have dissolved me into a puddle of nerves, but she brought her A game. Her performance brought coach Pharrell to his feet midway, and left Davis with a giant smile on his face. If Shirey continues to perform the way she did tonight, she may one day find herself among the ranks of such megastars as Houston herself. Danica Shirey is a classic talent, and that will get her far in The Voice competition.
Shirey blew me away in the blind auditions, and has failed to disappoint ever since. But her amazing talente is often brushed aside by the tricks and risks pulled by the other contestants. Shirey doesn't need tricks, though, and that's what makes her shine. It's hard to stand out as a female pop/R&B artist because there are so many talented women trying to make it in that genre. But Shirey is able to stick out from the pack with her powerhouse belt and the raw emotion she brings to every performance.
Many artists fake emotion, or pull from borrowed experiences when performing an emotional song, but Shirey performs from real experience every time she sings. She has made it no secret that her father passed away, and that she performs for him every time she's on the stage. That raw emotion shines through her vocals, bringing her performances to the next level. Shirey doesn't have to take crazy risks or sing from different genres every week to prove her talent. Songs like "I Have Nothing" by Whitney Houston are insanely difficult to do well, but she is able to excel at them by simply planting her feet in front of the microphone and singing from the heart, which is what puts her on a higher level than many of the other contestants. Whether she wins The Voice or not, she will certainly go on to have an amazing career. This girl has major star power.
Image: Trae Patton/NBC