Pharrell's 'Voice' Team May Be Unbeatable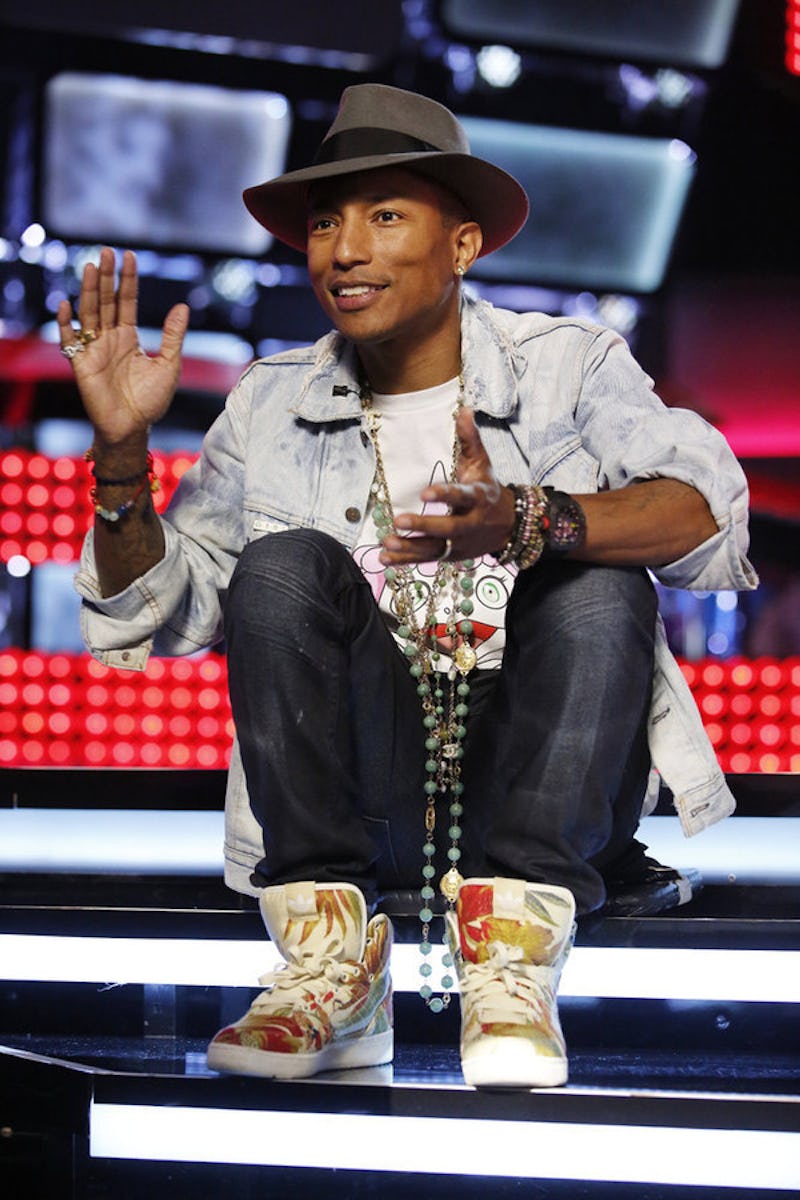 When it was first announced that legendary producer/singer Pharrell was joining The Voice this season, I got very excited. Here was a guy who not only excels at singing, but he's also worked with some of the biggest names of the music. What is a producer if not a coach? Now that Pharrell has chosen his team, it's clear he's living up to those expectations. His singers may be unbeatable this season. He's brought together a diverse group of artists who each add their own flavor to the mix. It was not easy to rank the 12 members of Team Pharrell, but I think I've chosen wisely.
Whereas Team Gwen seems focused on female artists (which I gotta say is pretty cool) and Team Blake is all about country singers, Pharrell's group has a little of everything (Team Adam does as well, but Team Pharrell seems stronger, at this stage in the competition).
While some people may think of him primarily as a hip-hop artist (he's won Grammys for producing tracks and albums for Ludacris and Kendrick Lamar), Pharrell has been active in many different genres for decades. He's worked with Justin Timberlake, Mariah Carey, Daft Punk, and of course his now rival coach Gwen. All that experience helped him pick out the artists he thought would make the most impact on The Voice. So here are his 12 choices, ranked (spoiler, they're all pretty great):
12. Jordy Searcy
Jordy has a nice voice, but his awkward phrasing and emphases made it difficult for me to enjoy his version of Bon Iver's "Skinny Love." If you don't remember him from the auditions, it's because the show only broadcast about 20 seconds of his song, sandwiched between two other performers, which is never a good sign. You can hear the whole audio on YouTube, however. For me, Jordy isn't different enough to stand out among Pharrell's other picks.
11. Daniel Griffin
Daniel has the voice and the personality for musical theater. He was energetic and happy on stage, but came across pretty cheesy. I half expected him to add jazz hands at one point.
10. Ricky Manning
Ricky, on the other hand, screams boy band to me (complete with flippy hair and a pretty face). He had some power behind his vocals, and maybe he would have been more impressive with a different song choice. But I didn't feel any emotional connection to his rendition of "Love Me Again" by John Newman. The original has some sassiness, but Ricky's version fell flat for me.
9. Danica Shirey
Danica can obviously perform. She's got a big voice, but can also deliver soft high notes. The reason she's not higher in my rankings is that she doesn't have a very unique sound. It's very pretty, but it also comes off a little generic. I'm going to keep an eye on Danica though. She may be a dark horse in this competition.
8. Luke Wade
Maybe it was his office-casual outfit, or his overly-dramatic facial expressions, but everything about Luke's audition looked like he was trying too hard. That being said, Luke got the audience going, and he's the only guy on Pharrell's team with a country/folky style, which could certainly work in his favor. Maybe if his audition had been blind for me, I would have been just as excited as all the coaches, all four of whom turned around for him.
7. Blessing Offor
Blessing is a classic bluesy soul singer. He showed that he has the ability to deliver a big song and take the audience right along with him. Because he's a blind soul singer who also plays the piano, it's hard not to compare him to greats like Ray Charles or Stevie Wonder. My only concern is that his style may not be current enough to make an impression with people voting at home.
6. Taylor Phelan
Taylor's voice was like a breath of fresh air: he has a clean, clear sound that screams "radio-friendly," but is still strong enough to stand out on The Voice. With "Sweater Weather," his audition song, he easily delivered both big choruses and softer moments. Pharrell called him "melodically articulate," which I'm going to translate to "really good."
5. Elyjuh Rene
Elyjuh has a really versatile voice, which could take him far in this competition. He sang Beyonce's "XO," which gave us glimpses of his ability to perform pop, R&B, soul — you name it. His range is incredible; Blake even admitted he thought Elyjuh was a woman, based on his beautiful voice. The singer also looked to be having a ton of fun onstage, engaging the audience and working in some dance moves.
4. Toia Jones
Toia has a big, ringing voice that can handle songs from legendary artists like Aretha Franklin or Whitney Houston. You could tell from the moment she opened her mouth she'd go far in this competition. I thought about placing her even higher in my rankings. But for me, Toia doesn't have the uniqueness factor that a Voice winner needs to beat out everyone else. She sounds perfect, but sometimes perfect can be boring.
3. Britney Butler
Britney immediately caught my attention. Anytime you hear her sing, you're going to know it's her, because she has a different voice from any other singer this season. The jazz artist performed Amy Winehouse's version of "Girl from Ipanema," and she knocked it out of the park, while wearing a half-smile the whole time. Pharrell may have to work with her a bit on her tone to make her more universal, but I'm calling it now: Britney Butler could go very far.
2. Katriz Trinidad
Talk about setting a high bar: Katriz auditioned with the Etta James classic "At Last," and that is not a song you tackle unless you have serious pipes. Katriz didn't back down, though, and Pharrell gave her a standing ovation before she even finished singing. She has obvious control over her voice, and she proved that she has a stunning tone without needing to go crazy with a ton of fancy runs. Girl is a powerhouse.
1. Maiya Sykes
Maiya is the reason why Toia Jones, and every other belter in the competition, needs to watch her back. Maiya is just a good ol' fashion gospel singer, with a voice that'll knock your socks off. But her voice is more than sheer power; she was also able to put such strong emotion and feeling into her audition, it gave me chills. Again, Pharrell gave her a standing ovation (which was why she picked him, she said). I also thought her choice to sing Sam Smith's "Stay with Me" over an older and more classic gospel or soul number was very savvy. It shows she's able to put her own spin on current music. So step up your games, the rest of Team Pharrell: Maiya's coming for you.
Images: Trae Patton/NBC