Are 'RHOBH' Adrienne & Brandi Friends Today?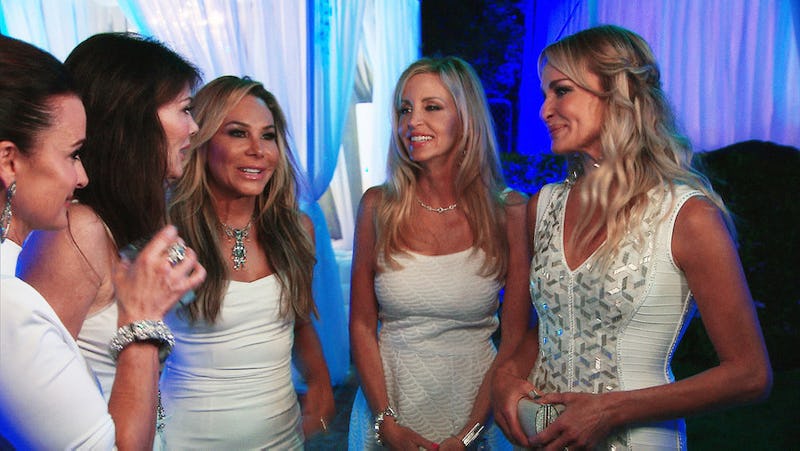 Now that The Real Housewives of Beverly Hills has returned to our lives, we are swept up into the drama between the women like no time has passed. One relationship that the show plans to explore had many people buzzing a couple of seasons ago. RHOBH 's Brandi Glanville and Adrienne Maloof seemed to be good friends when Adrienne "brought" Brandi on to the show in the second season. Then, during Adrienne's final season, Brandi supposedly made a comment that — while it didn't air on Bravo — was allegedly about Adrienne's use of a surrogate. After that, Adrienne was off the show, with little comment. But now that time has gone by, and Adrienne has started a new chapter of her life, is the bad blood between these women gone as well?
It seems like the majority of the women on RHOBH have moved beyond their previous issues. The only person the women have an issue with seems to be Brandi. Poor Brandi, she just can't win with some of these ladies. One person she particularly can't win with is Adrienne, who in the first episode of Season 5 didn't seem interested in mending their relationship. At Kyle's annual "White Party," Brandi approached Adrienne, asking to speak with her, when Adrienne said it wasn't the time and that they can do it another time. Whether these two smooth things over for the cameras, it looks like presently Brandi and Adrienne aren't friends in real life (though on camera could be a different story).
After looking at both women's social media, it seems like they haven't been in contact with each other for a long time. No Instagrams, no tweets, all is quiet on the west coast front. After the first episode of RHOBH aired, Camille Grammer, Taylor Armstrong, and Adrienne all appeared on Watch What Happens Live, with Bravo superstar Andy Cohen. If you've seen the show, you know that Andy always has a silly game for his guests to play, this time it was a game of hot potato, where the three former housewives had to say only nice things about Brandi. While Camille and Taylor tried to stick to the rules, Adrienne decided to change up the game and didn't have anything nice to say about her former costar.
So whether or not their planned meet-up works for these two on the show, it looks like they really haven't gotten past any issues that they may still have from previous seasons.
Image: Bravo