Shia LaBeouf's Making Great Progress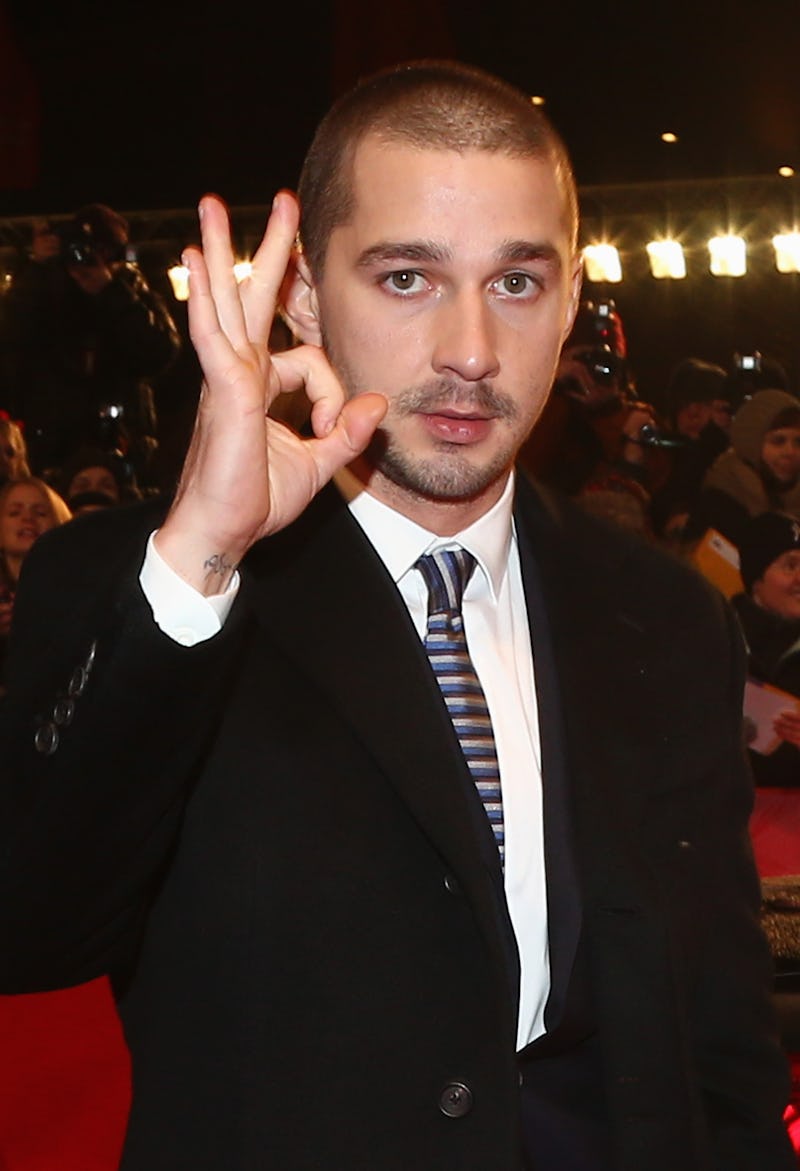 These past two years have been quite a roller coaster for Shia LaBeouf, his fans, and, likely, his colleagues, and it's been hard to really figure out what's been going on with him — granted, we can't tell whether his disconcerting actions show that he's oblivious or is just too self-aware. But on Tuesday, there seemed to be a tiny beacon of light off in the distance, when it was reported that Shia LaBeouf is complying with the court ordered treatment he was to receive as a result of his bizarre antics during a performance of Cabaret on Broadway. And no, he was not actually in the show and rather just an audience member acting up, which he recounted in, I admit, hilarious fashion on Jimmy Kimmel Live.
LaBeouf appeared in a Manhattan court on the morning of Tuesday, Nov. 25 to show proof that he's been at the Hills Treatment Center in Los Angeles, and the judge ruled his progress sufficient, setting a new court date on March 20, 2015 to assure the actor is remaining on this path. His lawyer, Robert Gage, stated, "Shia's done a terrific job complying with this program and we appreciate the court's recognition of that."
The Cabaret incident in June was the last public outburst LaBeouf had, after previously being involved in controversy surrounding the alleged plagiarizing of his short film, HowardCantour.com, and very public bar fights with complete strangers. These events led many to believe that LaBeouf was suffering from alcoholism and possibly other addictions, and his rep Melissa Kates spoke out about these rumors when she made a statement that he had been receiving treatment on his own, immediately after the Cabaret arrest: "He understands that these recent actions are a symptom of a larger health problem and he has taken the first of many necessary steps towards recovery." Bravo, Shia!
Amidst all of the trolling, the jokes, and the obviously troubled outbursts, it seems to me that LaBeouf is obviously a tortured yet incredibly articulate and intelligent man who needs to harness his creative genius and use it towards his acting. He's shown us this side before and I think we will see him again — sans paper bag over his head.