Jenny Slate's 'Obvious Child' Role is Oscar Worthy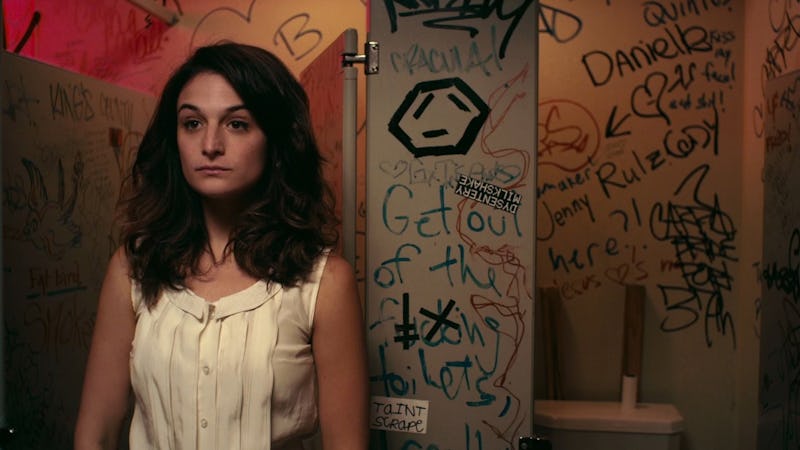 Last year, awards season saw a cool little upset: Oscar shoe-in (and eventual winner) Cate Blanchett was beat out for the Gotham Award* by Brie Larson for her superb performance in Short Term 12. It was a reminder that not everybody who gives Oscar-worthy performances is positioned in a way that'll actually land them at the Academy Awards. This year that reminder will come from Jenny Slate, who's been nominated for a Spirit Award for her performance in Obvious Child.
There have been some great performances this year, but overall this year's Academy Awards is being noted as being pretty thin in the realm of the Best Actress category. Still, even with more wiggle-room than past years, Slate is unlikely to bust through and find herself on the nominee list come January. This has been a breakout year for her, for sure, and one she should be deeply proud of, but she didn't have the same kind of reception from the mainstream press that, say, Melissa McCarthy did for Bridesmaids.
But this isn't any reflection of her performance: The romantic comedy isn't doing too great as a genre right now, but Slate stepped into that space and busted it open. She did so with the help of filmmaker (and Obvious Child director and writer) Gillian Robespierre — who also got nominated for a Spirit Award today, for Best First Feature — but through the subtleties of her performance.
Slate plays a comedian who says bawdy stuff onstage, but the brush strokes with which she paints Donna Stern are pretty special in their blending of humor and vulnerability. For an actress who's mainly been known for her (great) performances as more outlandish and less-nuanced characters like the ones she plays in Parks and Recreation and The Kroll Show, it was a revelation.
Jennifer Aniston had a revelatory performance this year, too, but the latter's build-up is one much more likely to lead to an Oscar nom.
And so it's nice to have spaces like the Spirit Awards and the Gotham Awards, where works and performers who demonstrate great quality and skill but who don't necessarily have the massive PR engine the Oscars require can get their due. If we're lucky we have only just begun to see what Slate has to offer us.
And if we're super lucky she'll win the Spirit Award and we'll all get to hear her acceptance speech.
*This previously stated that Larson beat Blanchett at the Spirit Awards. This is incorrect: She beat her at the Gotham Awards.
Images: A24; crushabledotcom/tumblr, movieclipsdotcom/tumblr