Introducing the Ugly Christmas... Suit???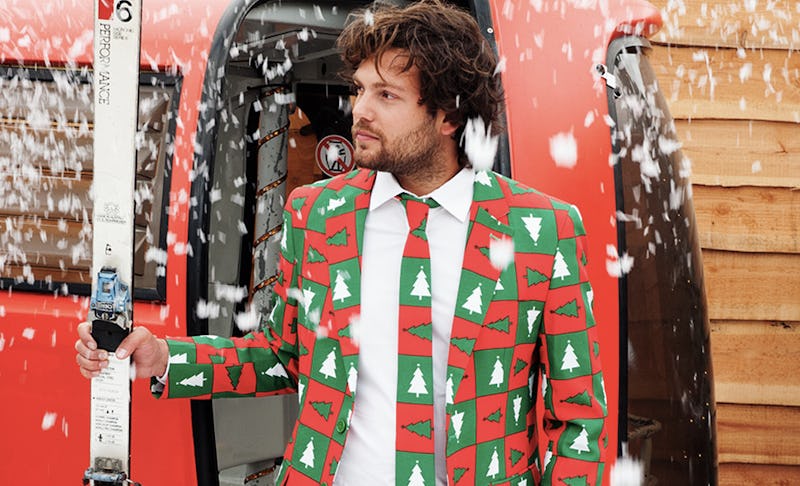 Sincere apologies for what I'm about to tell you: A brand called Shinesty has designed ugly Christmas suits that make your Santa sweater look like child's play. They are almost awesome, but they are also about as hideous as can be. If your boyfriend is a hipster toolbag, you may want to consider getting him one of these for Christmas.
The suits come in three different patterns, all as terrible as the last. There's the Holiday Tree Suit in all it's red and green glory, the Ugly Christmas Sweater Suit complete with snowmen and holly, and, last but certainly not least, the Rudolph Suave. Yes, that one is covered with reindeer and snowflakes. Each suit comes with a jacket, skinny tie, and trousers for the low (read: not low) cost of $109.
Rebecca Rose of Jezebel asked her boyfriend what he thought of the suits. His opinion? "I like the concept of this, but it's also f*cking stupid. That's a lot of money for a joke concept suit." Yeah, exactly. This is a hilarious idea, but it's also, well, really dumb. If the man in your life goes to an ugly Christmas sweater party every year and wants to mix things up, perhaps this is something he needs hanging in his closet. Otherwise, I'd suggest foregoing this particular, um, trend.
Ohhhh yeah. This guy is red (nosed reindeer) hot.
He's smoldering like a stylish mall Santa.
Festively sexy.
Images: Shinesty