Hour-Long Episodes Might Be Good for 'Parks'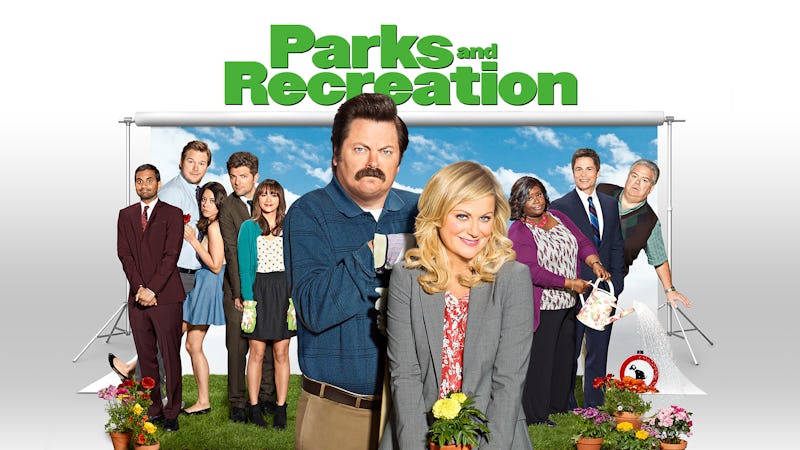 Having had to sustain myself with old episodes on Netflix and the YouTube video of Jean-Ralphio singing, it's great to hear the news that Parks and Recreation has announced its premiere date for its seventh and final season: the series Parks and Rec will premiere on January 13, 2015. Note: it's a Tuesday instead of a Thursday — Parks will be taking over the time-slot from The Voice (suck it, The Voice). But why the switch from their usual post in the Thursday comedy block? Because for their seventh and final season, producers Amy Poehler and Mike Schur have created 13 hour long episodes, with the season finale airing on February 24. Am I excited? Scared? Sad? A little bit of all three; Parks is my favorite show on TV right now, and though I do think it's ending in the right place, I'm not totally sold on the idea of such a short season with such long episodes.
There's a large chance it will be great, though. Maybe the new format will fit well with the time-jump. If you need a refresher, the finale of Season 6 jumped ahead three years in time to show Leslie Knope killing it working for the National Parks Service out of her beloved Pawnee office, with Jon Hamm as her incompetent aide and her three adorable children. I personally thought that was a prudent move, to finally see Leslie stop struggling with the idea of leaving Pawnee to move on to bigger and better things (also forever grateful that Parks and Recreation always focussed on Leslie's career choices. When she found out she was pregnant with triplets, she was like, NBD). It's also clear that Parks wanted to end on a good note. It's sort of a universal truth at this point that 30 Rock's final season was so successful because it did a lot of literal tying up of loose ends. It was very meta and ended up being a heartfelt finale that was as much about the viewers as about the cast.
Buuuut, for all their similarities, Parks is a very different show than Fey's 30 Rock. I'm sad to see the mockumentary format go, because that's where we've seen some of the best lines (Tom Haverford introducing us to Apps and Zerts, to name one of a million). As cheesy as it is, I like how much reflection the mockumentary format allows for. Also, I don't know if I'll be able to get used to watching essentially 13 mini-movies of Parks without April Ludgate's deadpan and morose asides.
The good, though: Poehler and Schur are, of course, incredible writers, and I'm inclined to trust them if they think that an hour-long format would do better to serve the purpose of the end of the show and give the fans a satisfying ending. NBC Entertainment Chairman Robert Greenblatt said this of the saturated, shortened season: "In an effort to give it the send-off it deserves, we wanted to 'eventize' the final season to maximize the impact of these episodes, which really do take the show to a new level." No doubt that it WILL be an Event. Maybe an Arrested Development Season 4 treatment, giving each character a full, fleshed out episode? Or maybe more along the scenic lines of one of Park's only hour-long episodes, London, the Season 6 premiere?
My confidence in Schur and Poehler is only confirmed when I remember that many favorites are coming back, like Tammy and Jamm. Natalie Morales is coming back as Tom's Cute Bartender Girl that got away. Plus, with the nature of Parks, there's no doubt in my mind that the series will end on an uplifting note. Amy Poehler might have mused she fantasized Lelsie Knope going off the rails and torching the place, but that would be far-fetched for a show with so much warmth. So even though it really is a shame that the season will only run for just over a month, I think the hour-long episodes will be quality, not quantity (though I would LOVE more quantity). Just like Pawnee wasn't ready to say goodbye to Lil' Sebastian, I'm not ready to say goodbye to Pawnee.
Images: NBC; Getty (2)