'Girlfriends' Guide' Has a "Royal" In Its Midst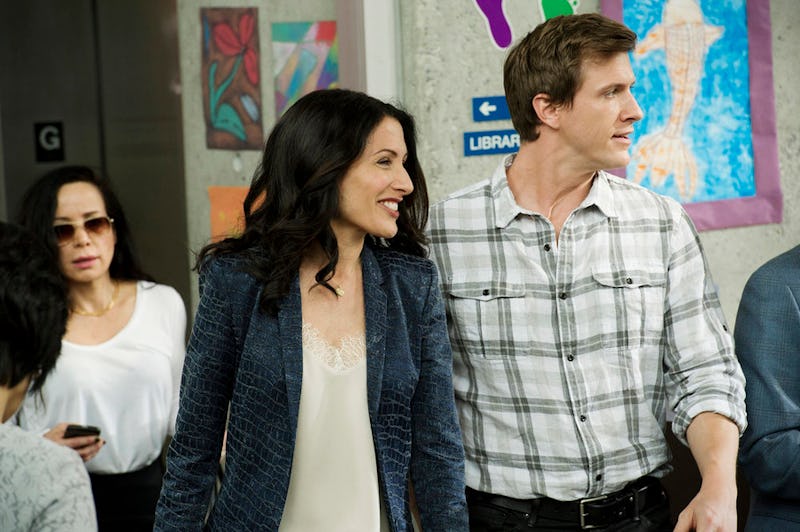 It's happening. Channels that normally are known for reality shows about random celebrities and lifestyle competitions are now taking a big leap into scripted show territory. Bravo has officially made that first step with their first scripted series Girlfriends' Guide To Divorce which premieres on Tuesday night. Despite being new to the scripted scene, Bravo's first series seems primed for success, starting with the crazy good cast which includes House's Lisa Adelstein as the main character Abby, Janeane Garofalo, and Private Practice's Paul Adelstein. And once you see his handsome face, you'll be wondering who plays Abby's brother Max on Girlfriends' Guide. That would be Patrick Heusinger, and yes, you have definitely seen the actor before on screens big and small.
For the last six years, Heusinger has made quite the mark on the television and film spectrum, appearing in popular and well-known projects such as Black Swan, 30 Rock, Rescue Me, Law and Order: SVU and so many more. But he is probably best known for two major roles on two fan favorite series: USA's Royal Pains and The CW's Gossip Girl. Here are his most memorable roles to date:
Royal Pains
On Royal Pains, Heusinger played Adam Pierce, a documentarian and former patient of HankMed. He and Divya shared a romantic kiss despite her being engaged to Raj. After the kiss, Divya felt so bad about it that she confessed what happened to Hank and promised to stay away from him. She obviously broke that promise and once again treated him which made Hank feel betrayed. Divya then decided that treating or dating Adam would be wrong for the practice and because of her ongoing engagement. Adam leaves to film another documentary.
A Royal Gossip Girl Guest
Heusinger's role on Gossip Girl was a bit more dramatic as he played Lord Marcus Beaton, who originally disguised himself to Blair as James Schuller. Blair was at first just dating James/Marcus to make Chuck jealous as in the previous season Chuck was unable to tell Blair how he felt about her. When she found out he was an English lord thanks to Chuck's jealous digging surprisingly enough, she continued to date him. Marcus did care for Blair throughout his small but memorable guest arc, but despite that he ended up still being quite the creep, as Vanessa later finds out that he was not only sleeping with Blair, but also his stepmother Lady Catherine Beaton. It was totally weird and uncomfortable.
And 30 Rock
Now while those are two of Heusinger's biggest roles and undoubtedly what got him the gig as Abby's gay and married brother Max on Girlfriends' Guide to Divorce, my favorite Heusinger TV moment comes from a small part in 30 Rock on the episode "Generalissimo." In the episode, Heusinger plays a new TGS intern after losing his job at Lehman Brothers. He and his fellow new interns who, again, were all former Lehman brothers, take Tracy Jordan out on the town which makes him realize he is way too old to be going out every night. The guys give Tracy roofies without him realizing it which leads to the above brilliant moment.
Images: Carole Sagal/Bravo; USA (Screengrab)