Ariana Grande Reacts To Things For You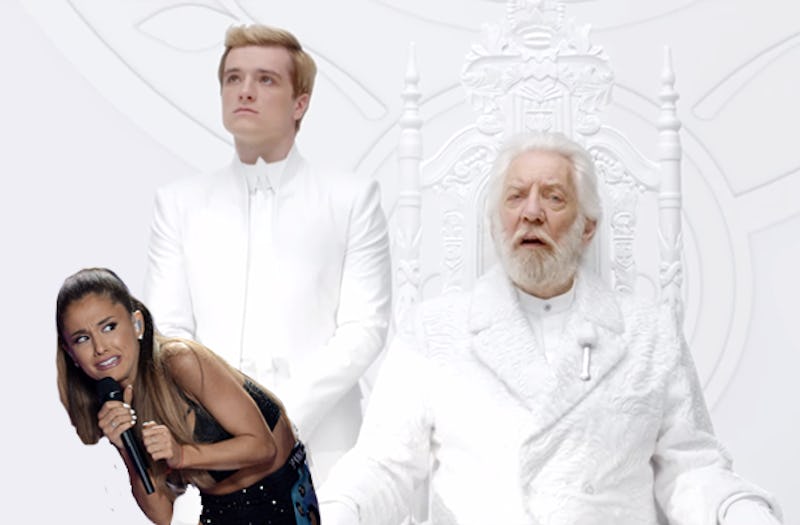 The Victoria's Secret Fashion Show is more than just a fashion show. It's also a concert, one that usually manages to pull in a lot of great acts who are just dying to sing while surrounded by lingerie-clad Angels. Despite rumors that the 2014 show was marred by Taylor Swift getting a Victoria's Secret model fired, it seems to have gone off without a hitch — but that's only thanks to all that rehearsal. The rehearsal shows tend to go a lot less smoothly than the real thing sometimes; just ask Ariana Grande. During one of her practices, Grande was hit in the face with a model's wing, resulting in her making the best face in candid photo history.
Literally, her expression was priceless. So priceless I am utterly shocked that it's not a meme yet. Think of how many pop culture things there are out there in the world that Grande's face would be the perfect reaction to. Then again, you don't have to bother. Below, I've made nine memes of Grande's Epic Reaction Face, because sometimes your own face can't react big enough. And next time you find yourself at a loss, just hold up the original picture of Grande — it gets the point across quite nicely.
1. Hijacked Peeta in Mockingjay
As if watching him stand stoically by President Snow's side during the Mockingjay teasers wasn't bad enough, seeing — spoiler alert — a brainwashed and crazy Peeta beat the ever loving crap out of Katniss at the end of the film is just plain horrific. UGH, SNOW.
2. The new Star Wars lightsaber
I mean, I'm not in the fandom, so this ain't none of my business, but what is that? What was wrong with the old one? What? Just. What?
3. Abigail Breslin's "You Suck" Music Video
I have had all the love in the world for Abigail Breslin ever since she appeared in Zombieland, but this song was bad and this music video was worse. And smacking the wasp's nest that is the 5SOS fandom? Ouch, girl, ouch.
4. Kim Kardashian's Paper Magazine cover
Kim Kardashian might be able to balance a champagne glass on her butt, but the possible racist undertones of this particular pose are worthy of a reaction meme. The bare booty shot is fine. You do you, Kim K.
5. Hugh Jackman's transformation into Blackbeard in Pan
That beard! That hair! Those ruffles on his outfit! How did the man who plays Wolverine transform into this and how soon can he transform back? (The movie, however, looks awesome.)
6. Kim Kardashian and Anna Wintour's lunch meeting
I know these two power women are discussing Kardashian's impending Vogue shoot, but look at North West. That baby girl just wants to go home already. And also, like, why wasn't I invited to this? UGH.
7. Twisty the Clown from American Horror Story: Freak Show
No words needed.
8. Harry Styles' vomit shrine
Remember that time some One Direction fans erected a shrine off the side of the highway where Harry Styles stopped to throw up in October? Well, it happened, and Grande is making the same face I did when I heard about it.
9. Being photographed from the right side
Guys, we all know Grande prefers to be photographed from her left side. Photographing her from the right might be a sign of the Apocalypse or something. And imagine how horrified she would be — or don't imagine and just look at this picture.
Check out the original photo below.
Image: Getty Images