'Boyhood' Is Wonderful But Here Are 11 More Great Coming-of-Age Films from 2014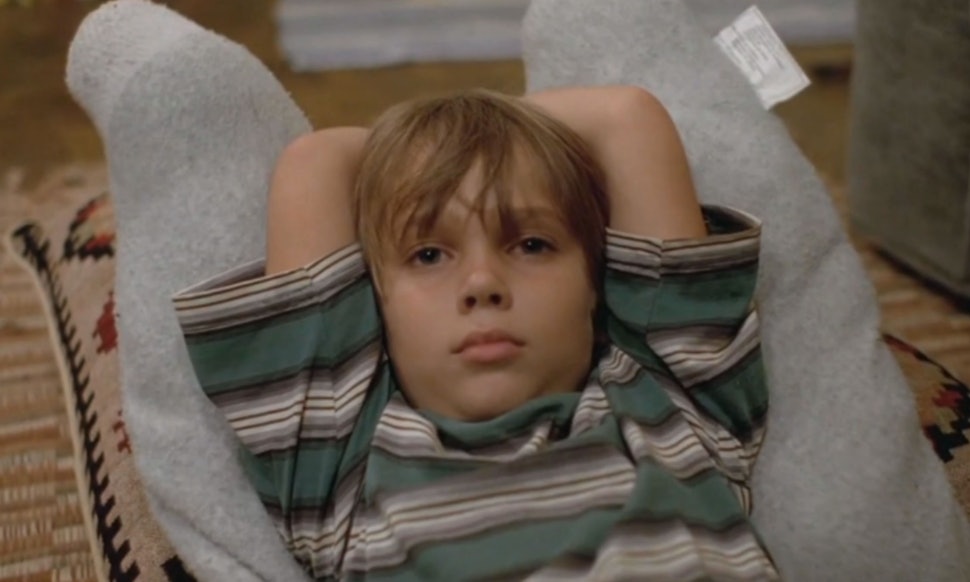 When it comes to the year's slate of movies about growing up, Richard Linklater's Boyhood has commanded most of the conversation. And for good reason! The tonally temperate, conceptually magnificent movie is unlike most cinematic depictions of childhood — less a film about the subject than it is a bona fide window into the experience. Shot over the course of 12 years, with star Ellar Coltrane growing up alongside his character Mason, Boyhood had — and took great advantage of — a special opportunity to showcase youth in a way that didn't conform to the narrative demands of most big screen projects. But that doesn't mean that the film's cohorts aren't also worth a watch.
In 2014, we've seen a handful of great stories about the "coming-of-age" journey. Some have taken traditional form, exploring the trifles of love, friendship, loss, and self-image over those always tricky younger years. Others have transplanted to new locale for the genre: army bases, fantastical kingdoms, and British prisons, all in the interest of detailing the unparalleled adventure that is, simply, living when you haven't quite figured out how yet.
Check out this list of 11 great coming-of-age films from the past year — if you liked Boyhood , they might be right up your alley.
Image: IFC Films
'HIDE YOUR SMILING FACES'
Debut director Daniel Patrick Carbone exhibits the understanding that only in childhood can the bleakest of sorrows accompany the silliest abandon. In his very sad, very touching movie, Carbone wrestles with the issue of loss, and how our childlike inclinations to laugh when we're asked to cry are a value onto which me might be wise to hold tight.
Image: Tribeca Film
'WE ARE THE BEST!'
A staple of childhood (in and beyond film) is the harrowing conflict of "not fitting in." In this charming, funny Swedish film, three young women seek refuge in rock music from oppressive peers, parents, and teachers… and, eventually, from one another.
Image: Magnolia
'PALO ALTO'
Demonstrating the same command of teenage ennui that her aunt Sofia displayed in The Virgin Suicides, newbie director Gia Coppola paints a hauntingly real picture of the perplexing vacancy of the high school years, particularly in those most post-apocalyptic of all comminities: upper-middle-class suburbs.
Image: Tribeca Film
'THE TALE OF PRINCESS KAGUYA'
Though a fantasy fable, The Tale of Princess Kaguya is as relatable a story about the inescapability of the "future" as anything else on this list… and when it comes to a head in its climactic scene, it might even be the most powerful testament to giving way to the claws of time to which the year has treated us.
Image: Toho
'WETLANDS'
American teen movies have often tread into the territory of "gross-out comedy," though have more often than not relied on strapping young bucks to handle these exploits. But Wetlands, a movie that is as sweet and chipper as it is disgusting, ups the ante on anything American Pie gave us by a wide, wide mile… and says a little something about child-parent relationships along the way.
Image: Strand Releasing
'STARRED UP'
Though its principal identity would probably not be labeled "coming-of-age movie," Starred Up is very much a story about the transition into adulthood — the inheritance of responsibility (both societal and personal), the eschewing of our negative traits in favor of our positive, and that dreaded inevitability of becoming our own mothers and fathers.
Image: Fox Searchlight
'ZERO MOTIVATION'
Zero Motivation is practically gospel for the mindset of the common teenager: its heroines value their best friendship over all else, hate authority, fear being ostracized, vie for the glory that adulthood must foster, and (as most of us will) have to deal with a vengeful spirit possessing their colleagues.
Image: Zeitgeist Films
'THE DANCE OF REALITY'
Alejandro Jodorowsky splits the focus of his first film in two decades between father and son characters, with the latter battling the contradiction of society's ephemeral wonders and a restrictive home life. The memoir picture really nails the marriage of whimsy and horror that paints just about everything at its hero's age, and with some of the year's most imaginative imagery to boot.
Image: Caméra One
'NYMPHOMANIAC'
Self-discovery can often be a rocky road, especially when you (as so many of us can be) are bridled with a defining characteristic you're not exactly proud of or comfortable with. In Lars von Trier's latest, heroine Joe navigates her teen years and young adulthood exploring (and battling) her sexuality… one of the toughest hurdles for anyone to jump.
Image: Magnolia
'IDA'
Sometimes, approaching one's future entails first discovering (or rediscovering) the past. After a lifetime estranged from her family, a young nun-in-training meets her only living aunt, and by extension, her roots. The story is as much about encountering the new — as the titular character's aunt introduces her to worlds yet untested — as the old, and how each plays a role in shaping who she'll become.
Image: Soloban
'IT FELT LIKE LOVE'
As Nymphomania is a story about the enigma that is sex, this special film is one about that of love. The cruel, convoluted, often misleading paradigms of teenage love find proper tribute in It Felt Like Love, which is more interested in truth than romanticization.
Image: Variance Films