'Shark Tank' MVP Scrub Daddy Is Easy To Find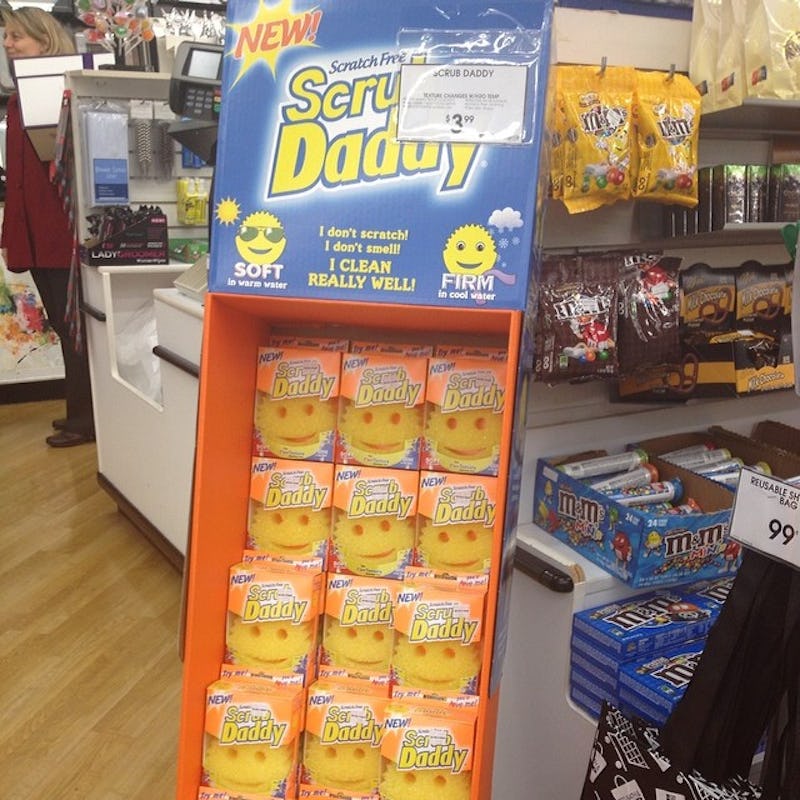 All those Silicon Valley whizzes with their apps for calculating your BMI with a selfie (which must be a thing by now), and those hipsters with their artisan snacks in fancy packaging may come off as the savviest of entrepreneurs on ABC's American-dream-themed hit Shark Tank, but even Shark Tank's most successful ventures get served a piece of homemade, mass-produced humble pie when the facts are laid out on the table. And the most successful Shark Tank product ever is something no one could have predicted. Scrub Daddy, a tiny smiling sponge with an infomercial and a dream, will be featured in the Dec. 5 episode as part of a segment showing Lori Greiner's best investments.
Scrub Daddy was invented by Aaron Kraus along with a line of buffing and polish pads that he created while he working a day job as a car washer. The latter products were purchased by 3M in August 2008, but the little yellow sponges were tucked away in boxes...until he and his wife busted them out for some spring cleaning and realized what they had. The Scrub Daddy, made of high-tech polymer, changes texture with the temperature of water applied to it. It remains hard with cold water, making it strong enough to clean a grill or stainless steel without scratching, and softens with warm water, turning it into a multi-use, 3-month-durable sponge.
With a product like that, and the wait-there's-more informercial-style presentation that Krause gave during his moment to shine on Shark Tank, Scrub Daddy was always QVC Queen Greiner's to win. And she knew a "hero" when she saw it, winning a stake in the product by offering twice what Krause came in asking for, at $200,000 for 20 percent. With that partnership, history was made.
After Shark Tank
After getting the exact partner he needed on Shark Tank, Krause also got the exact boost he was hoping for from the appearance. Krause told ABC News, "The night the show aired, there was probably 30,000 hits to our website instantly... we boosted up our server to make sure we were prepared." Scrub Daddy also prepared by bringing in enough inventory to cover the percentage of viewers they thought might buy. Scrub Daddy's sales went from $100,000 in four months of sales to $18 million in 18 months after their episode aired.
Lori Greiner & QVC
A ton of those sales, of course, have come from Scrub Daddy's many appearances on QVC. In its first appearance on the network, Scrub Daddy sold 7,000 sets of six sponges in under seven minutes. Beyond just selling tons of sponges, Krause, as an entrepreneur as well as an inventor, wants to create an entire brand around Scrub Daddy. He's recently expanded the color selection of Scrub Daddy to keep bathroom Scrub Daddys and kitchen Scrub Daddys, etc. separate, as well as, the lemon-scented Scrub Daddy, to keep sponges smelling fresh.
The Future of Scrub Daddy (and you!)
If you're sold on Scrub Daddy at this point, but aren't really a shop-by-phone kind of person, much of the product's success beyond QVC has come from just how many retailers Krause and Greiner have been able to get the special sponge into. You can stock everyone's stockings full of sponges this Christmas via retail's largest corporations: Walmart, Bed, Bath & Beyond, and Amazon. And I know you've got a 20 percent off BB&B coupon laying around somewhere. With markets like that, and the holiday season in front of them, it's no wonder that Scrub Daddy is projecting 2014 sales at $25-30 million. Here's hoping Krause gets a whole episode on the announced ABC after-the-Tank spinoff to share all his secrets for serious success.
Image: The Scrub Daddy/Instagram