Are You a Shopaholic? Join the Club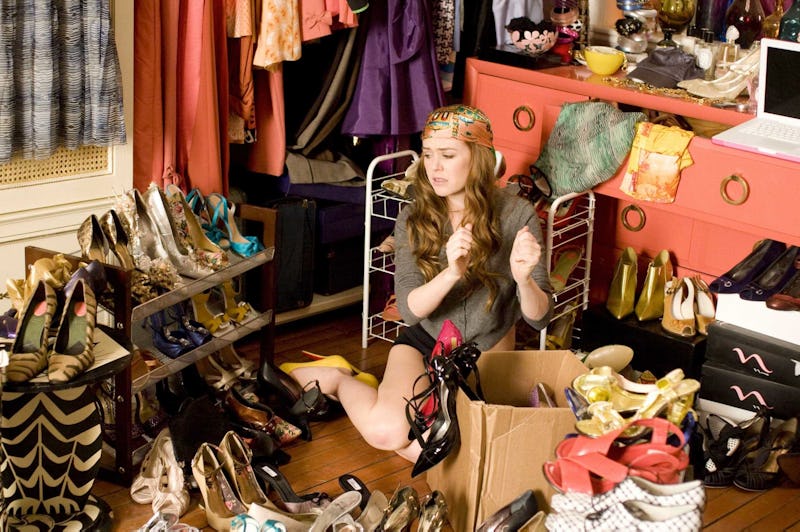 I don't know what it is, but when I'm walking through a mall, I'm always the first to be approached by the aggressively-friendly sales associates who are trying to give me free demonstrations of their products in the hope that I'll like what I see — and proceed to buy their product, duh. For some reason, they spot me from a mile away (although I'll admit, I'm not hard to miss in a crowd considering I'm a plus-size woman and 5'10"), and they stake me out as prey (they must be able to smell the weakness) before they go in for the sales-kill. And it always works. I'm a sales associate's dream — for if the product is actually good, and they've answered all my questions satisfactorily (being that I'm somewhat of a product guru) then they've hooked me. Yes, Yes. OK, OK. You've sold me. Just take my money already.
Around the holidays, I always find myself reeling with shopping anxiety — and yes, I know, we all feel anxious about holiday shopping around this time of year, but for me it's elevated, intensified, almost frenzy-worthy, even. And that's because, my friends — my name is Courtney, and I'm a shopaholic.
Being a shopaholic means being rifled with a combination of ecstasy and anxiety on a regular basis, all year round, whenever you are in the act of shopping — and it could be shopping for anything, really. Shopping for food, makeup, clothing — all these things demand both feelings of anxiety and pleasure, for it is absolutely paramount that you buy the right things and catch the right sales. Especially now that it's the holidays! I can't even check my email without being flooded by messages advertising "SALES! TODAY ONLY," while percentage signs flash constantly before my eyes as I scroll through a sea of propaganda — propaganda that baits and beckons me to click on the promotions and give into the tempting, delicious offer inside. It's like dangling meat in front of a starving wolf.
I realize that I have a problem. I'm aware of my addiction to the profound pleasure of taking home bags filled with shiny, brand new things. I've suffered from this affliction since I was old enough to make my own money, and discovered the delicious splendor that is shopping. So if you're like me (and I'm willing to bet that many of you are), then it may be safe to say that you suffer from the very same affliction. Still not sure? Well, in that case, here are 12 signs of being a true shopaholic:
1. YOU GET DOLLED UP FOR THE MALL
Going to the mall isn't some mundane, everyday task for which you just throw on your sweats and go. Ohhh no. Shopaholics get dressed up for the mall as though it were a major event. It's a chance to wear all of those products and clothes that you bought just last week, after all. You walk into that bitch feeling sexy, confident, important, and ready to spend some dollah-dollah-bills, y'all!
2. YOU MAKE REGULAR ROUNDS TO ALL YOUR FAVORITE ONLINE STORES
The above is part of your everyday internet-ing, and it's completely normal protocol for you. I mean, you have to check up and see if there are any new sales or new arrivals. It doesn't matter — you're on top of that shit, and nothing's going to slip by you.
3. YOU USE SALES TO JUSTIFY ANY PURCHASE
But... I have to buy this. It's on sale. I'll feel guilty if I don't — I'm saving money this way!
4. YOU LEAVE SHOPPING BAGS LYING AROUND FOR DAYS
After you've come home, and you're slowly coming down from your shopping high, you decide to leave your shiny new shopping bags scattered around your room for a while — just so you can enjoy the pleasure of seeing bags filled with things around you. Before you pull them all out and they become part of the regular, everyday mix that is the rest of your things, of course.
5. YOU HATE TAKING THINGS OUT OF THEIR BOXES
Sometimes things come perfectly wrapped in gorgeous paper like an ideal, pretty present. Or come in shiny, handsome boxes (just think of any MAC or LimeCrime products you've purchased). You appreciate these things; they represent a form of "newness" that you are so addicted to. And it's with a great reluctance that you rip open that paper or take that item out of the box, and toss the former glittering form of presentation away like yesterday's newspaper.
6. YOUR CLOSET IS BURSTING, YET YOU HAVE NOTHING TO WEAR
Shoes, purses and clothes swallow you whole as you open up your closet of doom. There are mountains of accessories on your shelves, mounds of shoes collecting on the floor, and all of your hangers are holding more than one item of clothing — you had to double-up ages ago. But despite the plethora of choices before you, you've seen it all before. Nothing inspires you, and therefore you have nothing to wear.
7. THERE ARE ITEMS IN YOUR CLOSET WITH THE TAGS STILL ON
Have I seriously never worn this? Wait, when did I even buy this?
8. GIVING AWAY OLD CLOTHING IS LIKE PULLING TEETH
There are items in your closet you haven't worn in so many years, they might as well be covered in cobwebs. Yet, when it comes to the notion of getting rid of things you no longer wear (to make room for the new things, of course), you just cannot come to terms with it. But what if it comes back in style? What if it becomes vintage? What if I need it for an outfit someday?
9. YOU RANDOMLY FIND ITEMS YOU FORGOT YOU EVEN HAD
Ohhh, that's where that went! Wow, I forgot all about this! And I suddenly love this again!
10. YOU HAVE A COLLECTION OF MAKEUP YOU BARELY WEAR
Lime green eyeshadow? When did I actually think I was going to wear this, ever?
11. EVERY TIME YOU SHOP, ITS #HAUL WORTHY
When you shop, you shop — there's no going lightly about it. Rarely will you leave with a single item (and if you do, you consider that an act of great restraint). No, when you come out of a store, or hit "checkout" on your favorite fashion website, you have a #haulworthy amount of awesome things. And it's pure ecstasy.
12. YOUR GIRLFRIENDS ARE ALSO SHOPAHOLICS
Chances are, you're surrounded by other fellow shopping-lovers, and you all happily enable each other's addiction.
Images: Touchstone Pictures; Giphy