Must-See Amazing 'AHS' Makeup Transformations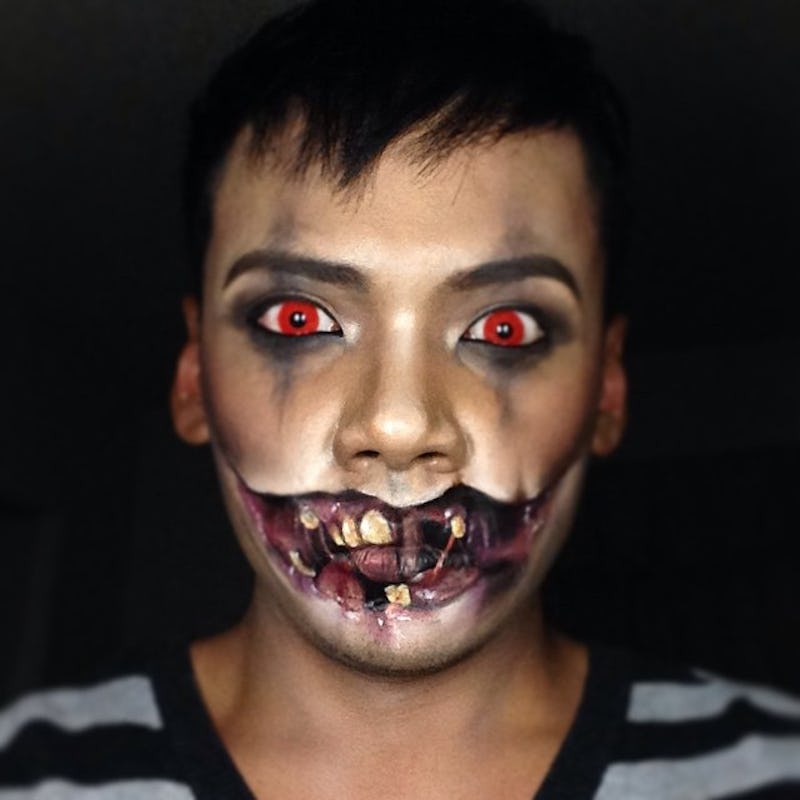 In order to start your week beautifully, it's time for a bit of Monday makeup magic, courtesy of a makeup artist whose transformations are eerily on-point. Utilizing his Instagram as a means of demonstrating his immense talent, Denver, Colorado's resident makeup virtuoso Jan Bonito piqued the social media world's interest when he began to flood his account with cosmetic before-and-after images in 2013. Amongst the collection are images of Bonito as Angelina Jolie's Maleficent, Lana Del Rey, and most impressively, the cast of American Horror Story: Freak Show. In simpler terms, Jan Bonito's Instagram is a work of art.
Nor does Bonito employ any sort of shortcuts in creating his intricate looks. Shading, contouring, and highlighting are all heavily-used techniques in conjuring each celebrity's spitting image. Bonito meticulously lists his tools and makeup for each image, and in a select few cases even features a film short elucidating how he created each final product. And the final products are indeed astounding. Bonito's Jessica Lange is a picture of frightening accuracy down to a sternly arched eyebrow; his Jyoti Amge/Ma Petite would fool even devoted viewers of the series; and somehow Bonito transforms himself into the doppelganger of Evan Peters. Those who aren't afraid of more daring fare will also be intrigued by Bonito's rendering of Jack Nicholson's frigid end in The Shining and Twisty The Clown from Horror Story.
If you're a Denver native or simply need inspiration for an upcoming costume party, consider yourself freshly inspired by one of 2014's most talent cosmetic prodigies.
Images: jkbonito/Instagram