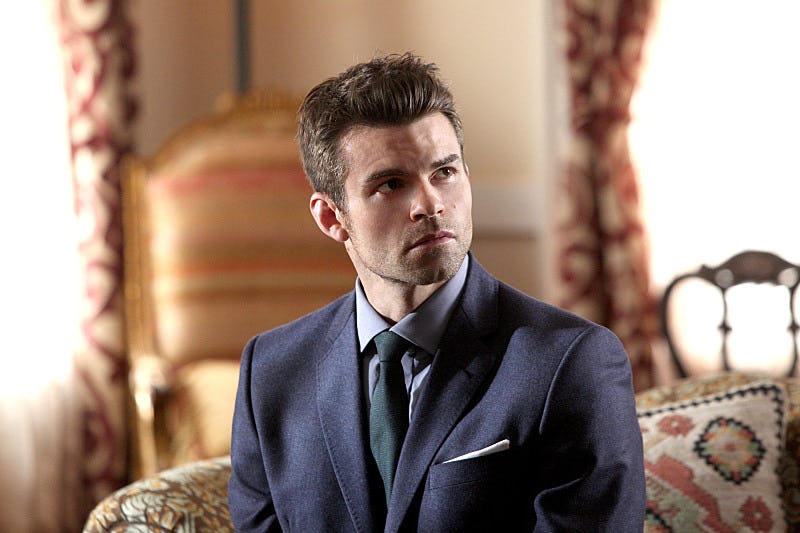 So, that's what we've all been missing this entire time? After months of enduring Cami and Marcel's semi-forced relationship, The Originals midseason finale came through with it's best romance moment to date. On Monday night's episode, "The Map of Moments," Haylijah got a steamy sex scene and it was everything Originals fans have been waiting for since Season 2 premiered back in October. Well, aside from the fact that Elijah prefaced their moment with the prospect of saying goodbye to their 'ship forever. But can Hayley really marry Jackson when her heart clearly belongs to Elijah?
This was really a no-joke scene for Haylijah (even if it did vaguely remind me of Hayley and Klaus' Vampire Diaries sex scene way back when), which shouldn't surprise anyone after watching their tension build through the entire first half of this season. But it was kind of difficult to live in the moment of these two finally acting on their emotions while Hayley's impending marriage to Jackson hung in the air. Hayley confessed to Elijah her plan to make New Orleans safe for Hope to come home and he kissed her before telling her to go on and marry Jackson. Everything everyone's done up until this point has been to keep her child safe and she'd only be doing what's right, as a mother, by marrying Jackson.
Elijah reasoned that he and Hayley needed to unite their respective supernatural groups to ever be able to make The Quarter a safe place for her daughter to return. And he told her to do whatever it took – including make their relationship impossible by supernaturally marrying Jackson. But then they had sex, which seems like it's not a big deal because they've both got a bigger cause to tend to, but how can Hayley realistically walk down the aisle after this? Sure, Elijah gave her his blessing, but Hayley's been anxiously waiting for him open up to her again — she wanted him to tell her not to marry Jackson. And it almost seems like this moment is the confirmation she needs to find another way to make this place safe for Hope.
Haylijah's midseason finale moment was real – it was extremely real. And the supernatural powers that would bind her marriage to Jackson and allow the pack to take on her power to change at will, will absolutely be able to tell that her heart isn't in this. I mean, how could it be? Haylijah is The Originals endgame 'ship and they can only get better than ever from here.
Image: Annette Brown/The CW