7 International Novels You May Have Missed in 2014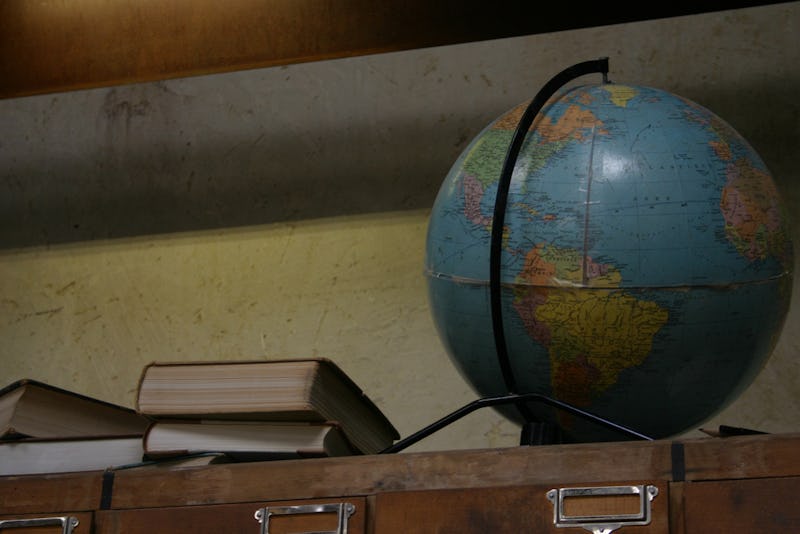 International works of fiction are reviewed, read, and appreciated far less in America than their home-grown contemporaries. And if you're a female author of international origin? Forget about it. You might as well wave the white flag and remain thrilled with your success at home in the face of relative anonymity on the American market. (Ugh, that is so horrible to type.)
Things don't have to stay like that, though. After all, some of our most treasured literary gems — The Mandarins and Harry Potter, for instance — didn't just languish in specialized sections at bookstores across the country. We just need to make sure we're seeking out these kinds of books and and reading 'em.
So, if you haven't had the chance to read beyond American borders this past year, I'm here to tell you it's not too late. Female writers around the world have produced or issued in translation some staggering fiction this past year, and I've narrowed it down to seven not-to-be-missed novels. Whether you're deliberately looking to spice things up with an energetic international voice, or just on the hunt for your next great read, each of the women represented on this list have produced stories you'll want to settle down with:
Just Call Me Superhero by Alina Bronsky
After the success of Hottest Dishes of the Tartar Cuisine, Alina Bronsky isn't exactly considered an unknown in America — but if you haven't heard of her, now is your chance to read the Russian-born author. Just Call Me Superhero, her new book, is a striking and unusual story centering on a 17-year-old boy attending a support group for the physically disabled after being brutally attacked by a dog. It's startling both in its difficult, deliberate attention to suffering and self-acceptance, and Bronsky's gripping style and tone makes it an addictive read.
Back to Back by Julia Franck
Set in East Berlin, German writer Julia Franck's second novel also takes on the theme of suffering through the tale of art, family, and ideology. Of writing her latest novel, Franck has said "You know when children have nightmares and you ask them to paint their monsters? Writing this book felt a lot like that," and I'm here to let you know that the reading experience is equally magical, monstrous, and strangely satisfying.
Questions of Travel by Michelle de Kretser
Questions of Travel tells intertwined tales of two lives lived at opposite ends of the globe — it's quite the international book. As the dense, delicate, and beautifully rendered characters stretch and find their footing, the story becomes as much a narrative of a time and a place as it is the story of two very special individuals. Australian novelist Michelle De Kretser's prose is not only deeply evocative and peppered with perfectly chosen detail, but also laugh-out loud funny.
H is for Hawk by Helen Macdonald
Lest we forget that our British brethren (or sistren, as the case may be) are also part of the international literary contingent, Helen Macdonald's unusual and extraordinary story H is for Hawk brings us literary brilliance from just across the pond. As a rare entry in the category of literature that could truthfully be termed animal fiction, Macdonald, who is also a prize-winning photographer, carefully plots the incredible almost-true story of the taming of a goshawk, and turns the idea of a thriller on its head.
I am China by Xiaolu Guo
Chinese writer Xialu Guo brings a unique, highly aestheticized style and tone to her fiction. The effect places an usual cast over the novel as the characters reveal their secrets to you. This is not a quick read or an action-packed adventure, but if you're in the mood for a perfectly articulated tale of punk music, passion, and political agitation, you can't do better than I Am China.
I'll Be Right There by Kyung-sook Shin
Past, present, and future are brought to life under the harsh glaring light of political revolution in South Korean writer Kyung-sook Shin's quivering, hopeful, and heartfelt novel I'll Be Right There. Following the life of the Jung Yoon and a cohort of young, bright, privileged college students, I'll Be Right There charts personal tragedies and seismic global shifts with the equal care and passionate, emotional interest.
Those Who Leave and Those Who Stay: Book 3, The Neapolitan Novels by Elena Ferrante
Don't let the cover of Italian writer Elena Ferrante's new novel fool you — this book is made of serious stuff. Those Who Stay and Those Who Leave is the latest of Ferrante's Neopolitan novels, which chronicle the adult friendship of two young girls who met in the first of the Neopolitan Novels. They now now lead very different lives, struggling to wield reason, passion, and emotion against the onslaught of social expectation and the harsh, grinding reality of the daily passage of time. There are too few truly spectacular books about female friendship, and Ferrante has crafted one of the best, a tale achingly rendered against the backdrop of the furious upheaval of the 1970s in Ferrante's stylish, intimate prose.
Visit our Year In Review Explore page for more stories about the best and worst moments in 2014, and enjoy the best sounds of the year with this Spotify playlist.
Image: Sarah Joy/flickr