A Tale of Holiday-Party-Dress-Shopping Disaster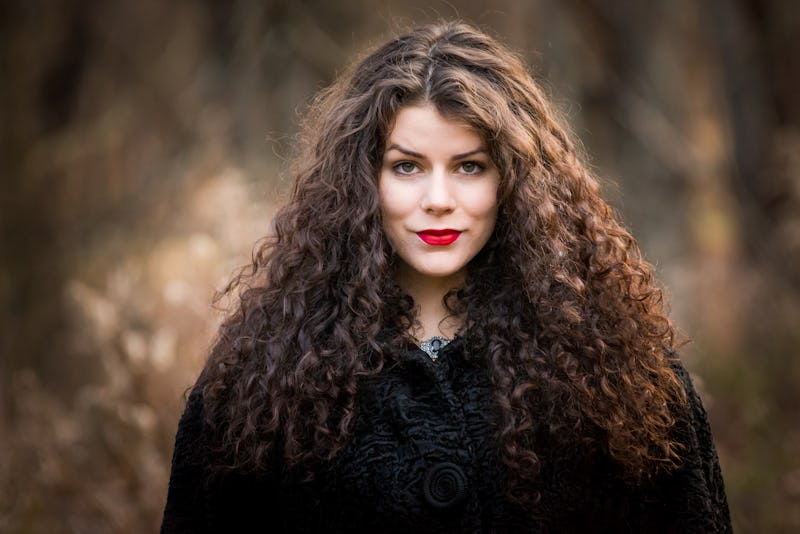 If there are two things I hate in this world — besides, you know, all the other things — they are Midtown in NYC, and fitting rooms. Just imagine, then, the particular abhorrence I reserve for Midtown fitting rooms. Yuk. Which is why this past Sunday, December 7th, when I was in frantic need of a dress for Bustle's very own holiday party — Requested Attire: "Cocktail Casual" — I didn't start there. In fact, I started as far from there as I could get. I started about two hours upstate, in my hometown galleria. Which, I realized almost immediately, was a terrible idea.
Size 6, Size 4, Size 6, Size 6, Ugly, Size 10, Size 6. Ugly, Ugly, Ugly, Size 6.
LOFT (my go-to, my home base) is, apparently, in an icky phase. Everything is grey and cheetah-printed, two things which simply should not exist together, and Banana Republic has never been my friend when it comes to dresses — tight in the thighs, loose in the hips and waist; just about the least-flattering cut you could ask for as a long-torso'd human. The 14s were too big, the 10s too small, and 12s, apparently, have ceased to exist. Macy's was stuffed with primary-colored wrap dresses and highlighter-blue furs, chains and studs and deodorant-crusted sequins. Marshall's had been picked over and left to die. TJ Maxx all but sent me into convulsions. And by the time I thought of them as a possible solution, the area's bridal shops were closed.
The party was Tuesday night, a mere 48-hours away — 48 hours that, thanks to grad school and teaching and working and the like, I didn't have to spend looking for something as seemingly inconsequential (but oh-so-important) as a cocktail dress. I was, as my grandfather says, SOL.
"Do you know what that means, dolly? Es-Oh-El?"
He asked me this when I was 17 and had a habit of driving to school with my gas gauge hanging on empty.
"Yes, Poppi," I said. "I know what it means."
But never have I felt so OL as I did staring at the S of last Sunday. Until, of course, the following afternoon.
Let me add some context, here. This is my first writing job, my first official "office party." It's for a women's publication (#dream), in NYC (#DREAM), at said magazine's new Manhattan office. Never mind that I've lived in New York for the last five years. Never mind that I should be over the glitz and glamour of it, the lights, the cameras, the action. I'm not, OK? And I write for Fashion & Beauty, dammit! I couldn't just wear any dress; I had to wear the dress. I had to make a statement. And I had something specific in mind: Something shiny, smokey — a dark sapphire, an emerald green. A-line, boat-necked. Off-the-shoulder, if possible. Something fun and flirty with a bit of an edge. Something festive, but chic. I mean, I couldn't quite get that one season of Jane by Design out of my head. And what of it? I'm not ashamed.
The problem, though, wasn't that I couldn't find the dress I had in mind. The problem was that I couldn't find any dress, no dress, nothing that fit me. Not even a classic black. Because the cuts this season are horrendous. I'm sorry, but since when is my waist at my boobs? My boobs at my hips? Since when have I aspired to be a rectangle? That's what I'd like to know.
Anyway I think my mom felt bad for me, because she drove me back to the city the next morning to aid me in my quest. And thank god for that — because if I didn't have her there as a sort-of comic relief, a necessary contributor to my bitch-festing, I'd probably still be screaming, curled into the fetal position and crying into a stack of hangers beneath the butt-cracked fitting room bench of the 6th Ave. David's Bridal.
(That didn't really happen.)
(It almost happened.)
(Though, for the record, David's Bridal had the least-scary fitting room bench of the lot.)
We started out hopeful. We started out, as usual, at LOFT. Unfortunately, the ugly was not confined to my hometown galleria. The ugly was EVERYWHERE. Adamantly opposed to grey — because too much of my life has been spent in washed-out athletic gear — I tried on the one dress that was, at least in theory, similar to what I'd imagined.
The results?
Less than ideal.
Needless to say, I had to get out of there, fast. Maybe the real Ann Taylor is the answer, I thought.
Mom and I made it to the flatiron district and walked inside to a whole slew of new beginnings. Silky sweaters and sparkling skirts, blush satin dresses and black lace tops. I could be a snowflake, an ice queen, a glass ornament, an Audrey Hepburn. We split up to cover more ground, pulled piece after piece, started a fitting room, and rushed to the back so I could try them on. Because there had to be something here. There had to be. Right?
WRONG!
First of all, the saleswoman wouldn't let my mom in the fitting room. "Company policy," she said, which was a load of BS. I mean, You're going to make me open the door for my second opinion? Nuh-no. But there was nothing we could do, so the next five minutes went like this:
"I can't — zip — my boobs!"
"What?"
"My BOOBS, Mom. My boobs!"
"I can't hea—"
"—BOOOOOBS!"
"This is ridiculous."
On the rack, my findings told me I would look like this:
But in the mirror? I was a garbage bag, a tissue box, and a big ol' chunk of salmon.
Seven stores, 23 dresses, infinite whiffs of unidentified BO and one uncapped tube of cherry chapstick later, I still had nothing. By the time we'd left David's Bridal, I'd become desperate.
"We're — gonna — have to — go—" I swallowed. I couldn't believe my own voice box. " — to Macy's."
Macy's. 34th Street Macy's. Midtown Macy's. New York City's Midtown Macy's . In DECEMBER. It would be madness, I knew. Complete hysteria. But I had no other choice.
As we pumped ourselves up, bounded our way past Herald Square, I realized I should've been documenting my experience — a realization that completely slipped my mind as we pushed our way through shrinking doorways, climbed ancient wooden escalators, and went all but batshit cray on the sales floor. Because everything that I liked — literally every dress that I liked — only existed in petite.
OK. So. I could've given up. I could have. But then my mom said this thing, this thing that is so simple, made so much sense, was so non-revolutionary, I don't know how we didn't think of it earlier.
She said, "Why don't you . . . try something . . . different?"
And with that, I looked up, and I saw it — a long, black, flowing lace skirt. A skirt that I would never think twice about, because my mind generally equates such styles with the "stick-thins" of the world. A skirt that was from Free People, of all places — a store whose models look absolutely nothing like me, whose most frequenting customer was my ex-college roommate as I tagged along to try on the occasional slinky dress with a big El-Oh-HELL NO stamped across my forehead. But I looked at that skirt, said "Screw it," and yanked it from its rack.
The rest, as they say, is history.
Images: Diane Crittenden/Rachel Crittenden Photography; Giphy, LOFT; Ann Taylor
Wearing: Sugar Plum Tutu Skirt, $98, freepeople.com; Sugar Wrap Top, $128, freepeople.com