The 25 Best & Worst TV 'Ships of 2014, Because What's Love Without Some Heartache?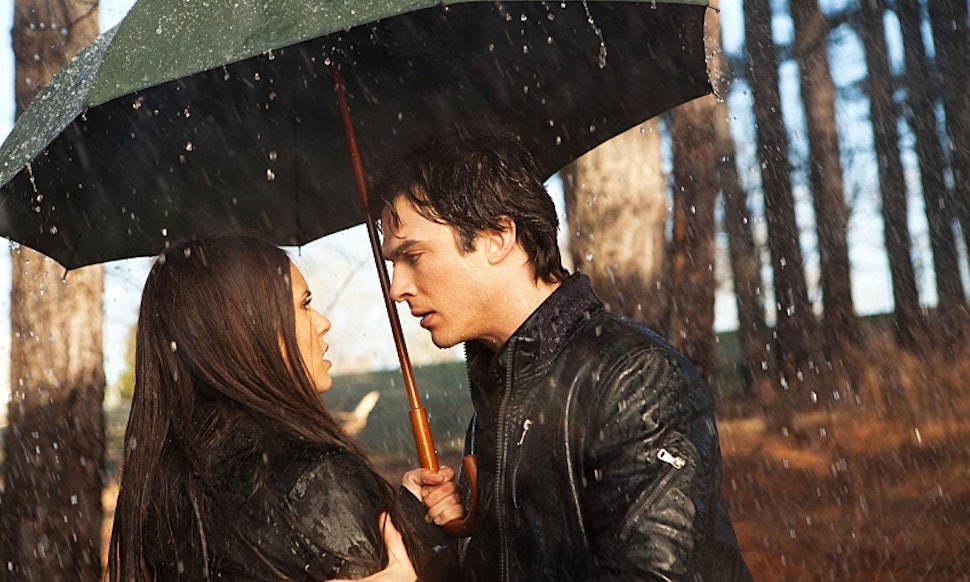 Oh, 2014, how you pulled at our heartstrings, made us cry, and drove us into fury over our favorite onscreen romances. Not only was 2014 a great year for TV pilots, but it was also a great year for TV 'ships, both good and bad. Because, really, how could we recognize a beautiful and perfect fictional relationship without a handful of truly awful ones? We couldn't and we wouldn't. Even though I'm certain that I wouldn't appreciate Delena any less without the totally irrational threat of Bamon from the beginning of TVD Season 6.
With that being said, here are some of the best and some of the absolute worst TV 'ships from 2014 from Ted and Robin to Captain Swan. Swoons.
Image: Bob Mahoney/The CW
WORST: Steroline, 'The Vampire Diaries'
UGH. This has everything to do with how much I love Caroline — she deserves so much better than someone who she's literally had to tell how to act towards other people. Stefan is the worst and Caroline is the best, therefore this 'ship couldn't be more insulting to her. Sorry not sorry.
Image: Annette Brown/The CW
WORST: Emison, 'Pretty Little Liars'
I firmly stand by my assessment that Alison gets everything she deserves — except for Emily. Because Emily is amazing and when Alison played with her emotions in 2014, it was painful to watch.
Image: Pretty Little Liars/Facebook
WORST: Mary & Francis, 'Reign'
UGH, just UGH. This marriage never should've happened because Francis clearly doesn't understand how great Mary is as both a wife and a queen. Francis also creeps me out, so there's that.
Image: Ben Mark Holzberg/The CW
WORST: Bamon, 'The Vampire Diaries'
I don't even know where this came from, but it's terrible. Again, not sorry, but I'm glad TVD sees it my way.
Image: Guy D'Alema/The CW
WORST: Carter & Crash, 'Finding Carter'
Look, Crash shot Max and that's really enough for me to decide that he's the worst in general. But he also kind of ruined Carter's life during Finding Carter Season 1 and that girl's already got enough to deal with — she doesn't need a crazy boyfriend.
Image: Finding Carter/Facebook
WORST: Alex & Piper, 'Orange Is the New Black'
This might seem like an old 'ship, but Alex throwing Piper under the bus because she knew how much she trusted her at the beginning of Orange is the New Black Season 2 was TERRIBLE.
Image: Netflix
WORST: Ted & Robin, 'How I Met Your Mother'
There aren't enough words in any language to express exactly how terrible Ted and Robin getting together at the end of How I Met Your Mother is. They are the definition of "worst."
Image: CBS
WORST: Brallie, 'The Fosters'
Brandon and Callie's relationship prevents Callie from gaining one extremely important thing — a family that loves her. And, as of their latest kiss, it's obvious that Callie equates Brandon with self-destruction and that's truly the worst.
Image: ABC Family
BEST/WORST: Klaroline, 'The Vampire Diaries' & 'The Originals'
These two are the best because, well, chemistry. But they're also the worst because fans love them so damn much and there's no possible way they can ever happen. Especially because TVD and The Originals refuse to give them a crossover episode.
Image: Curtis Baker/The CW
BEST/WORST: Zade, 'Hart of Dixie'
Fans love them together, but, really, they aren't particularly good for one another. If the Hart of Dixie Season 4 premiere proved anything, it's that Zade misses a huge mark in the healthy relationship department — wanting to be a better person for your significant other.
Image: Patrick Wymore/The CW
BEST/WORST: Mindy & Danny, 'The Mindy Project'
I know what you're thinking, "WTF MINDY AND DANNY ARE PERFECT," well, they're really not. Mindy hasn't been Mindy ever since these two got together and it's terribly sad because we love her and Danny should love that version of her as well.
Image: Beth Dubber/FOX
BEST: Rafael & Jane, 'Jane the Virgin'
This Jane the Virgin couple is perhaps the newest on this list, but they just give me all of the feels.
Image: Greg Gayne/The CW
BEST: Delena, 'The Vampire Diaries'
They love each other. They love each other while separated by supernatural death-prisons, they love each other after one's forgotten every memory of their relationship, and they're endgame. Don't even try to tell me they're not, Julie Plec.
Image: Bob Mahoney/The CW
BEST: Barry & Felicity, 'Arrow' & 'The Flash'
This might be an unpopular opinion, since Olicity has quite a few supporters out there (including Oliver Queen himself, it seems) and Barry is totally in love with Iris. Still, the chemistry between Barry and Felicity is just too great to ignore, and if they're given a few more crossovers, their friendship could definitely blossom into something much more.
By Samantha Rullo
Image: Cate Cameron/The CW
BEST: Nick & Jess, 'New Girl'
I still hold a torch for Nick and Jess getting back together at some point. But, for now, they're killing the "exes who stayed friends" game and I appreciate that.
Image: Nicole Wilder-Shattuck/FOX
BEST: Daenerys Targaryen & Daario Naharis, 'Game of Thrones'
Daenerys is a queen, but that doesn't mean she shouldn't get romance. And it's pretty amazing that Daario, even though he's not a noble, isn't intimidated by her power.
Image: Macall B. Polay/HBO
BEST: Ezria, 'Pretty Little Liars'
I wasn't sure if I could ever support this PLL pairing again, but Ezra and Aria have totally grown on me again. And, well, they're possibly the most functional 'ship on this series that love each other 98 percent of the time, so they kind of win by default.
Image: Pretty Little Liars/Facebook
BEST: Regina & Robin Hood, 'Once Upon A Time'
It was almost too close to call for awhile, whether or not Regina and Robin Hood would actually get together. But I couldn't be happier that they did and that vault scene was steamy as hell. Of course, the season finale put a kind of huge roadblock in their way, but these two have proven they can get through anything.
Image: Jack Rowand/ABC
BEST: Maxlor, 'Finding Carter'
Finding Carter's Maxlor 'ship was easily the greatest thing about the show's first season. Mostly because of Max, but also because they were the most adorable high school relationship you wish you'd had.
Image: MTV
BEST: Haylijah, 'The Originals'
The Originals Season 2 midseason finale finally gave us the Haylijah moment we've all been hoping for. Sure, waiting for them to act on their obvious feelings was painful, but watching them get together was better than fans could've imagined.
Image: Bob Mahoney/The CW
BEST: Juliette & Avery, 'Nashville'
In the past three seasons we've seen Juliette make a lot of mistakes, but she was really just looking for someone who would love her for who she really is — behind all the glamour. She finally found that in Avery, and after a few complications, fans were finally able to see them pull it together and get married. Now instead of relationship drama, we'll get to watch the two adapt to life as newlyweds and new parents.
By Samantha Rullo
Image: Mark Levine/ABC
BEST: Leslie & Ben, 'Parks and Rec'
If say that you don't aspire to be Leslie and Ben, just know that no one believes you. They're the best always and forever — case closed.
Image: Colleen Hayes/NBC
BEST: Captain Swan, 'Once Upon A Time'
OUAT fans waited for this one forever and we finally got it. Sure, Hook doesn't have a heart and Emma's somewhat emotionally unavailable, but these two are actual magic together.
Image: Jack Rowand/ABC
BEST: Connor & Oliver, 'How To Get Away with Murder'
When we last saw them, things weren't looking great for one of HTGAWM 's many couples, but because they're easily the series' best 'ship, I'm not too worried. Sure, Connor has messed up, but I think with time, and hopefully some honesty, Oliver will forgive him and they'll be stronger than ever. We need at least one bright spot amidst all the murder and drama of this show.
By Samantha Rullo
Image: Mitch Haaseth/ABC
BEST: Rory & Jess 'Gilmore Girls'
This isn't a new 'ship, but with Gilmore Girls joining Netflix in 2014, it only seemed appropriate to mention Rory and Jess, the series' one, true 'ship in this slideshow. Because we all know that somewhere out there, Rory and Jess found each other and fell right back in love. At least, that's what I tell myself
Image: Warner Bros.